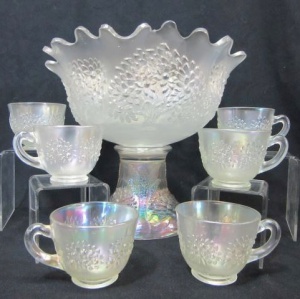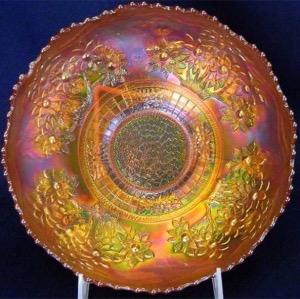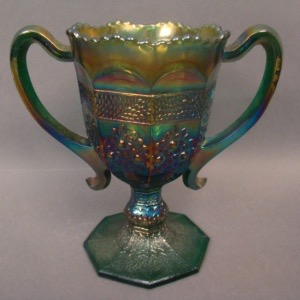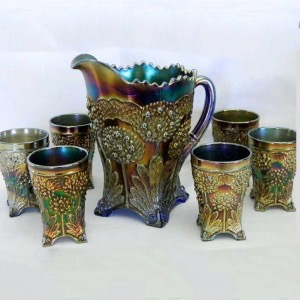 Manufacturer: Fenton
Year(s) of Production: 1912-1929 Butler Bros Catalog
Pattern Description: Standard bowls/plates have orange trees around a center ring of squares-Bearded Berry exterior. On most other shapes, the trees are the exterior pattern. On large fruit bowls, the pattern is both inside and out.
Similar Patterns: Fenton Orange Tree Orchard, Fenton Orange Tree Scroll
Shapes in Database: Berry Set, Bowl, Breakfast Set, Butter Dish, Candy Dish, Centerpiece Bowl, Compote, Creamer, Cup, Fruit Bowl, Hatpin Holder, Loving Cup, Mug, Nut Bowl, Pin Tray, Pitcher, Plate, Powder Jar, Punch Bowl, Punch Bowl Base, Punch Bowl Top, Punch Set, Rose Bowl, Sherbet, Spooner, Sugar, Table Set, Tumbler, Water Set, Wine
Colors in Database*: Amber, Amberina, Amethyst/Purple, Aqua, Aqua Opal, Aqua/Marigold Overlay, Black Amethyst, Blue, Celeste Blue, Clambroth, Electric Blue, Emerald Green, Green, Ice Green, Ice Green Opal, Lavender, Lime Green/Marigold Overlay, Marigold, Marigold on Moonstone, Pastel Marigold, Peach Opal, Pink/Marigold Overlay, Powder Blue, Powder Blue/Marigold Overlay, Red, Red Slag, Reverse Amberina, Sapphire Blue/Marigold Overlay, Smoke, Teal, Vaseline/Marigold Overlay, White, Yellow
*Not all colors are available in every shape.