2021.12.21 Tuesday Stretch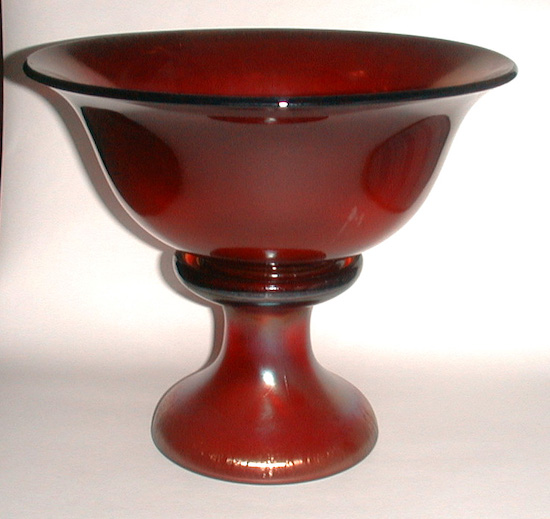 Happy Tuesday and Happy Holidays – are you ready for a stretch? Brian's them for December is a stretch for stretch glass – no holly or deer or trees on stretch glass. So, I'm going with Rudolph the Red Nose Reindeer as my holiday song and I'll show you some ruby aka Red stretch glass.
Ruby stretch glass was made by Diamond, Fenton and Imperial. I have a piece of ruby glass made by US glass which was sold in an auction as iridized glass but it is certainly not stretch glass; US glass did, however, decorate crystal glass with a deep Maroon painted design, so I'll include US Glass in tonight's post. Lancaster's contribution to ruby stretch glass was crystal glass with red paint and blue painted flowers. I'll include a piece or two of their glass as well. To my knowledge, the other 4 companies making stretch glass did not produce any that was red in color.
Ok, with the help of Rudolph's nose shining so bright, let's take a look at some red stretch glass.
Diamond made two different reds: Ruby and Ruby Lustre. Here is the Ruby bonbon, the only one known which was in the Fenton Museum along side one from Fenton and one from Northwood (different colors) as an education exhibit to demonstrate the differences between the very similar bon bons by the 3 companies.

Diamond's Ruby Lustre is very shiny and is included in the stretch glass category because it was made at the same time as stretch glass. I've never seen a piece which has true stretch affect. Here are candleholders and a bowl, which would make a very nice console set for Christmas.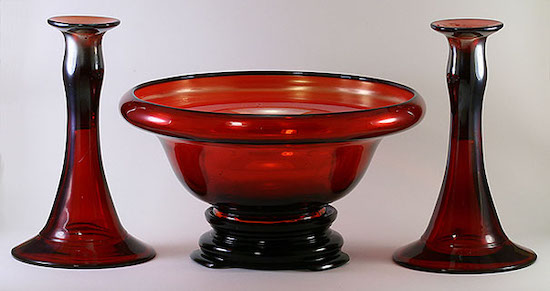 Fenton and Imperial produced lots of ruby and Ruby Ice, respectively, stretch glass. The color name Ruby Ice has been confirmed from Imperial catalogues. Fenton's ruby stretch glass was produced both in the early period and the late period and in significant quantities that much of it is still available today. Here is Fenton's Cut Ovals console set in ruby. The candlesticks are tough to find but the bowl is even more difficult to locate. My candlesticks are from Mrs. Richards' collection and my bowl was an early purchase from The Antique Trader. No mention was made of the cut ovals on the bowl in the listing so I was surprised when it arrived. As an early stretch glass collector I had not learned that Fenton's ruby bowls rarely had iridescence on the exterior of the bowls, so I was doubly disappointed in the bowl – no iridescence on the outside and some sort of cutting on it (I didn't know what cut ovals were at the time). Little did I realize that I had purchased a rare bowl; I would find that out at a Stretch Glass Society convention a year or two later.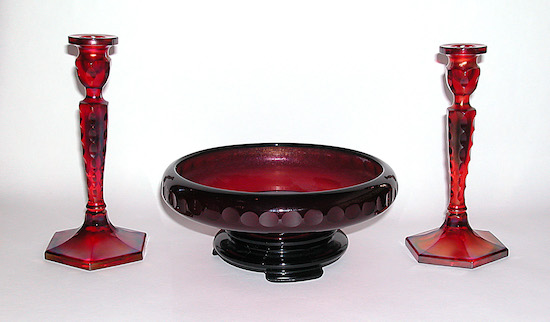 In the late period, Fenton made lots of ruby stretch glass. It was a popular color and apparently sold well. They used the dolphin comport/vase/candy jar base mold to make a fan vase for The Stretch Glass Society as a convention souvenir and later used the same mold to make ruby 'double dolphin' comports.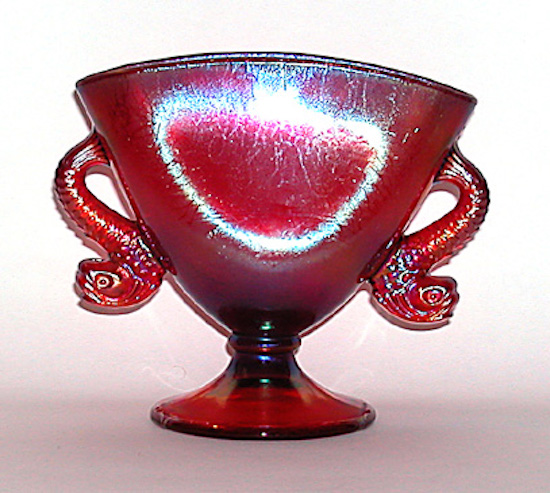 Here are the early and late period Double Dolphin comports so you can see how different they are, especially in the color of the ruby glass.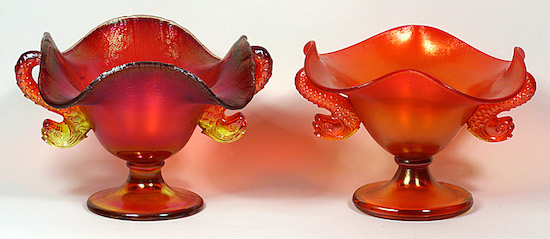 Imperial also made enough Ruby Ice stretch glass that certain examples are available in the resale market today. It seems that this color is popular among carnival glass collectors, especially the water set and certain bowls. Imperial's Ruby Ice typically has a hint of yellow at the base where it was being held by the snap during re-heating. Here is the "Chesterfield" water set from the Waln collection which was sold recently. This water set, except for 1 tumbler, has been together from the beginning. The pitcher and 5 tumblers were purchased from a home in NH a number of years ago. Phil and Nancy Waln replaced the missing 6th tumbler and made an excellent color match.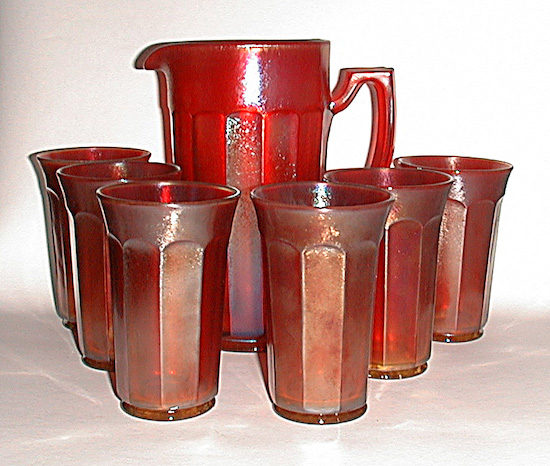 Imperial's "Floral and Optic" was produced in Ruby Ice in several shapes including a plate and flared bowl. Other shapes of the bowl are possible as Imperial routinely produced this bowl with a cupped in top and it is known also (in other colors) with a rolled edge.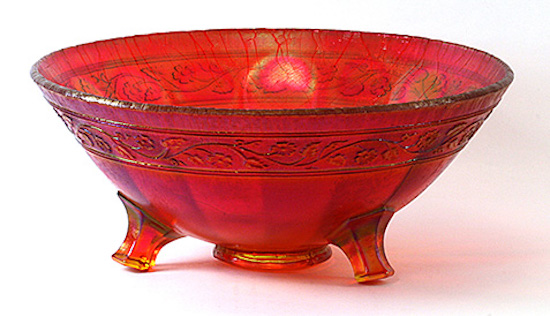 Here is Lancaster's Ruby Lustre. It is a very different look when compared to the deep red color made by Diamond, Fenton and Imperial.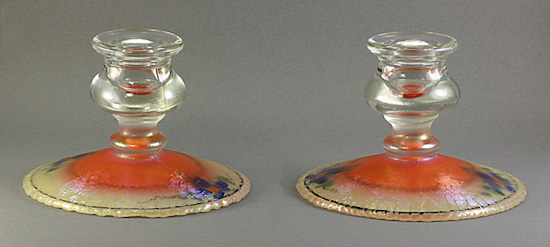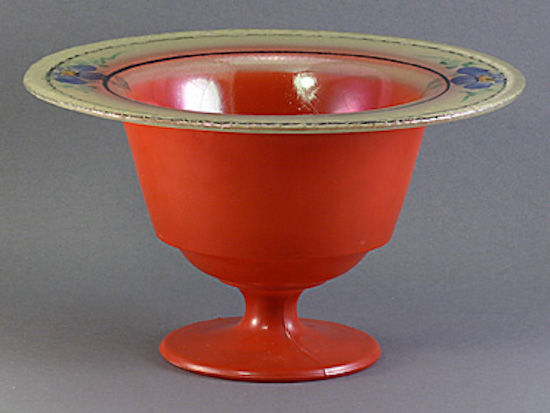 Finally, we come to the deep maroon (painted) stretch glass made by US Glass. In addition to the maroon background, there is a blue (some call it green) stencil design and it is called "Pamona." It is quite attractive, especially if you have a few pieces of it together on a shelf. "Pamona" was also made with a yellow background and blue stencil design – same name, just a different color combination.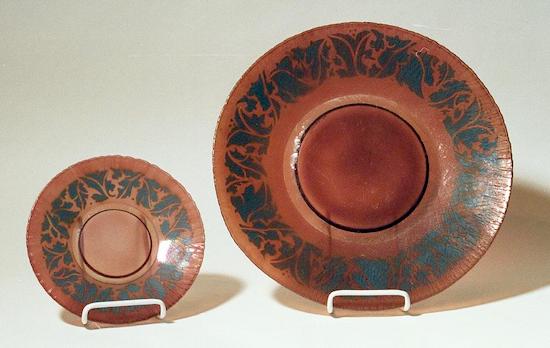 Maybe a piece of ruby, Ruby Ice, Ruby Lustre or maroon "Pamona" will find its way under the tree in your house. There are a few examples small enough to fit in your stocking, as well, so you never know where Santa might slip in a surprise for you.
Merry Christmas and Happy New Year from all of us in The Stretch Glass Society. See you in 2022.