2021.08.24 Tuesday Stretch
Hello and happy Tuesday to you. It is time for another Tuesday Stretch and I'll share some stretch glass vases tonight. Several of the companies who produced stretch glass during the early period included vases in their offerings. Vases also were easily re-shaped, giving us the challenge of finding all the shapes of a particular vase. In addition, it seems that several of the producers decided that we would like similar shaped vases in small, medium and large sizes. Add to all of these the swung vases and the sky is the limit when it comes to stretch glass vases. As with all stretch glass, not every shape/size is available in every color – what we have today depends on what color glass they were running in the pots at the time they made vases. It does seem like vases were a rather constant in the stretch glass lines, including during the late period of production beginning in 1980 and continuing until the close of Fenton in 2010-11.
Let's look at some vases from Diamond tonight. These are less frequently found Diamond vases and in some cases the only one known in a particular shape or decoration.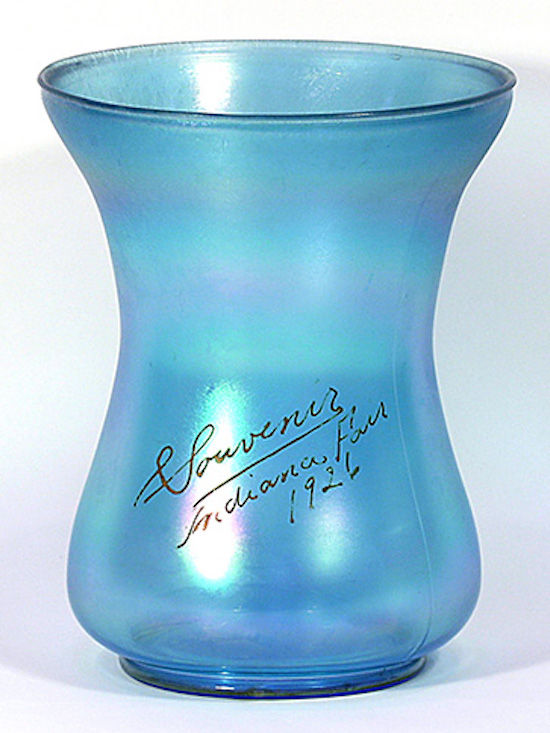 This vase was evidently sold at the Indiana Fair in 1926. We find a number of the Diamond stretch glass items with either etching or painted inscriptions linking them to the Indiana Fair during the 1920s. This vase is one of the larger items known. It must have been quite a nice souvenir to take home.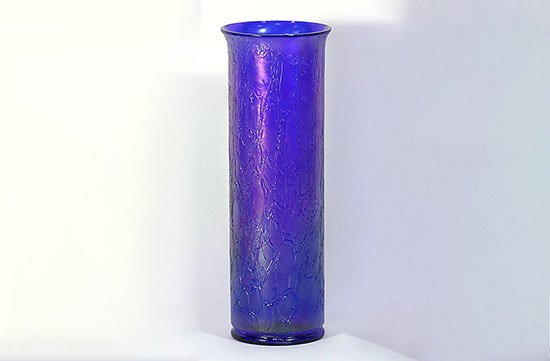 Cobalt Blue crackle stretch glass vases are not plentiful, but they do exist. Here is the cylinder one with very little reshaping. Note that the crackle design is in the glass because it was in the mold.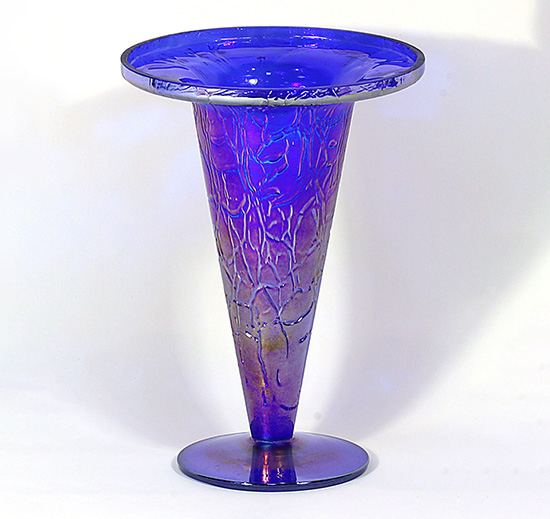 Here is another cobalt blue crackle stretch glass vase by Diamond. This one required quite a bit of reshaping. It is interesting to note that all of these vases which are known to me have a polished top edge, quite unusual for a piece of stretch glass. Unusual, yes, but it is understandable because it must have taken a lot of 'stretching' of the glass to make this top treatment and undoubtedly the top went a bit 'out of round' which was corrected by grinding it flat again. The ground top is hardly noticeable and does not distract from the vase at all.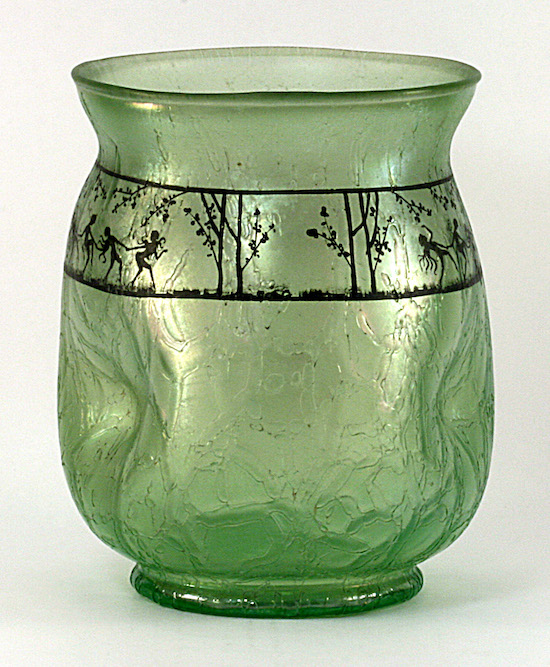 Continuing with the crackle mold, here is a Diamond vase with one of the more often seen stencil decorations – some call it 'the dance of the nudes' and other 'the dance of the nymphs' – either way it looks like the dancers are having a fun time. As you will see in the next photo, this decoration appears on various shapes of vase as well as other stretch glass items – I have a punch bowl with this design around the top of the bowl.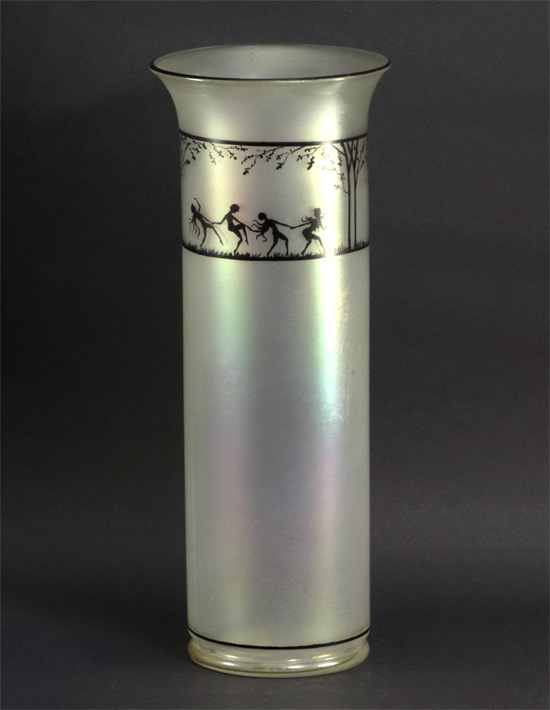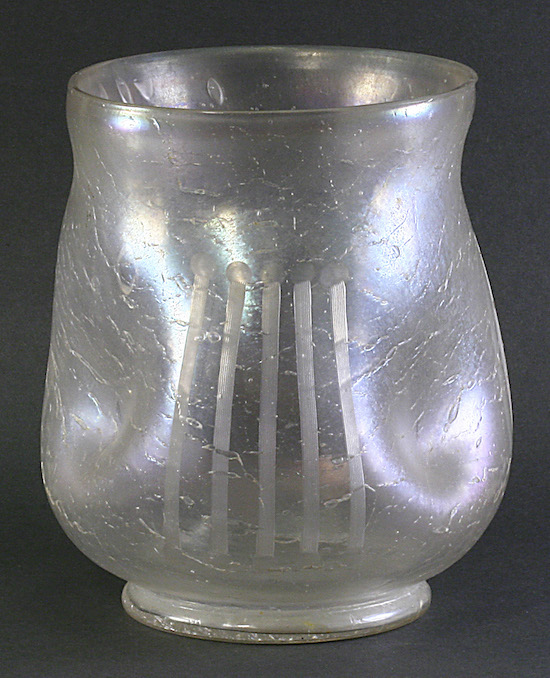 Another crackle vase, pinched (they did this to a number of these vases) and this time the vase has been cut adding several vertical lines or 'matchsticks' as a decoration.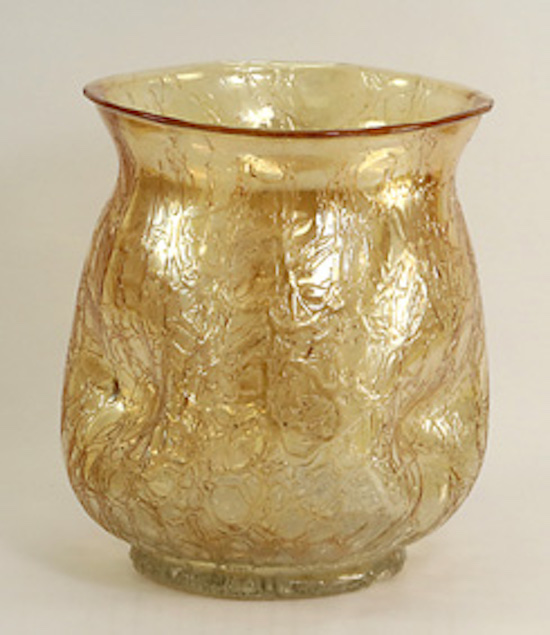 To finish up with crackle vases, here is one in marigold, also pinched, but with no other decoration. Crackle vases in various shapes are known in nearly all of the colors of stretch glass which Diamond made, so if you like this look, keep an eye on stretch glass auctions and you should find one or two of them for sale.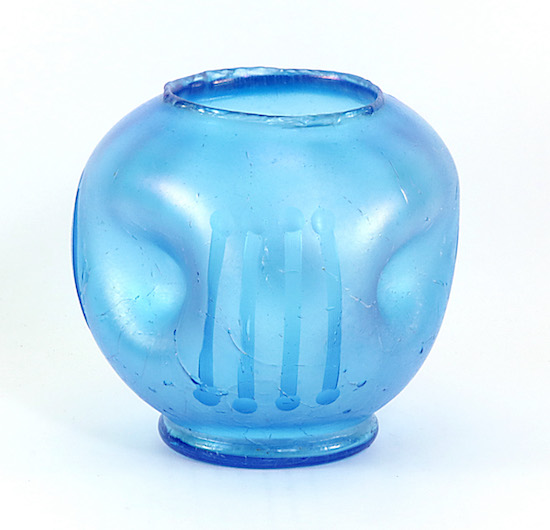 This is a smaller vase without the crackle design in the mold, but it does have the 'matchstick' cutting on it.
Here is a completely different vase by Diamond – we are back to the smooth look of stretch glass clear of decoration or cutting. It is a beautiful vase just the same.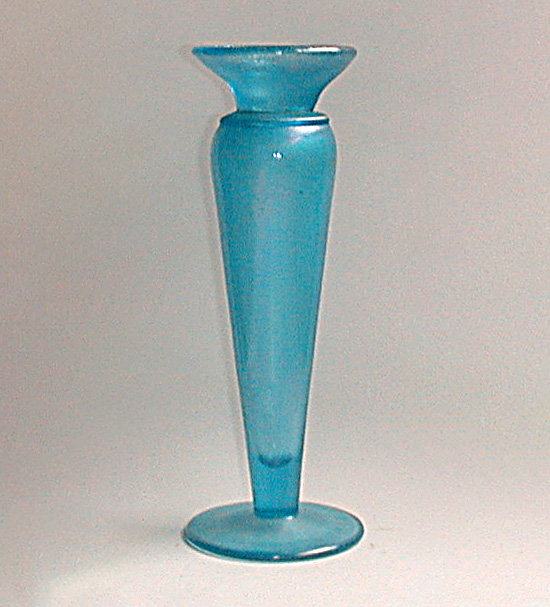 And here is a similar vase, also by Diamond. This is a large vase and is, to my knowledge, the only one known in this shape.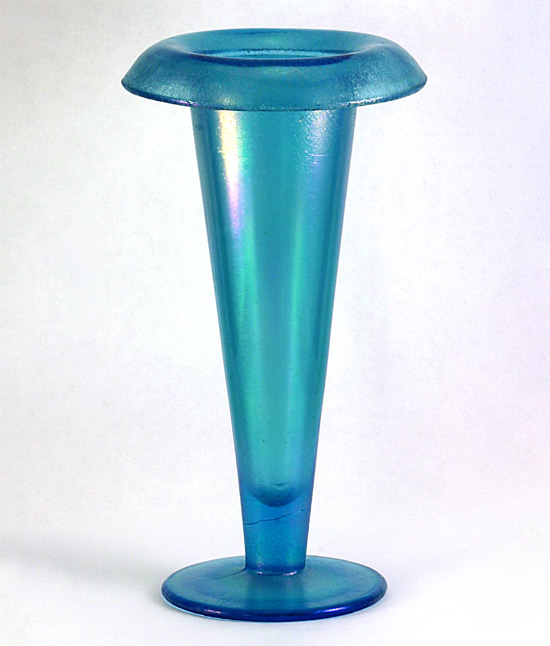 Finally, this vase seems to have been made in the same mold as the two previous ones, but was given a 'square' aka 4 flared top.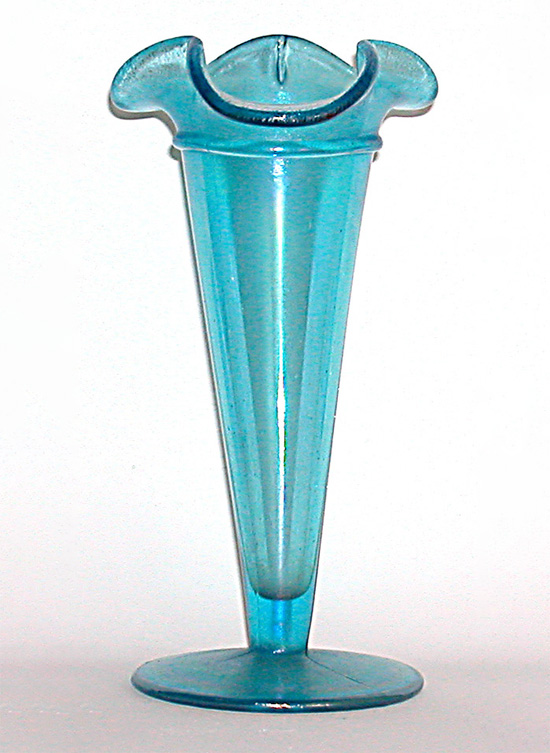 That's it for tonight. This is just the tip of the iceberg when it comes to stretch glass vases.
Cal