2021.04.27 Tuesday Stretch

BugDoc Dave here with some stretch glass for this month's theme of sew. Like Cal, I was pretty well stumped and pleased that Cal was able to interpret the sew theme as the U.S. Glass enamel patterns that look like quilt appliques. I'm going to take whack at it by showing what we collectors call Fenton's Laurel Leaf pattern. To me, this little leaf chain pattern reminds me of some of my grandmother's table and furniture covers that had embroidered leaf edges. In one of our recent Stretch Glass Society "Call Outs" (zoom meetings with our members covering a specific stretch glass theme), one of our members recalled a discussion with Frank Fenton as to the origin of the Laurel Leaf design. Frank said that one of the family had seen a Steuben art glass piece that had this pretty little leaf design around the edge and wondered if they could mimic the design in their pressed glass. I don't know if this is correct, but it is an interesting story as we believe that much of the stretch glass was made in response to the fine art glass being made during the 1910s through the 1920s that had simple designs with stretchy iridescent effects.
My first example is one of the hexagonal Fenton plates, this one is an 8-inch one in Tangerine.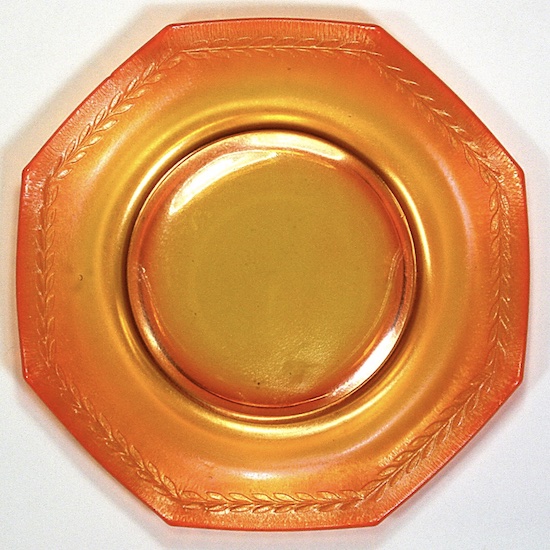 Fenton also made round plates with this design. Here is another 8-inch example in Florentine Green.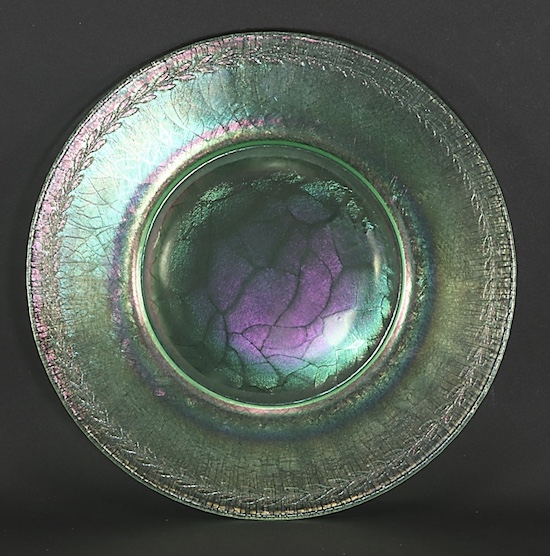 There don't seem to be many bowls with the Laurel Leaf design, but this hexagonal, 10-inch wide one is often found with the matching, 13-inch underplate that is the bowl flattened down. This set is in Celeste Blue: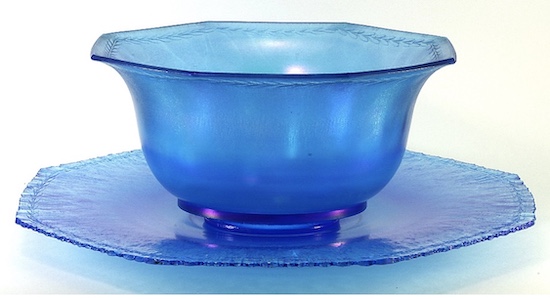 Much more difficult to find is the cheese and cracker sets with the Laurel Leaf design. Notice that the cheese dish has the design, and the round plate has a raised ring for the dish. Here is the set in Wistaria (sic):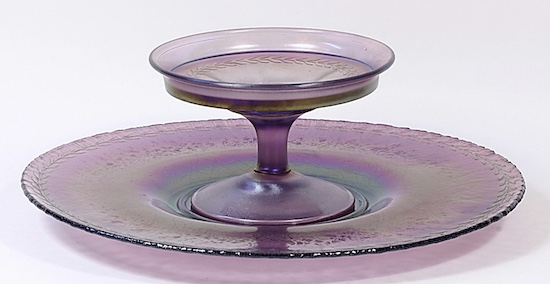 There are also some mayonnaise dishes with the design. Here is a Velva Rose piece, but the lighting doesn't bring out the leaf design very well:


Finally, one of the most difficult to find items are sherbets! I only have a picture of a picture to represent this item (in Celeste Blue).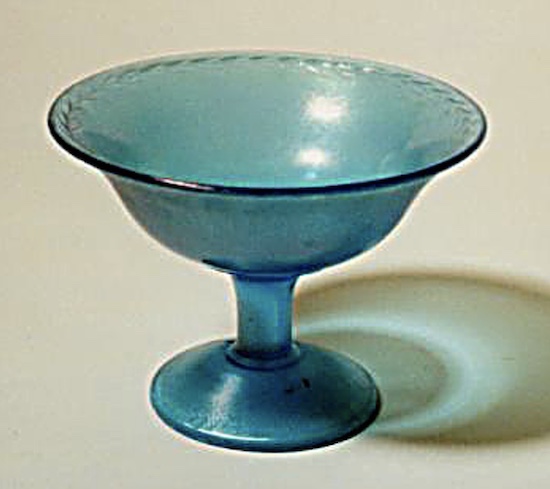 I find it interesting that there are no handled servers or cups with the Laurel Leaf design. I have records of 6 1/2 inch, 7 1/4-inch, 8-inch and 13-inch plates as well as these serving pieces. The plates are the most obtainable items, and they make a nice display when hung on a wall. Celeste Blue, Florentine Green, Persian Pearl, Velva Rose and Topaz are the most common colors encountered with Tangerine and Wistaria being much more difficult items to obtain. Happy hunting!