2020.12.22 Tuesday Stretch

BugDoc Dave here with my belated December Tuesday Stretch. Brian makes it easy for stretch collectors this month as white or crystal stretch is a pretty common effect. It appears that most of the companies that produced the original iridescent stretch glass sprayed stannous chloride onto hot glass. The tin chloride salt produced a translucent to slightly white iridescent surface on hot glass and this was used on many colors of base glass as well as on crystal glass. As usual, the master of iridescent coatings (in my opinion) was Imperial and their Pearl White effect in their Art Glass Line (aka, Jewels) can be breathtaking! This color is considered to be one of the less common effects in this line. Here is a #34, square bowl.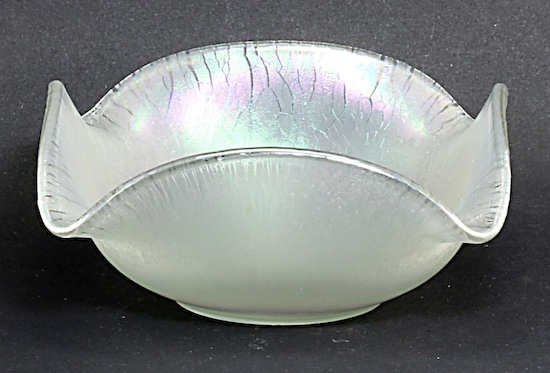 And the same square bowl cupped in, #38.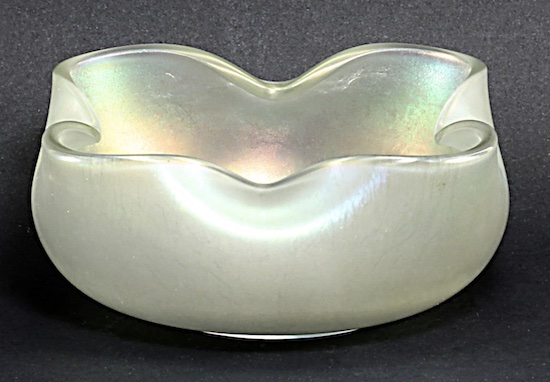 Here is the #75 Jardinière: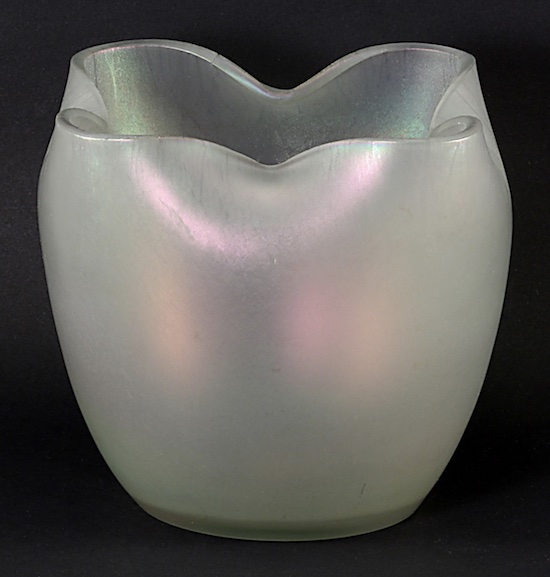 Imperial's regular line of stretch glass used the name of Iris Ice to describe the white stretch effect on crystal glass. I really like the #600 line pieces. Here is one of the 8-inch bowls (not common):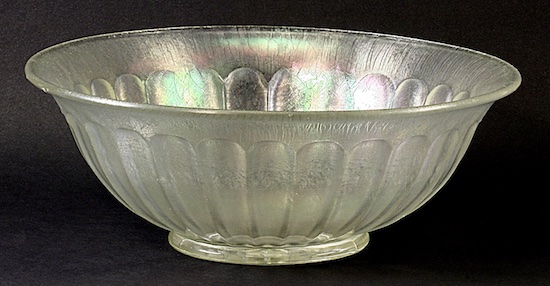 Of course, the comports in the #600 line are much more obtainable. These come in several sizes, but the largest one is this gigantic comport which is 10-11 inches in diameter.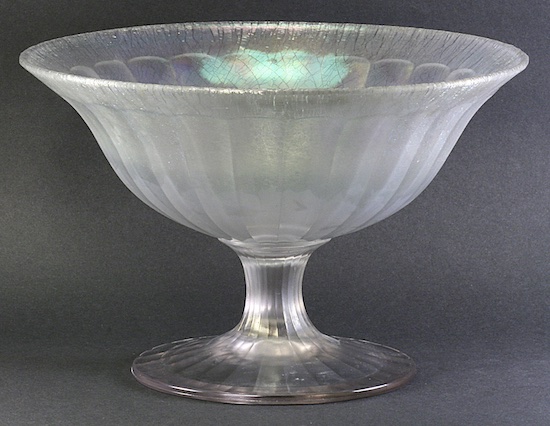 In Imperial's NUART line, crystal lamp shades are obtainable in the Pearl White effect. Here is the #575 shade in Pearl White: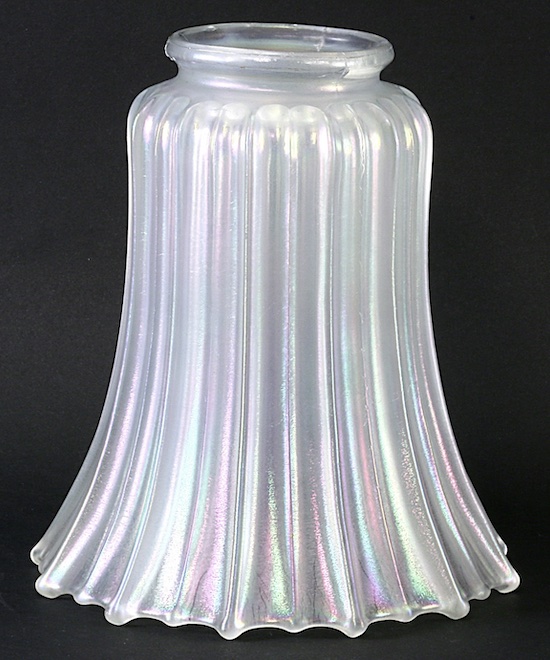 Northwood only made a few pieces of white stretch and we don't know the name that they used for this effect. One of my favorite pieces is their larger "tree of life" comport: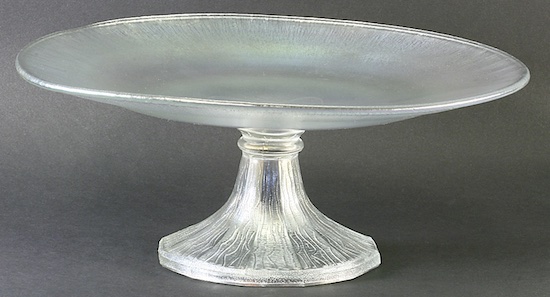 Lancaster made most of their stretch using crystal glass and it appears that they used the name of Iris Ice for the white iridescence on crystal glass. I really like these pieces as most come with a delicate floral enamel design added to the pieces.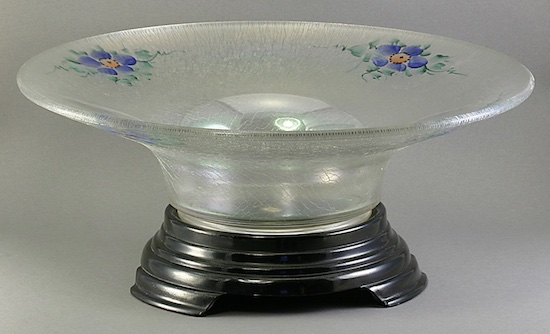 U.S. Glass appears to have simply used the name of Crystal for their white stretch glass. This color isn't real common except in the #8076 open work bowls.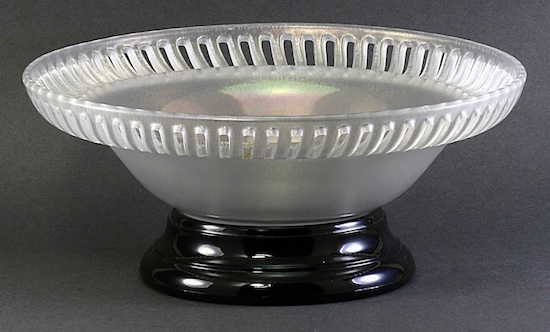 I'm also partial to the #314 (four paired-rays) pieces, especially ones with factory enamel decoration!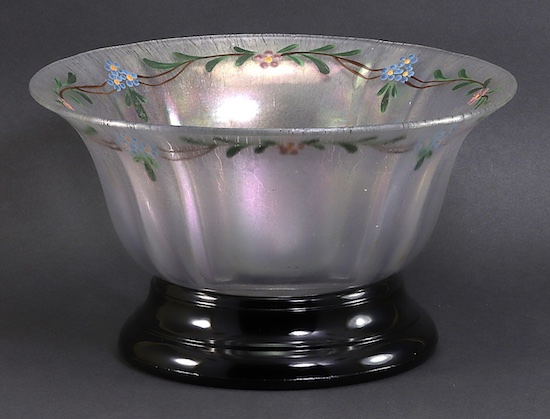 Hope you are able to fill your white iridized carnival or stretch glass with all kinds of goodies for the Holidays!!
BONUS!!:
From: Cal
Imperial Chesterfield has been a favorite pattern of stretch glass for me almost from the beginning of my interest in stretch glass. The sherbets were pretty easy to get as were the flat mayonnaise bowls (often called finger bowls). The plates for both were a little more challenging. Soon I was after the pitchers and tumblers. Sharon Mizel got me a pitcher and tumbler set, complete with the cover for the pitcher, in marigold at a carnival glass auction for a very reasonable price. But what I really wanted were the Ruby Ice, Iris Ice, Green Ice and Blue Ice sets. I'm one or two tumblers away from completing the Green Ice set (my pitcher is cracked, but it will do until I can get another). I have 5 tumblers (thanks to Tom Burns) for the Blue Ice set; I've never seen a Blue Ice Picher. I purchased a complete Ruby Ice set in the first Burns auction of Nancy & Phil's stretch glass so I can check that one off (and I have extra tumblers). Good friends and fellow stretch glass collectors offered this complete Iris Ice set to me a few years ago and it now resides with Jeff and me here in Pennsylvania.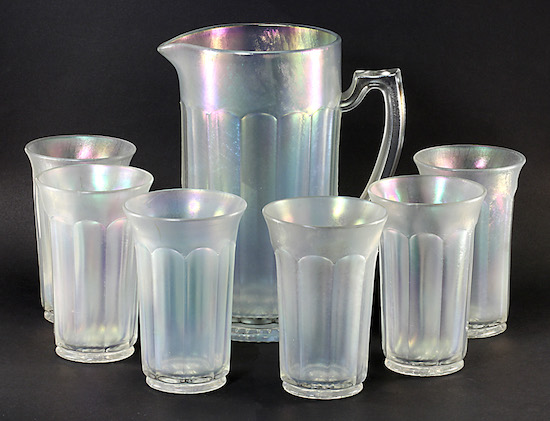 The smooth panel Imperial vases have been another long-term interest for me (in stretch glass). It is amazing how many of them one can accumulate if one buys them at every opportunity. Here is a photo of my family of Iris Ice swung smooth panel vases from a few years ago. I've added a few more since then. The largest one is 9" wide at the mouth, 19.5" tall and has a 5.25" base. I believe that qualifies as a funeral vase. They are beautiful as a group or as individual vases with flowers in them.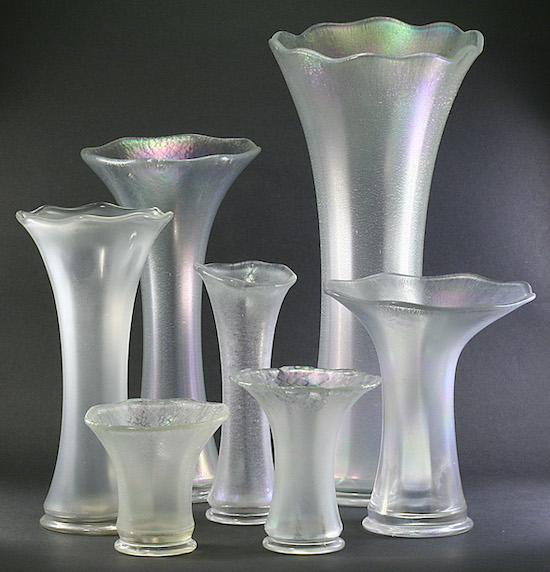 Merry Christmas to everyone.