2020.11.03 Tuesday Stretch
BugDoc Dave here with the first Tuesday Stretch for November! When I heard of the theme of punch bowl sets, I thought that this will be easy. But, after thinking a bit more, this is another difference between stretch glass and true carnival glass. It appears that the fancy carnival glass patterns were often made into small, medium and large punch bowl sets. However, in stretch glass, there are only a few true punch bowls made, most by Fenton and Diamond Glassware. And, of those, only Fenton seems to have made many cups for the sets. I only know of one Diamond cup and no matching punch bowl has shown up! So tonight's show and tell will be short! I'll have to leave a couple of sets for Cal.
Fenton's #604 bowl, when flared, was listed as a punch bowl in the Fenton catalogues. Most are familiar with the Ruby Stretch punch bowl that has a matching red stand, but there are also Florentine Green sets known. Here is the complete set with cups: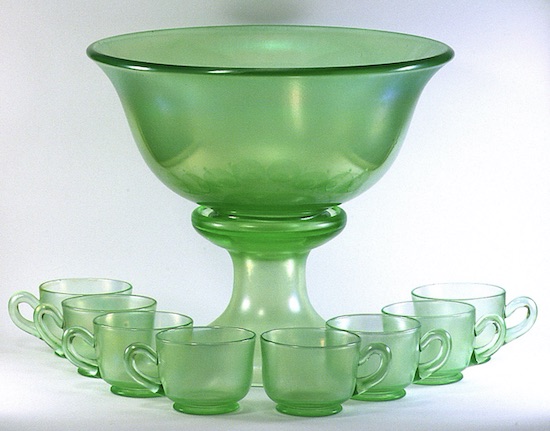 And here is the Ruby Stretch set but without cups: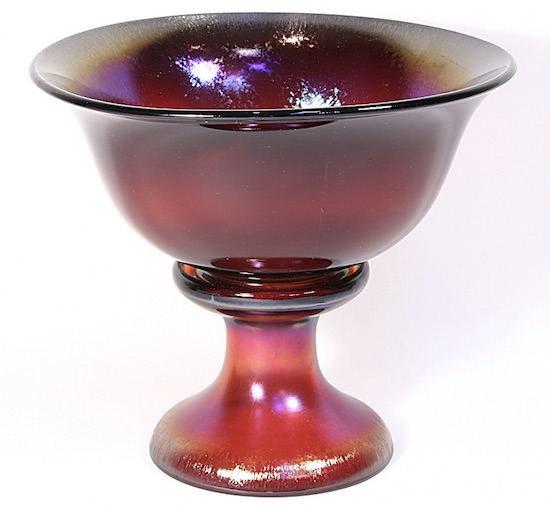 I had a bowl stand in Blue from Diamond, but not the bowl. This had what we call "match stick" cuttings. Cal found the matching bowl and here is the completed set!