2020.10.20 Tuesday Stretch
It is Tuesday, Stretch Glass Tuesday to be exact, and Stretch Glass Cal is here with some purple stretch glass. Before we look at the glass I want to add my condolences to Brian on the loss of his cousin. All of us here in the world of stretch glass send our thoughts and prayers to Brian and his family. As many others have commented, covid-19 is vicious and is something of which to be fearful. While none of us like not seeing friends, going to conventions, shows, etc. and all the other things we are NOT doing to avoid contact with other human beings, I am thankful every day that those sacrifices have, thus far, kept many of us safe. It is sad to know that Brian and his family lost a loved one to covid-19. Brian, please know our thoughts are with you.
Dave gave you an excellent intro to the various stretch glass makers and the 'purple' colors of stretch glass they produced. Tonight I'd like to share some of my favorite pieces of purple stretch glass with you.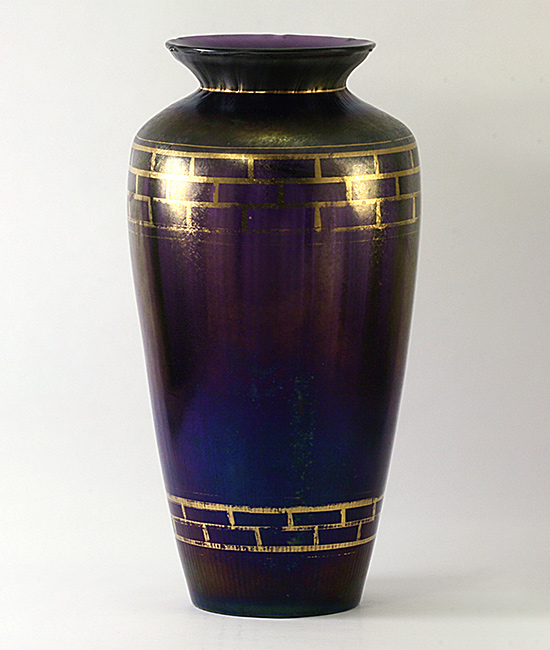 First up is a vase which I acquired in 2007 from long-time stretch glass collector Roy Ash. The consensus seems to be that this vase was made by Northwood but there are no other vases like it known (to me) and it doesn't have any positive Northwood markings. If it is Northwood then the color is Royal Purple. The gold painted bricks are another mystery as they do not appear on other stretch glass to my knowledge.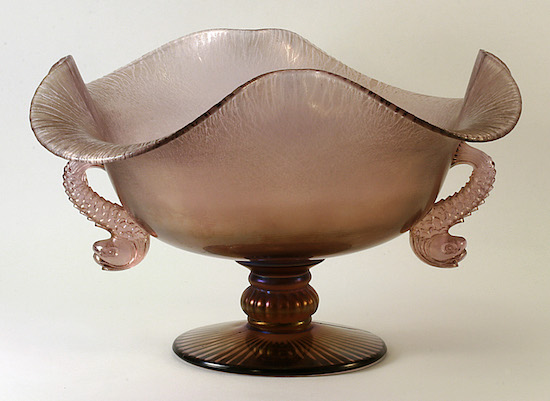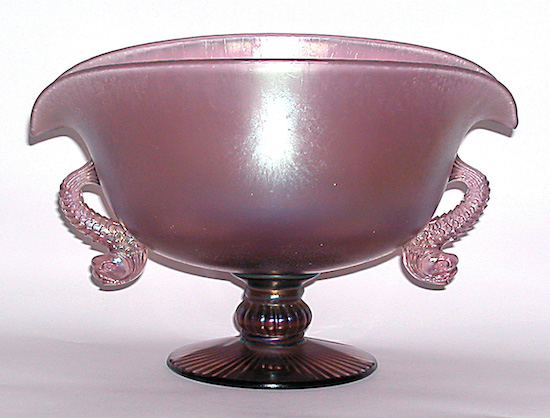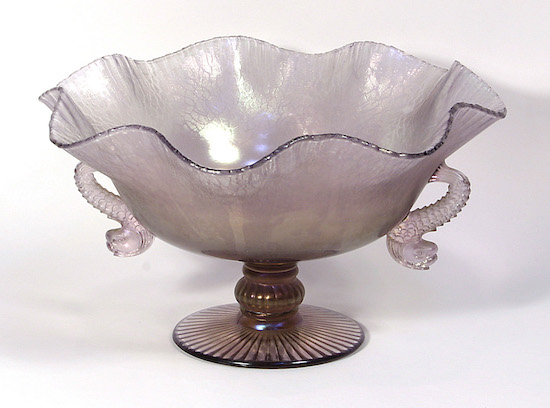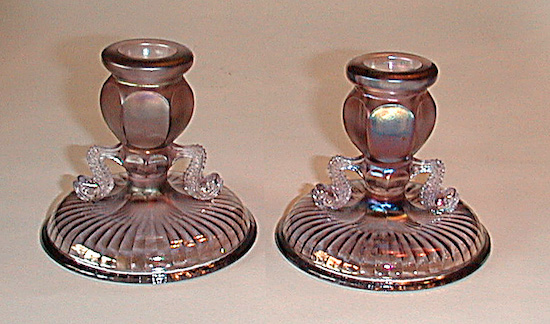 You may recall that I have a special fondness for dolphins – not for Flipper and his family, but for glass dolphins, which most often are modeled after the dolphin fish. Someone told me that dolphins were associated with good luck by sailors. I don't know if this is the reason dolphins appear on/in glass over many years, but we find dolphins as a favored motif on glass at least as early as Venetian glass. In the US, Boston & Sandwich used the dolphin shape extensively in candleholders, epergnes and comports. The Fenton family was influenced by the earlier dolphins and created a line of early period stretch glass which used the dolphin shape in every item. Today we collect this as a subset of stretch glass. (The same molds were used for many years by Fenton, so their dolphin items appear in uniridized glass as well as late period stretch glass.) Pictured here are large, footed console bowls with twin (or double) dolphins along with matching candleholders. Unfortunately, Fenton did not make a taller dolphin candlestick; these would have undoubtedly been breathtakingly beautiful, but we are left to only imagine what they would look like.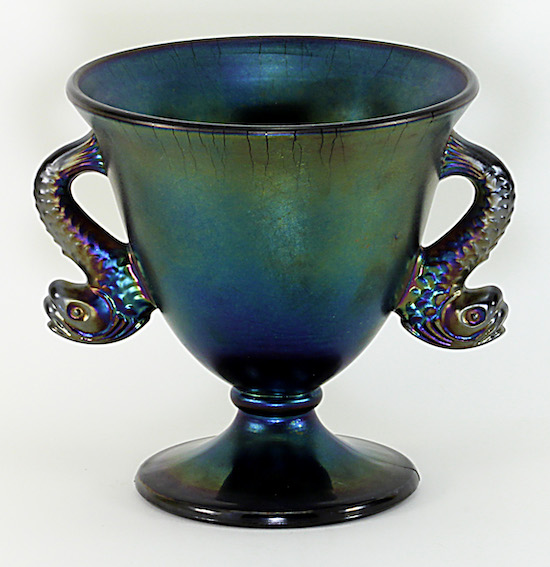 While Early Period Wistaria dolphins are found in the larger comport shapes and in the candleholders, it would not be until the late period that Fenton would produced dolphin candy jars, smaller comports, fan vases and other items. In 1997 Fenton produced a dolphin comport for The Stretch Glass Society in black stretch glass; sometime thereafter they used the same mold to produce stretch glass for LeVay in a very dark purple which may appear to be black until carefully examined in a strong light.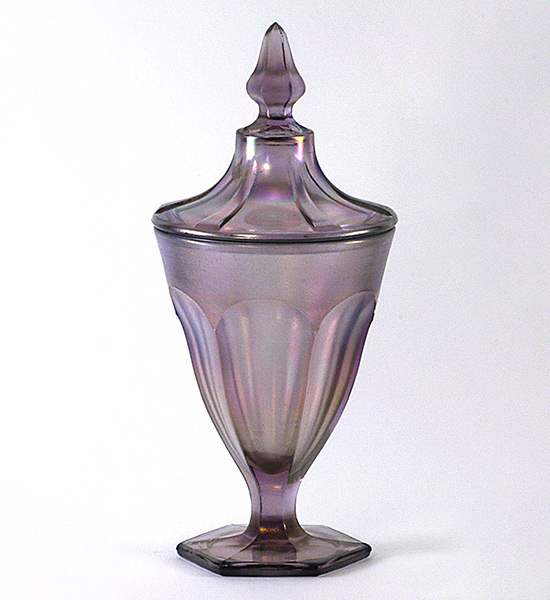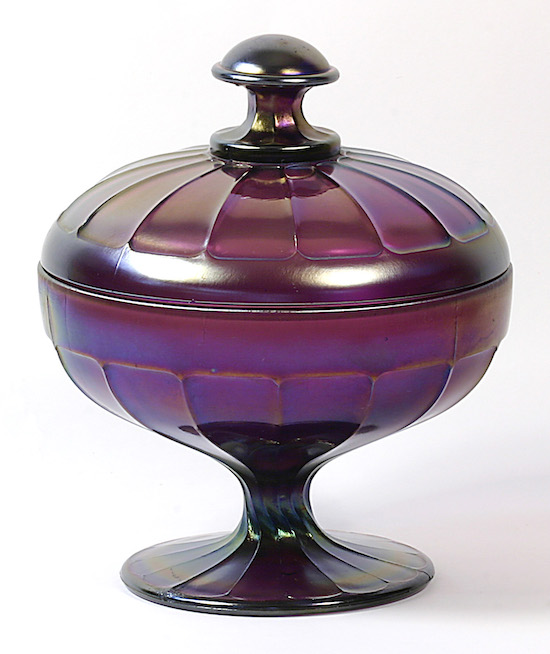 Another oddity when looking at Fenton's Wistaria stretch glass is this candy jar with a hex foot. Most of the other Fenton Wistaria candy jars are found in the typical darker Wistaria like the bon bon pictured here; the hex foot candy jar is almost always found in a color which resembles the Lilac Dave previously mentioned in connection with a Fenton Melon Rib vase. This lighter Wistaria or Lilac, if you prefer, is only found in a few Fenton shapes and they seem to have been produced in smaller quantities.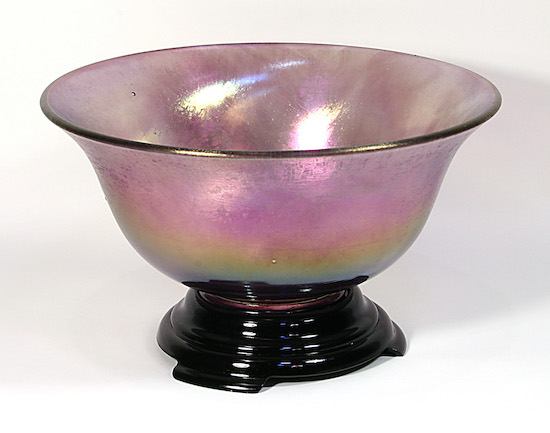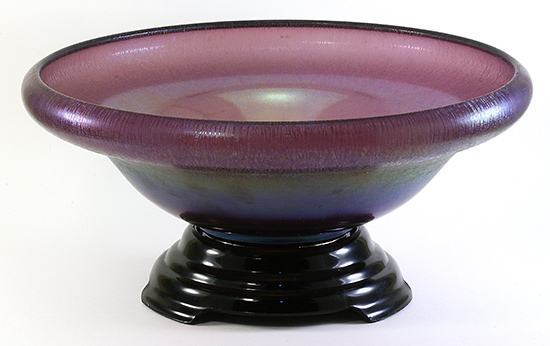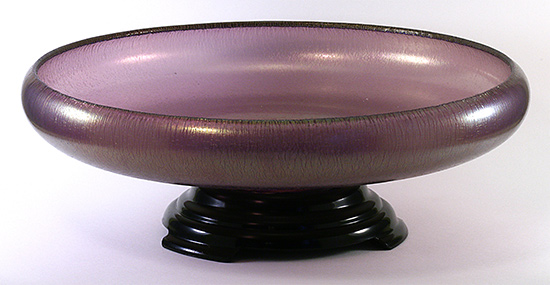 Fenton did use Wistaria glass in mold #604 – otherwise known as the punchbowl mold – but evidently did not produce many pieces in this color. Here is the typical flared punch bowl. The color is considerably lighter than many of the other Wistaria bowls. And here is the wide flared, cupped bowl (Bill Crowl would call this the ice cream bowl) in Wistaria; this time the color is the more typical deep purple. A third shape, the flared then cupped bowl, is also known in Wistaria. Other shapes from the 604 mold may exist.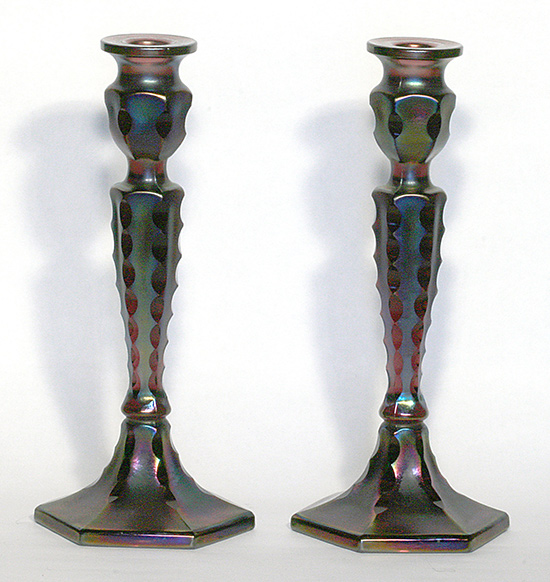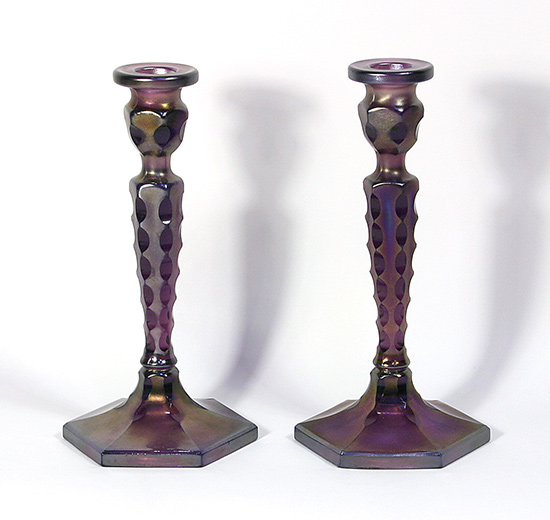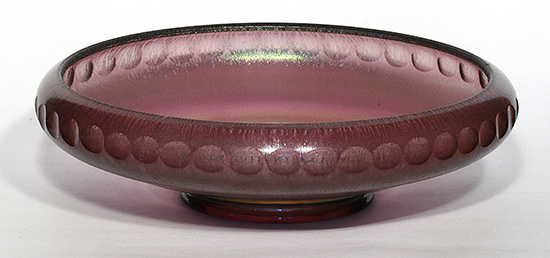 Fenton also made Wistaria cut ovals candlesticks and a wistaria cut ovals bowl. The candlesticks are available in both the 8" and 10" heights.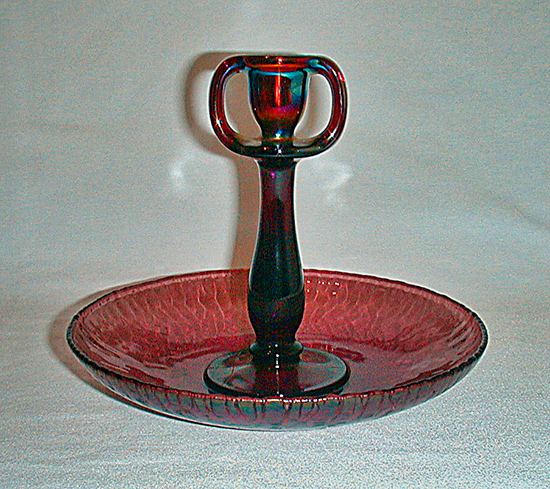 Imperial produced an Amethyst Ice Candle bowl, another not-so-commonly found item. The iridescence will vary on these from more shiny to more stretchy. Either way, they are a nice item.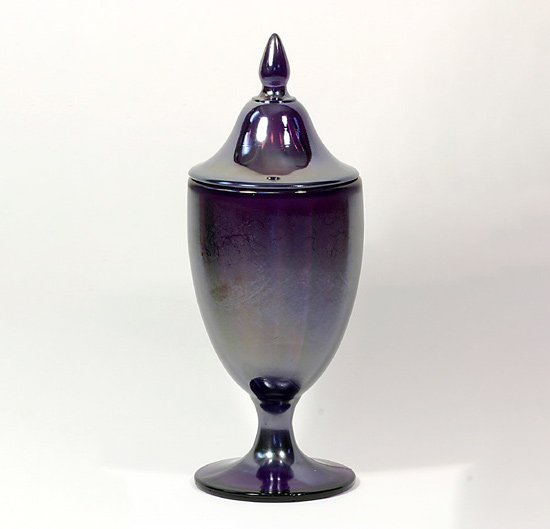 US Glass made an Amethyst candy jar which is quite impressive and not easily found. Those are a few of my favorite 'purple' stretch glass items and look forward to seeing some purple stretch glass from your collections during the remainder of the month.