2020.08.18 Tuesday Stretch

Happy Tuesday Stretch….Cal here to share some stretch glass plates. A BIG thank you to Brian for choosing a theme to which Dave and I are able to contribute easily! As Dave mentioned, there are lots of stretch glass plates in many sizes, numerous colors and a variety of decorations. Not only are there plates – the usual type for hanging on the wall or using on the table – there are under plates. Let's take a look at what goes on top of these under plates.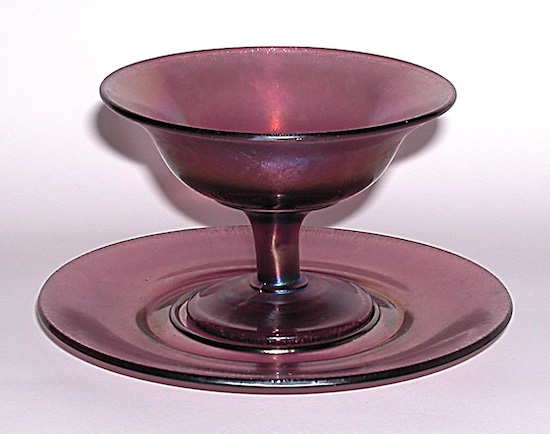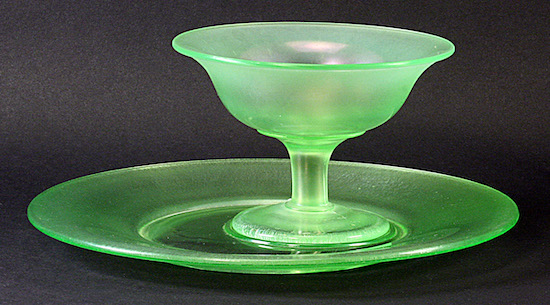 The producers of stretch glass provided plates to go under a variety of items including plates with indents or rings to go under sherbets. Sometimes these were 6" plates with the ring in the center and other times they were larger plates with the ring 'off-center.'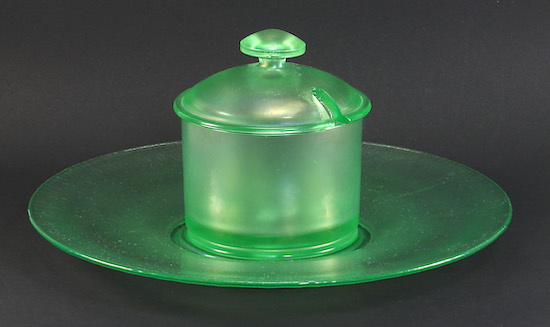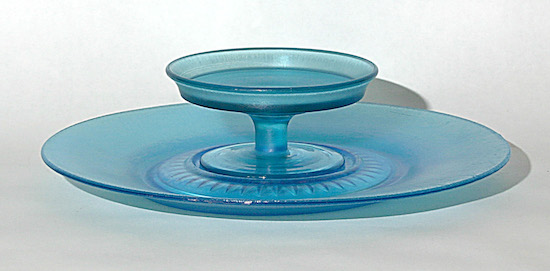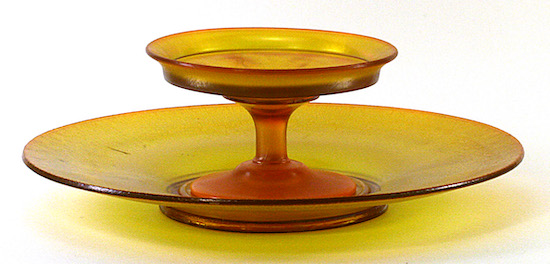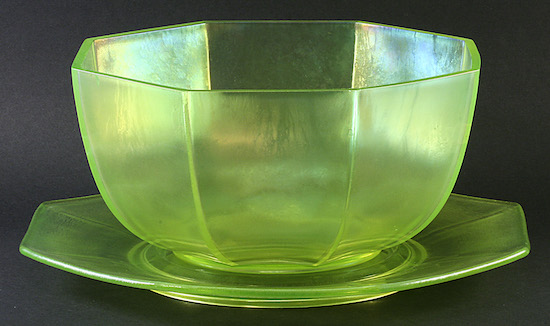 There were also cracker plates with indents to go under cheese comports and marmalade jars and a relish plate to go under a covered relish dish (not pictured).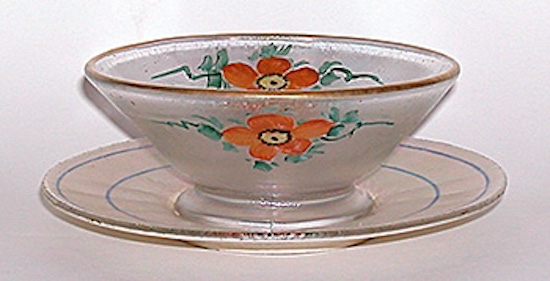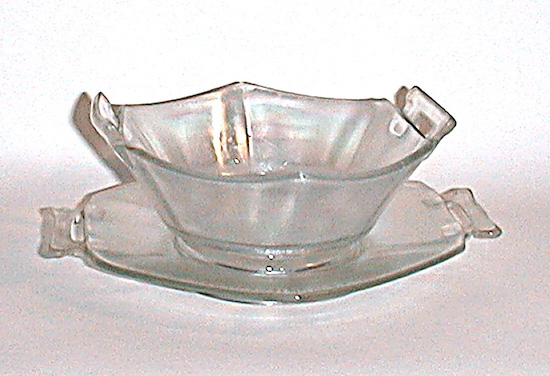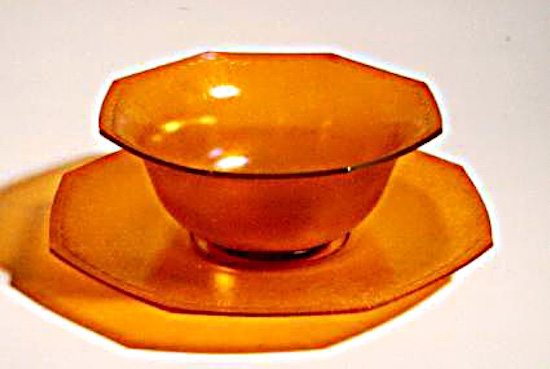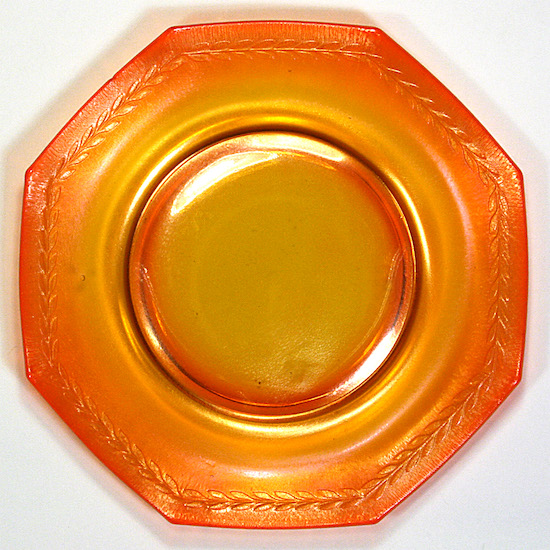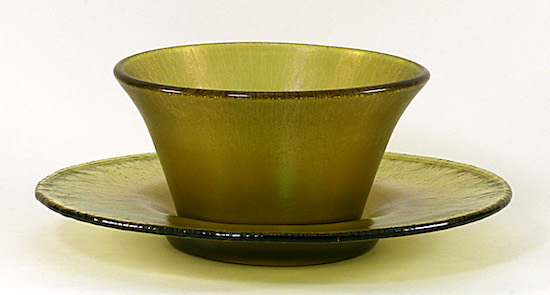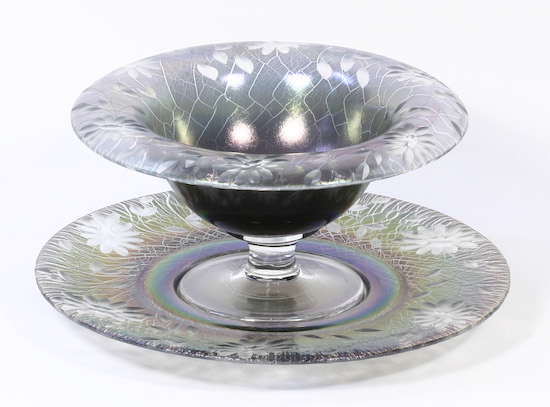 Some mayonnaise bowls and comports had under plates and there were also plates to go under large salad serving bowls. Cracker plates obviously served a purpose – they held the crackers to go with the slices or chunks of cheese – but some of these 'under plates' apparently have no purpose other than to keep the bowl off the tablecloth. In most cases, the under plates are not even large enough to catch whatever might be falling over the side of the bowl or comport sitting on the under plate. Nevertheless, they do make for a very attractive presentation. In some cases, individual salad plates were made to go with the large salad bowls and under plates, creating a very colorful and coordinated table at lunch.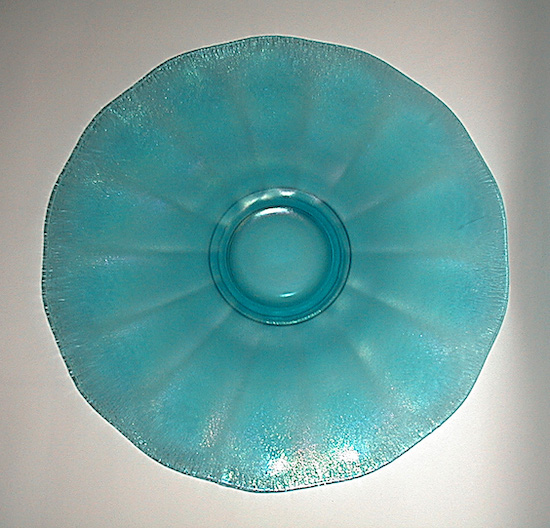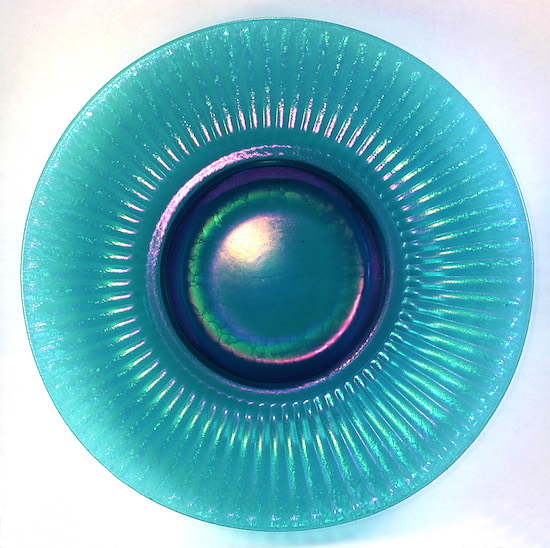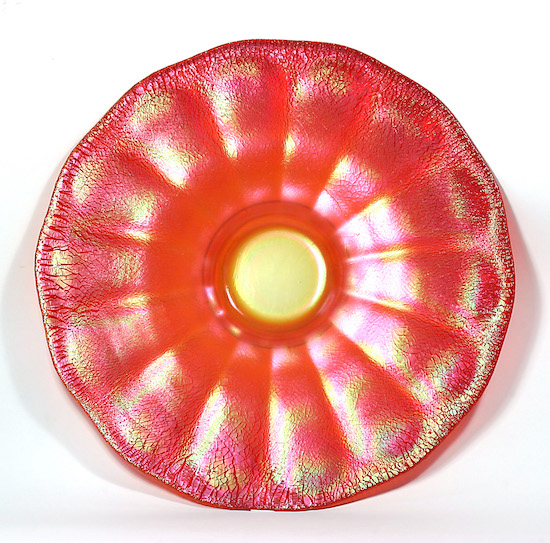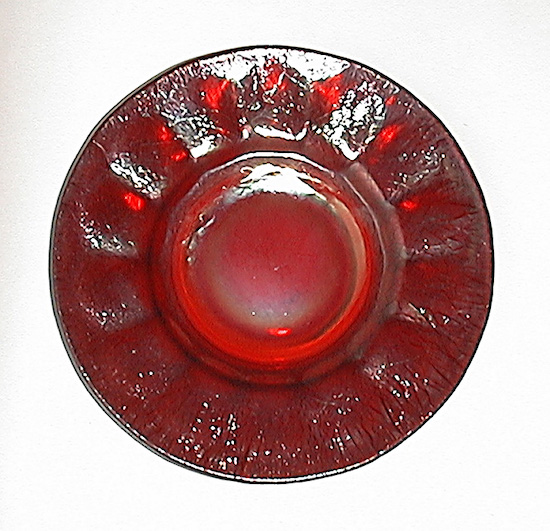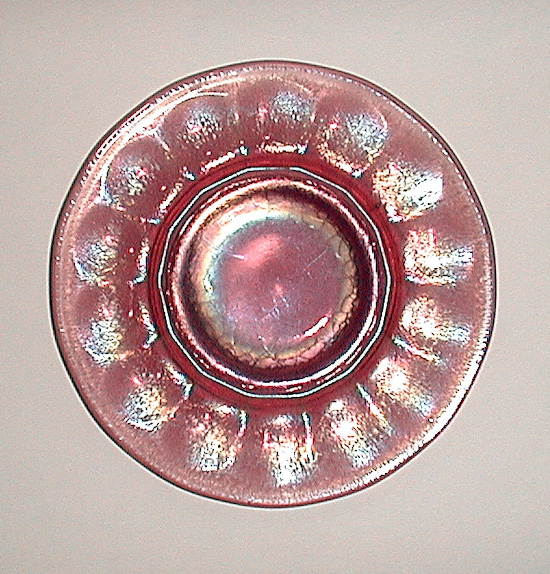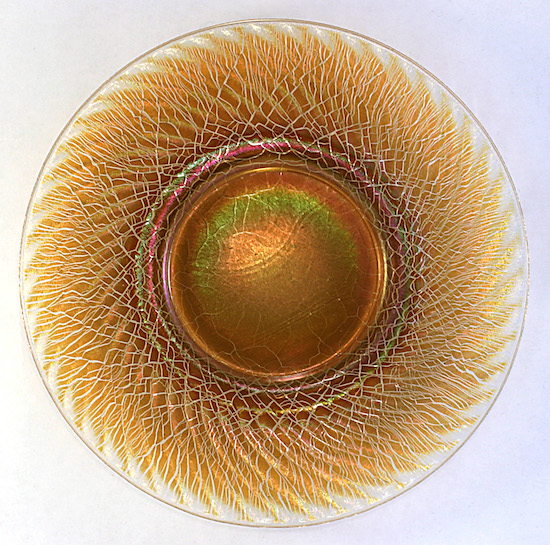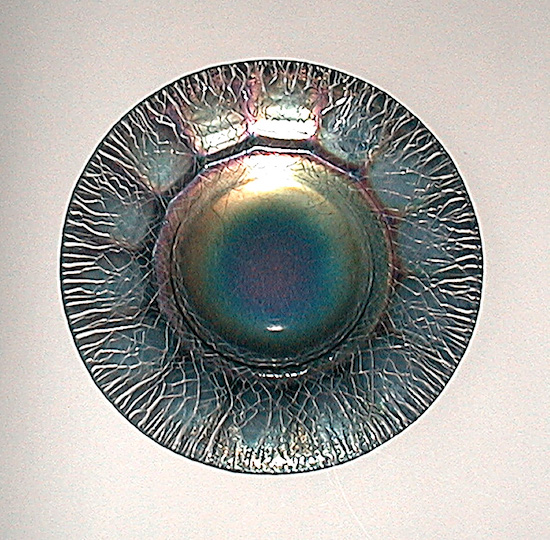 Imperial made lots of paneled plates ranging in size from 6" to 17" in diameter. Interestingly, as the plates get into sizes appropriate for serving foods, we see that the plates have either a wide center or a narrow center. Personally, I find the wide-centered plates more accommodating for serving pastries, finger sandwiches and other goodies. The plates with the wider centers also 'work' as underplates with the base of the matching bowl usually fitting into the wide center. The plates with the narrow center can be used for serving foods as well, but they tend to be a bit deeper and the food tends to slide around a bit on the plate.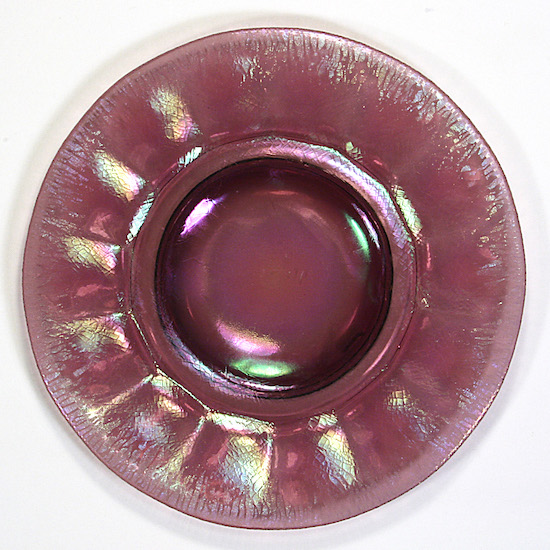 The 8" luncheon plate, 6" sherbet plate and sherbet made by Imperial in a number of colors are quite attractive when used together on a table for, yes, you guessed it, a luncheon!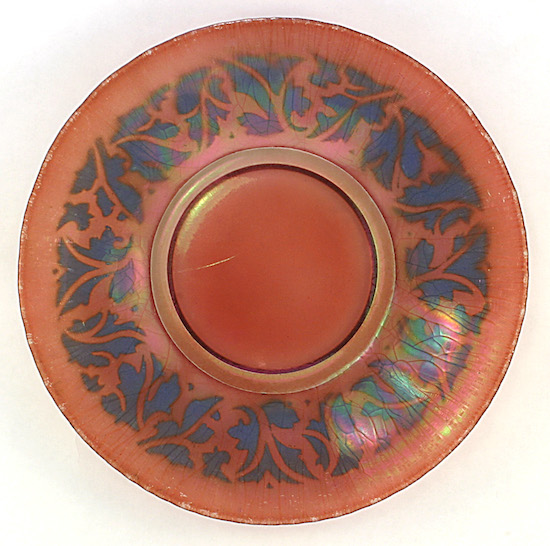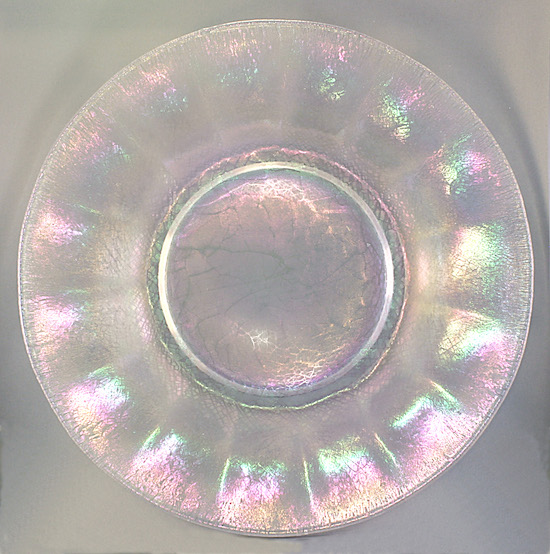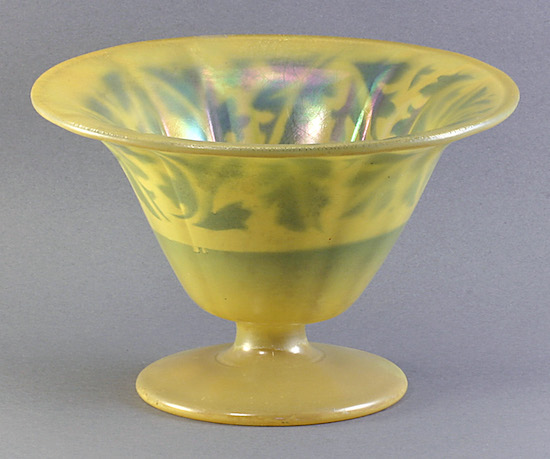 US Glass made some very large plates as well, they should be called salvers as they are nearly 14" in diameter. They have optic panels and wide centers and are very practical for using on a buffet table. Apparently, US Glass made these large plates in both their typical stretch glass colors – blue, topaz and crystal – as well as their painted/iridized plates known as "Pamona." As time goes on, we are discovering more and more items in the "Pamona" design, which was created in two color combinations: yellow with blue stenciled designs, and dark burgundy with blue stenciled designs. The later is difficult to see as the two colors are both so dark; the blue on yellow shows up much better.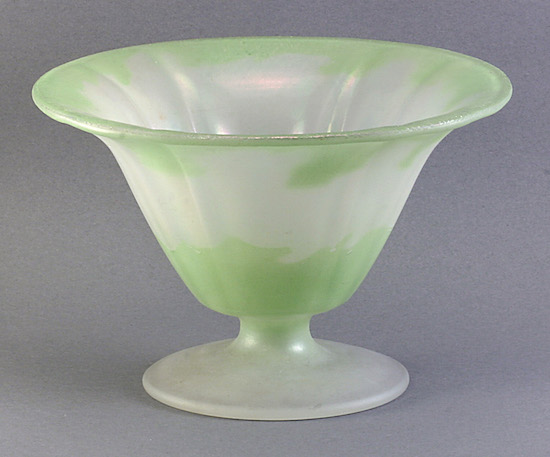 We have yet to find one of these 14" plates in "Cumula" or in crystal with a painted green edge, but I suspect at least a few were made and one may show up at some point in the future. Given the size of the plates, it is easy to see how they could easily have been broken, leaving us with only a few examples today.
It looks like Dave or I will need to chime in again with some more stretch glass plates as there are many more to share, especially the "Laurel Leaf" plates made by Fenton. The sizes, shapes and colors of those plates could consume an entire evening!