2020.05.24 Tuesday Stretch
Cal here for another Tuesday Stretch – don't stand up too fast or you may be seeing stars 😊. As Dave mentioned a couple weeks ago, stars is one of the more challenging themes Brian has come with for those of us in the stretch glass world. Diamond is the company that gives us the most stars, used in the center of the base on a number of their items. Dave covered them pretty well in his article so I'll skip on to a couple of other examples.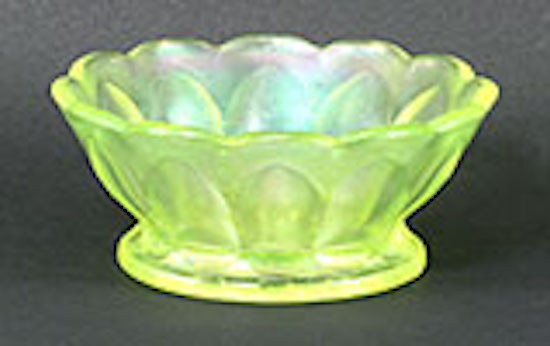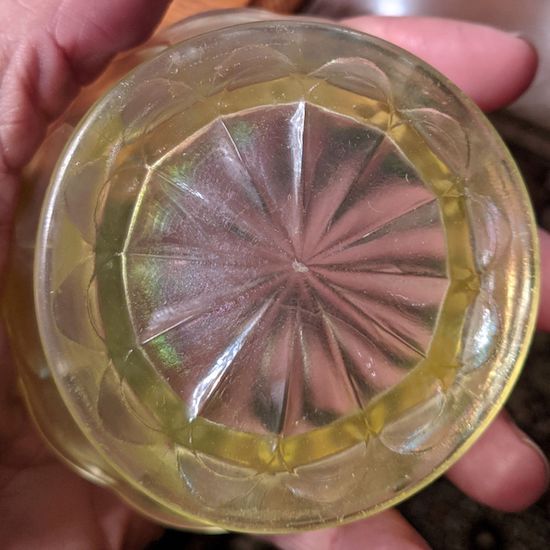 The maker of this individual berry bowl has yet to be identified positively, we believe it to be a US Glass item, but it does have the impression of a star in the base. It is unusual because it seems to have a pattern formed by the 12 impressed 'petals' which go around the bowl on the outside providing an interesting optic look from the inside. Does anyone recognize this pattern as being made in carnival glass or any other type of glass?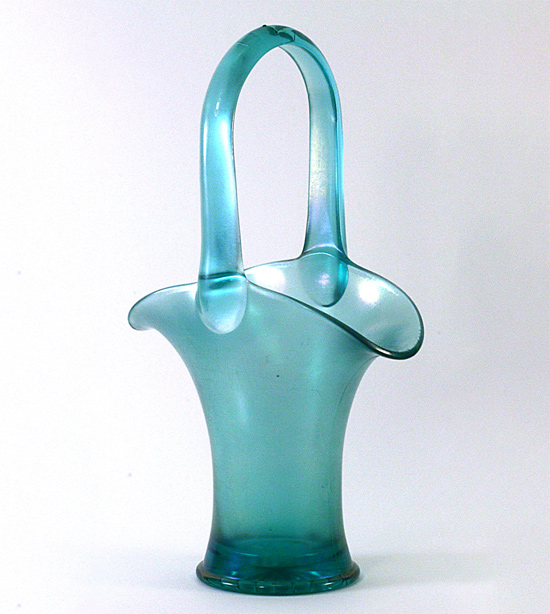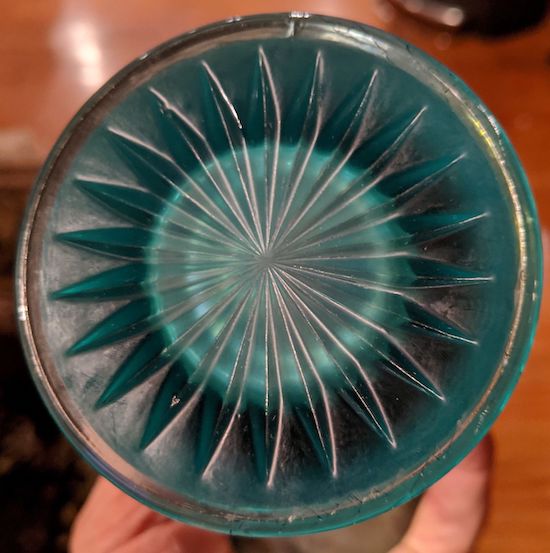 This little Imperial basket has a star-like base. This same star-like base appears every so often in the base of an Imperial Smooth Panels swung vase. I have about 80 Smooth Panels swung vases and only 1 of them has the star indentation in the base.
That's about all I have for you in terms of stars in stretch glass, but I did want to mention that there were a few stars in Tom & Debra Burns' May 16th auction of Nancy & Phil Waln's stretch glass. This was an auction of only stretch glass and bidding on many items was fierce. Of the 104 registered bidders, over 40 of them made a purchase. A number of the bidders had substantial tabs to pay when the auction ended. Bidding was strong on most items, confirming the growing interest in stretch glass and the willingness of collectors to pay top dollar for premium pieces.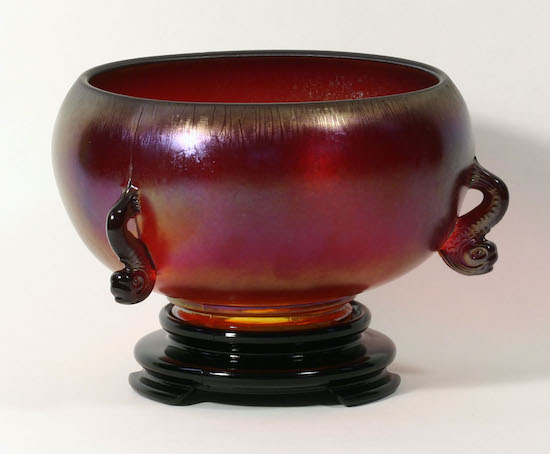 The star of the auction was the ruby triple dolphin rose bowl which sold for $10,000. You may recall that a Velva Rose triple dolphin rose bowl sold several years ago for slightly less than $10,000. Only 5 of these are known, 2 ruby, 2 Florentine Green and 1 Velva Rose. Who will be the next person to find one in an antique shop or estate sale? And what color will it be? Fenton made lots of dolphin items in topaz, aquamarine, Tangerine and made a few items in Wisteria and Celeste Blue, so one could show up in any of those colors.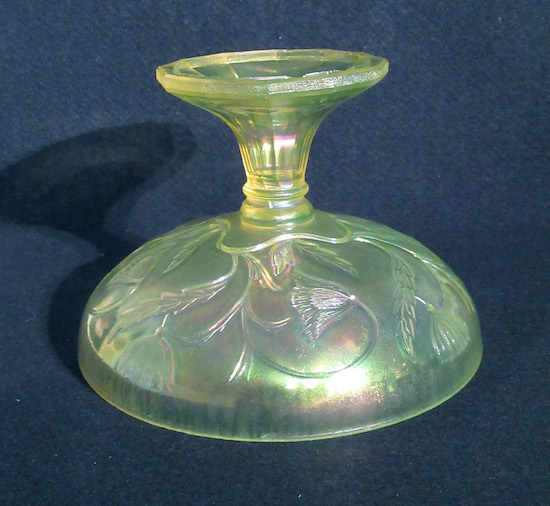 The Intaglio Poppy comport in Topaz by Northwood sold at $11,000. It is the only one known at this time. Several pair of candleholders sold at over $1000 each.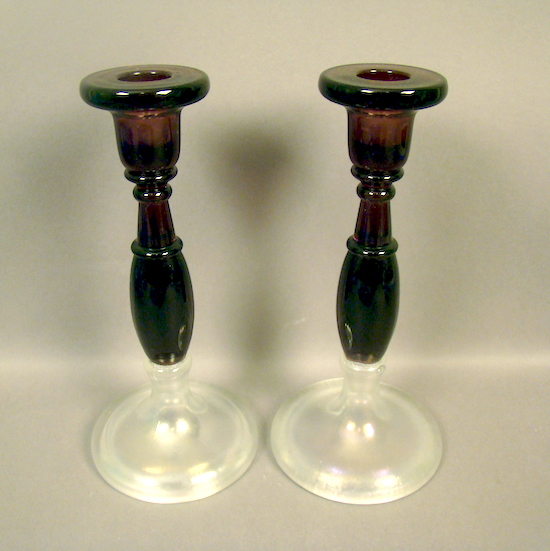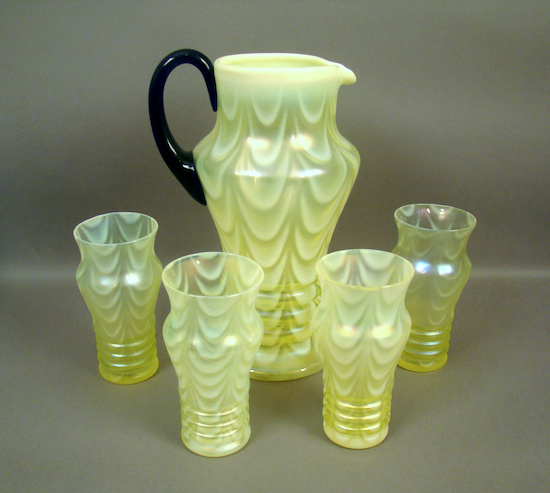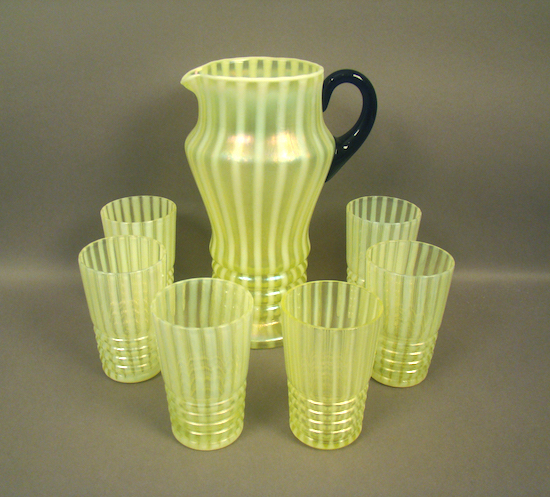 A Topaz Curtain Optic pitcher and tumblers set was hammered down at $2900 and a smaller Topaz Rib Optic juice pitcher and tumblers brought $2100.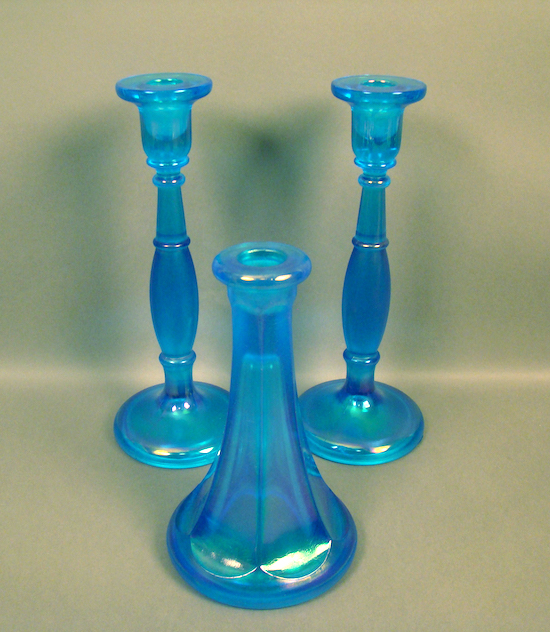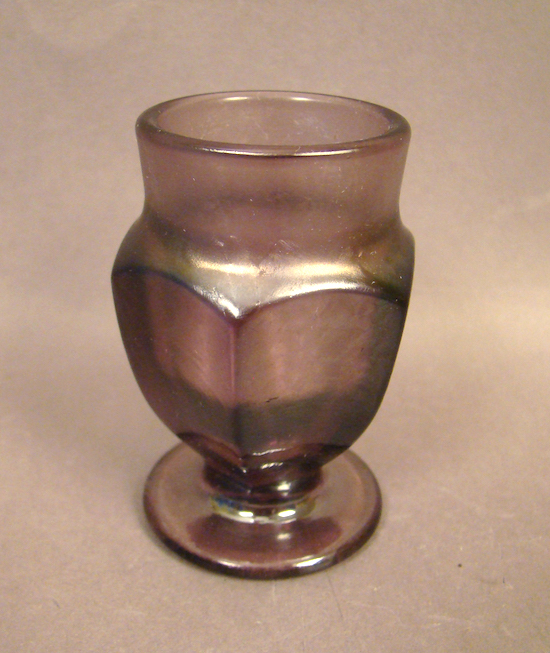 The only known Northwood Blue wide panel variant candleholder found a new home for $1025 and a Fenton Wisteria Pen holder aka toothpick whimsey brought $2500. Two rare shaving mugs were hammered down at nearly $2000 each.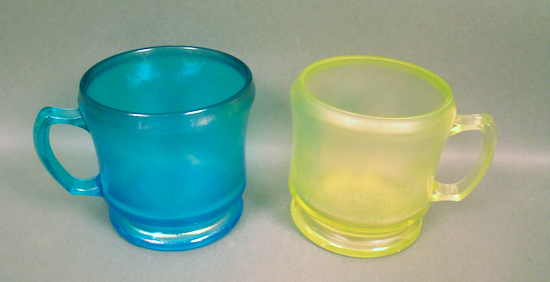 The real stars of the auction were Tom& Debra Burns and their team. The auction was called from their home in Florida with assistance both in Florida and in West Virginia. It was quite a logistical challenge to manage on-line bidders, phone bidders and left bids, but they did it and did it well.
The next installment of the Walns' stretch glass collection will be sold on July 25th in what would have been The Stretch Glass Society's Convention Auction. Instead, it will be also be called from the Burns' residence in Florida. It promises to be another day of exciting bidding as they also sell Sharon Mizell's stretch glass collection and other stretch glass. This auction will be the final event in a week long "Virtual Stretch Glass Experience" being presented by The Stretch Glass Society beginning on Sunday, July 19th and continuing each evening thru Thursday, July 23rd. Each evening beginning at 8pm EDT, we will host, via Zoom, an interactive forum on a particular topic. Sunday's topic will be An intro to Zoom, Monday we will explore amber and Tangerine stretch glass, Tuesday stretch glass enthusiasts will share their favorite pieces of stretch glass, Wednesday Gary Senkar will enlighten us about Imperial Jewels and on Thursday evening Zak McCamey will share his collection of tall dolphin candlesticks from the 19th and 20th centuries. All HOC readers are invited to join us for these discussions. Please send an email to me at cal@calhackeman.com if you would like to receive the links to the Zoom sessions.