Cal here. It's CHEAP Stretch Tuesday and I'm here to share a couple of stories about finding stretch glass on the cheap.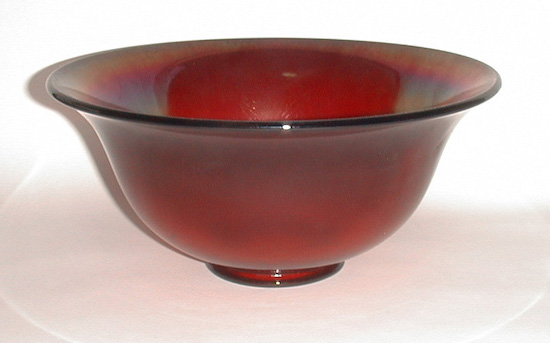 One of my first cheap finds was a Fenton ruby punch bowl for $50. That might not sound like such a great deal now, but in the late 1980s, ruby punch bowls were selling for several hundreds of dollars, so $50 was a steal.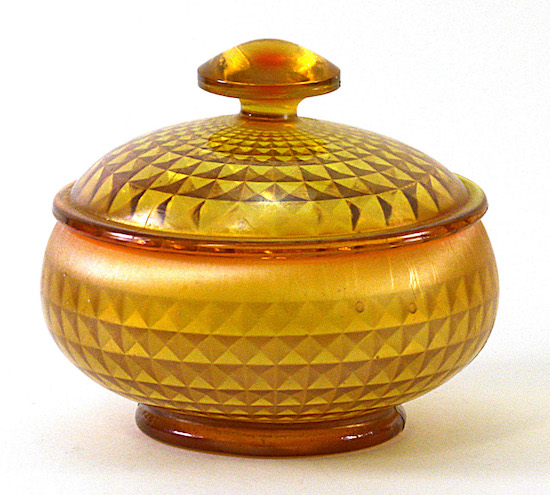 A number of years later at the now defunct Metrolina Fairgrounds in Charlotte, NC I spotted a Fenton tangerine powder puff with the smaller pressed diamond optic interior. It was complete with cover and in perfect condition and was on a shelf with lots of late period Fenton glass. It was priceless, so I asked for a price and was told $9. That was a quick sale.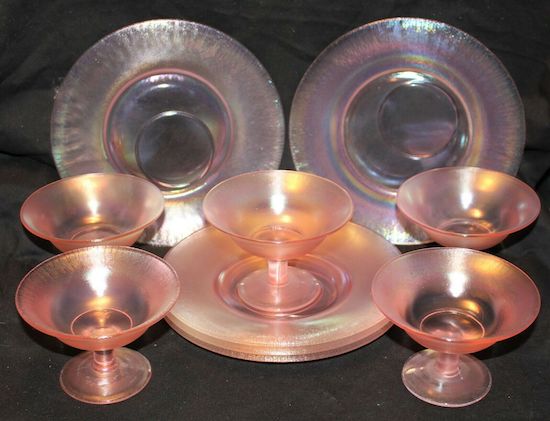 Very recently an eBay seller listed 5 sets of early period Fenton Velva Rose sherbets and off-center indented plates with a buy it now price of $74.99 (total ended up being $122 with shipping). Normally I would not get excited about 5 sherbets and underplates but in Velva Rose it is a different story. Why Fenton did not make as many Velva Rose sherbets as they did in other colors is not known but this is apparently the case as they are scarce in the market today. To find 5 of them at once was delightful. And to get the underplates at the same time was double delightful. And the price was cheap!
That's all I have for you tonight. I'm enjoying the stories of your cheap buys over the years. It is good to get them recorded in the archives for others to drool over in the future. Until next Stretch Tuesday, happy collecting and please stay safe.