2020.02.25 Tuesday Stretch

Cal here for Stretch Tuesday. Happy Tuesday – I'll start to finish up the month of containers for sweets with pics of some of the candy jars Dave didn't show you at the beginning of the month.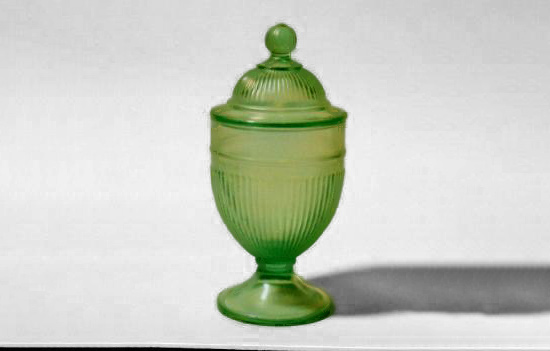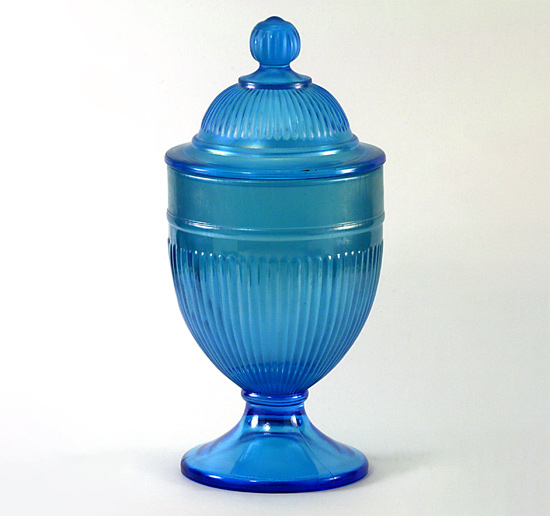 In addition to the Diamond bon bons which Dave shared (only one known in red and both Egyptian Lustre and Blue Crackle are very hard to find), Diamond made some upright candy jars as well. One of the nicest stretch glass candy jars is the one in the Adam's Rib line. It is known in green and blue; Diamond made Adam's Rib stretch glass in marigold as well as Milk Glass with a marigold finish, so there might be a candy jar in one of those colors as well. I think you will agree, both the blue and green ones are quite attractive; they are relatively difficult to acquire.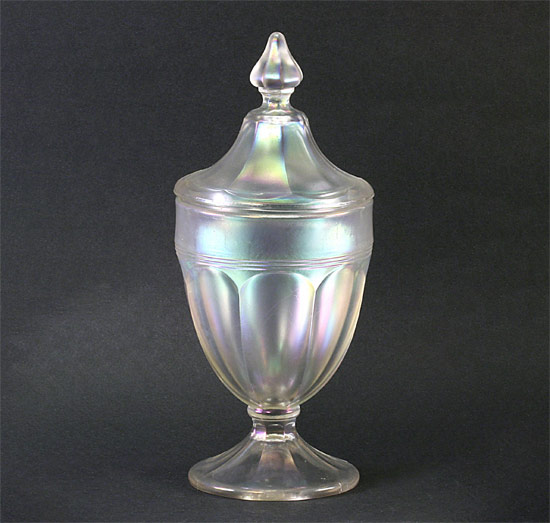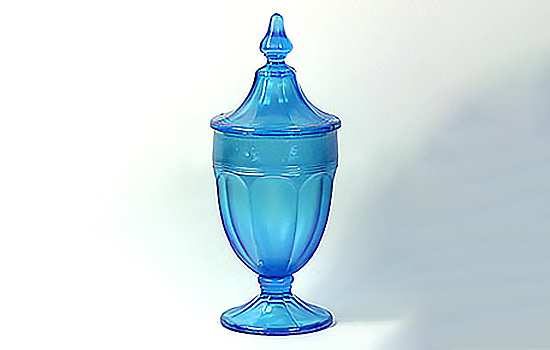 In addition, Diamond made a 3/4# and a 1# tall candy jar. Both have panels but unlike their Fenton and Northwood counterparts, they have 3 grooves at the top of the jar. This makes them easily recognizable. They are known in After Glow (pink), Pearl (crystal), Green and Blue and are not as common as the Fenton and Northwood ones which are similar in size and shape.
Diamond made a wider, shorter candy jar which has 3 feet extending from the bottom. This jar is different, but similar to the one made by Lancaster. The Diamond ones are tough to find in any color.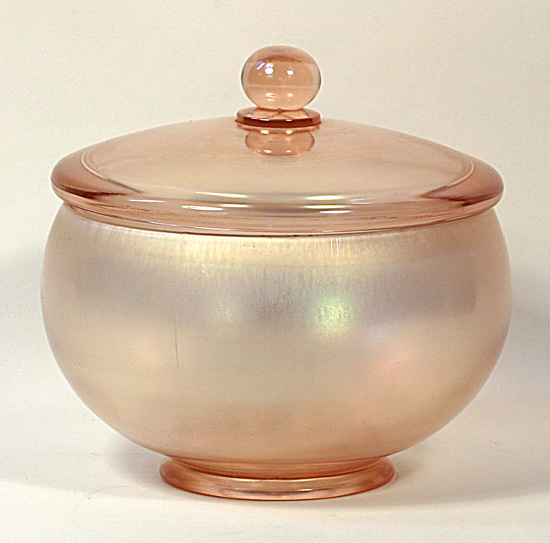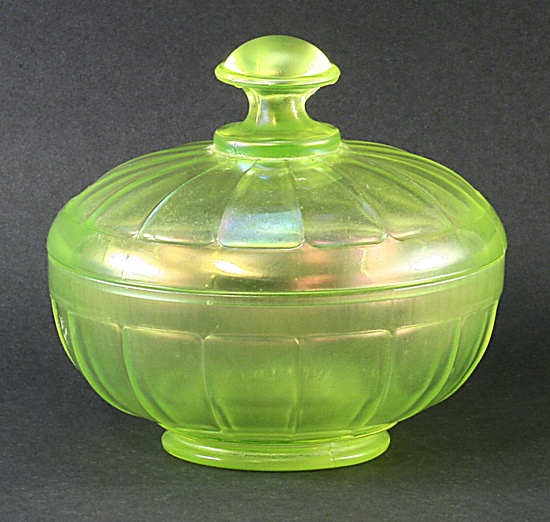 Fenton made a couple of flat bottom bonbons which are not as common as most of their other candy jars. They are both attractive and are available in various, although probably not all, of the Fenton colors. The advantage of these bonbons is that they do not tip over as easily and they still hold a good supply of candy.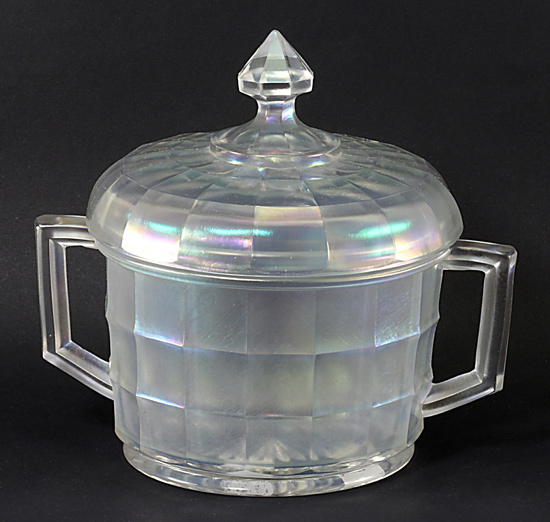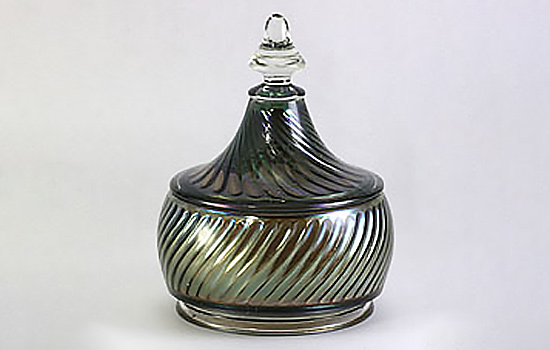 Apparently, no one at Imperial had a sweet tooth as they did not produce any candy jars in stretch glass. They did give us a covered jar, which is often referred to as a cracker jar. I've always wondered why it was a cracker jar – it is not big enough for very many crackers, unless we are talking about oyster crackers, and even then, the servings would be pretty small if 4 or 6 folks were sharing the crackers at a meal. I think it is just as likely that this jar was intended for candy. It is a perfect size for candy, so I am including it tonight. This jar is known in Iris Ice and pink or Rose Ice; both are hard to find, especially the Rose Ice one. Imperial also made this covered jar with the swirl motif, which I think could be a candy jar.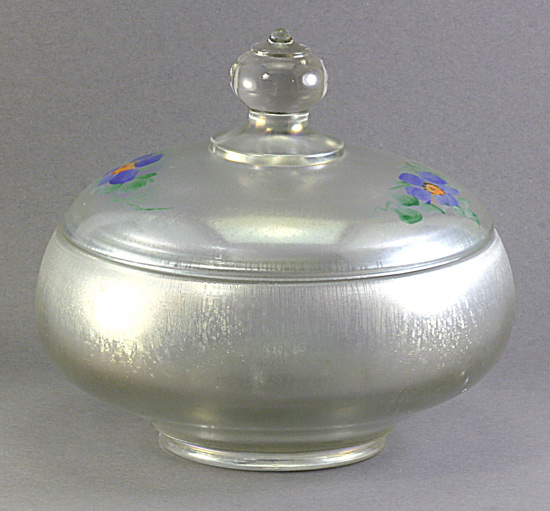 Lancaster made a short, flat bottomed bon bon, similar to the ones Fenton produced. It is an attractive candy jar and appears in at least several of the enameled finishes for Lancaster is best known.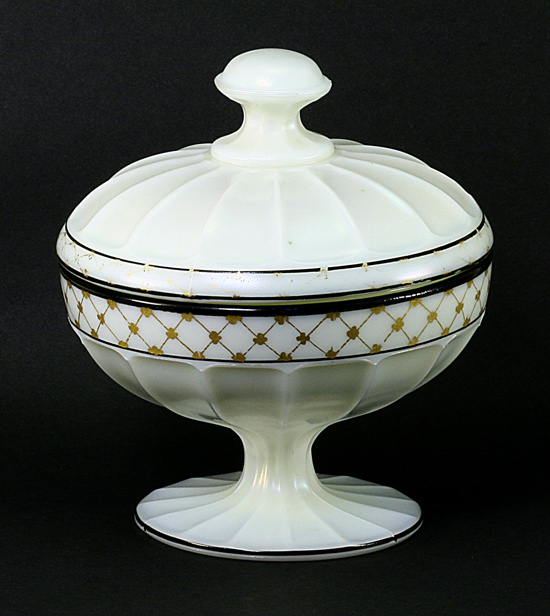 The prize bon bons made by Northwood are the opaque white ones. They are usually decorated. As with most of the opaque white items, there are very limited quantities available as we believe this color was experimental only.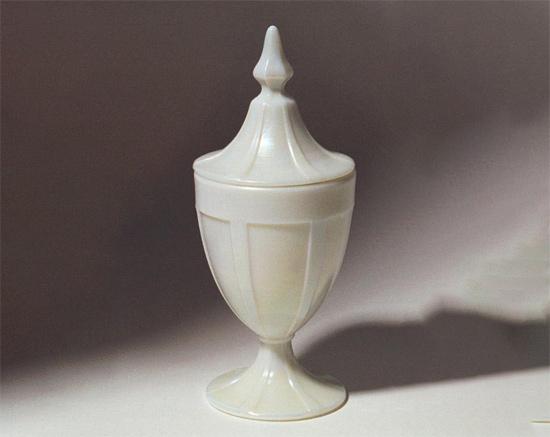 A candy jar in the 1/2# size in opaque white does exist; it is not decorated. The one I have was found in a box lot along with other candy jars at an auction. That was a happy day for me.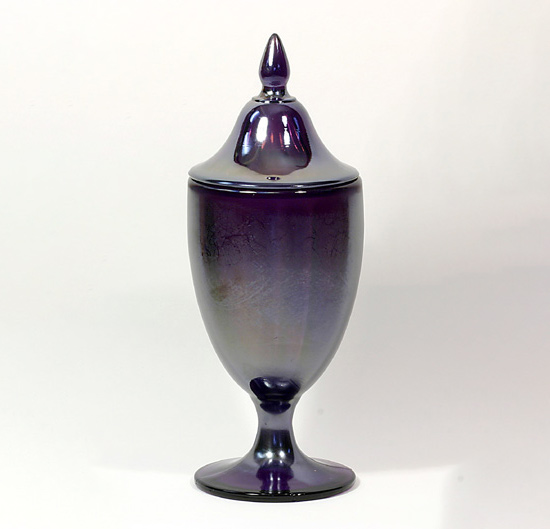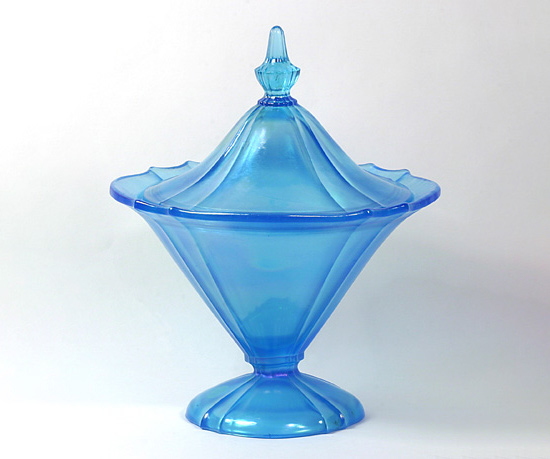 US Glass made two true candy jars in stretch glass. The taller one has exterior ribs and a round foot; the cover has ribs on it as well. It is a challenging jar to find in stretch glass; less challenging to find in other finishes. The other US Glass candy is from the #310 line and is an attractive candy jar. The design associated with the #310 line covers the entire jar from the cover to the foot. These are not easy to find.
Vineland stayed out of the candy jar business, so their patrons would have had to put their candy in a bowl or buy someone else's candy jar.
Dave alluded to other shapes of stretch glass in which candy and other sweets could be served. There are certainly lots of those ranging from the smaller bowls to plates to repurposing the butterball servers to be candy servers and even center handled servers. We have covered many of these items in previous features. One item which I don't think we have said much about is the Fenton dolphin 'mint dish.'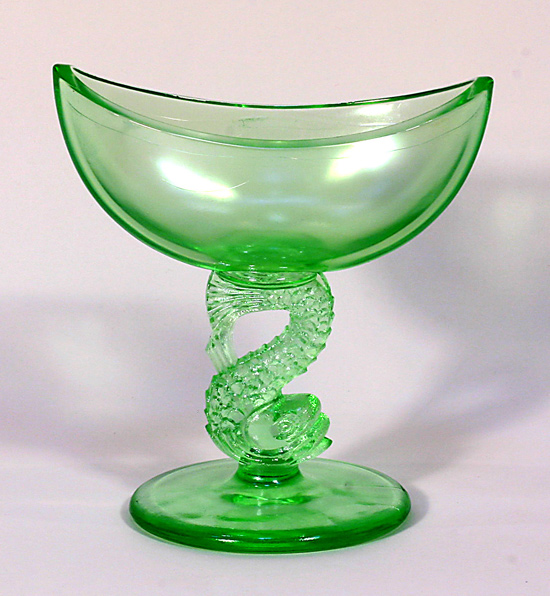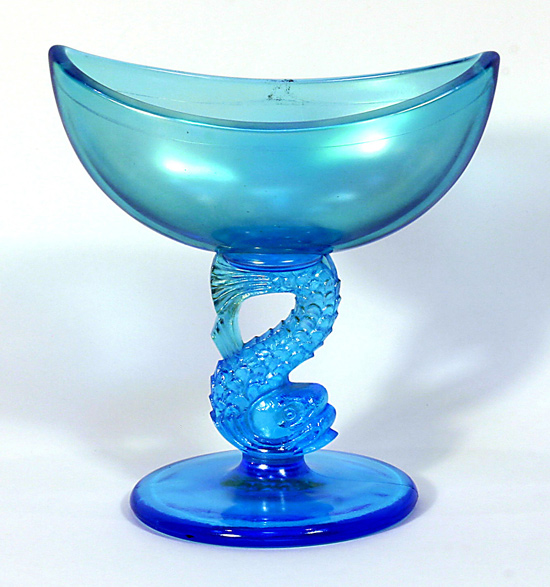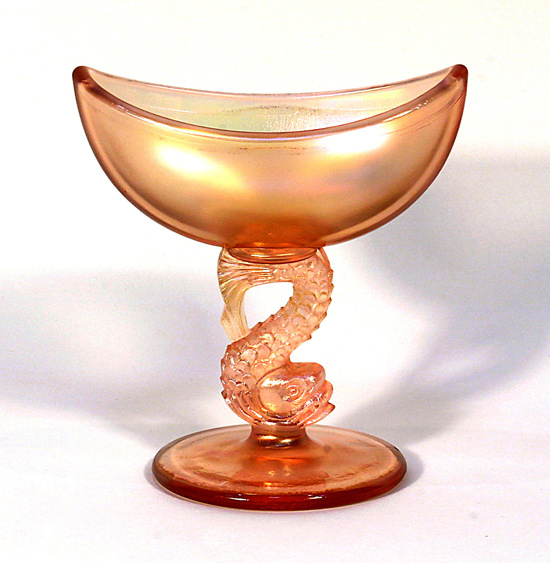 This is one of the more challenging pieces in the 'dolphin' line to find. They are known in only three colors, Velva Rose, Florentine Green and Celeste Blue. The Celeste Blue one is rare – a few are known – while the Velva Rose and Florentine Green ones are scarce. And yes, they are quite nice for serving small mints.
It is convention season and I'd like to put in a good word for the upcoming Stretch Glass convention on July 22, 23 & 24, 2020 in Marietta, OH. Unlike carnival glass collectors who have a number of conventions to choose from, stretch glass collectors have one convention to attend. This year our Convention Display will feature 100 examples of Tangerine and amber stretch glass. This will be a fabulous exhibit of the rarest of the rare stretch glass in these two colors. There will be examples on display which I can guarantee you have never seen in person. We will have seminars and lots of good food plus an opportunity to go room shopping in the hotel and the area antique malls. Registration information will be located on www.stretchglasssociety.org. We invite you to join us for 3 fun-filled days of stretching your knowledge of stretch glass and your wallet/purse. Our auction will feature stretch glass from Sharon Mizell's and Nancy & Phil Waln's collections. It promises to be the best SGS convention auction ever. We hope you will consider joining us in Marietta, OH in July.