2020.02.04 Tuesday Stretch

Finally!! A super easy task for a stretch glass collector – candy month!! BugDoc Dave here with February's first Tuesday Stretch and I could really fill up tonight's mail with all the candy jars and containers that stretch glass manufacturers made, but I'll try to limit my effort to leave something for Cal to show in a couple of weeks. I know he really likes to use his stretch glass and will likely show you some pieces with yummy candy. To begin with, let's go over the common terms that we see being used with stretch glass, both the manufacturers and collectors.
The term bonbon is a really strange one as there are dozens of carnival pieces that were called "bonbon" in manufacturers' catalog pages. Most of these were small serving dishes, often with handles on each side. When the first stretch glass hit the market by Fenton and Northwood (we have good catalog pages from these two companies, but Diamond made very similar pieces), they referred to "covered" bonbons which is what we would call a wide candy jar today. Here are Fenton's bonbons in most of the colors that they made except for Topaz (Vaseline) and Celeste Blue. [back row, l to r: Tangerine, Royal Blue, Wistaria (sic), Florentine Green; front row: Velva Rose, Persian Pearl, Grecian Gold]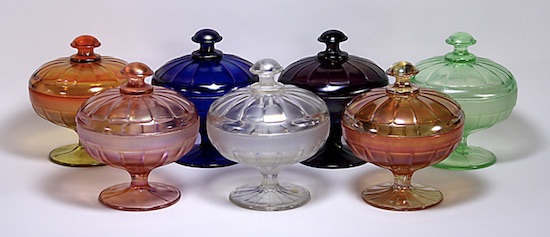 Northwood made an identical form. Here are their unique colors (again, Topaz and Blue are not here). [l to r: Russet, Jade Blue, Ivory (opaque white)]

Diamond also made this form and here is a set of their covered bonbons (again, Topaz and Harding Blue are not shown). [l to r: Green, Egyptian Lustre (black), Blue Crackle, Ruby]

Two other bonbons by Fenton are the #943 (1/2-pound) and #1043 (pound) items. These have outside ribs that look a bit like Diamond's Adam's Rib items, but the Diamond ribs are concave and the Fenton rays are convex. Here is the #943 in Topaz and the #1043 in Celeste Blue.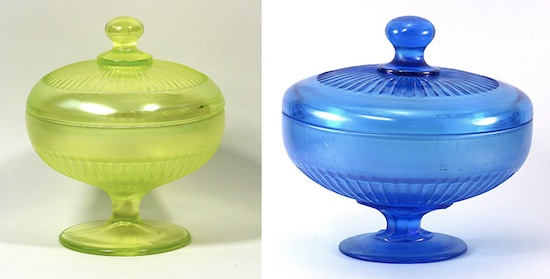 The tough-to-find Fenton covered bonbons are the #844 (Melon Rib) jars. These originally came with a flower top, but this was difficult to make so some have a pagoda-style knob top. Here are examples of ones in Aquamarine and Florentine Green.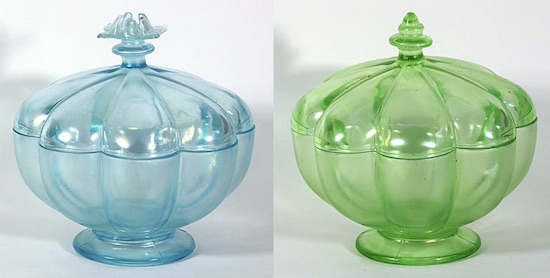 One of the most difficult Bonbons to find in perfect condition is the #10. This item has very thin glass and the lid rim and foot are easily chipped. Here is an example in Tangerine.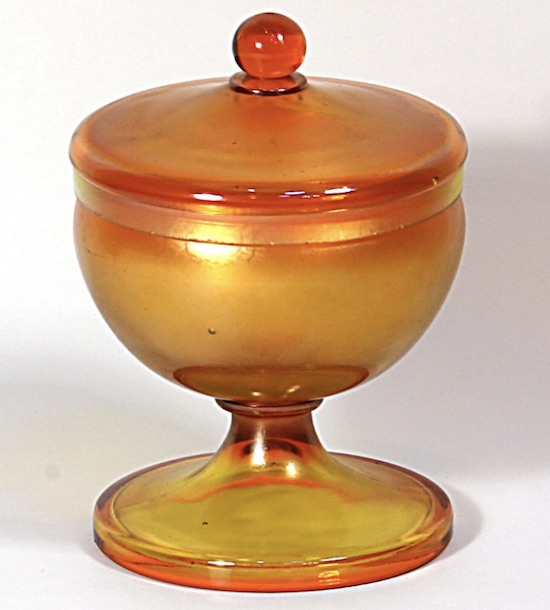 Fenton, Northwood and Diamond made candy jars that are more upright and they have panels on the sides. These were usually in 1/2-poound and one-pound sizes. [l to r: Diamond Blue & Green; Northwood Jade Blue & Russet; Fenton Velva Rose & Wistaria]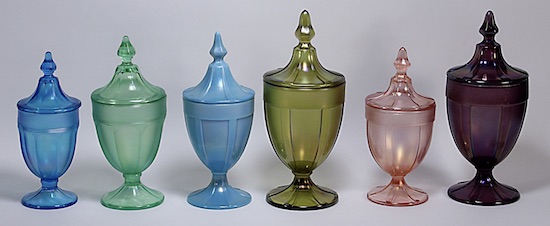 Fenton also made some other candy jar shapes without panels (in 1/2-pound and 3/4-pound sizes) and dolphin-handled ones. To see the forms, I've lined up: Topaz twin-dolphin, Celeste Blue twin-dolphin, Wistaria ½-pound, Ruby 3/4-pound, Velva Rose half pound and Persian Pearl pound jars.

Fenton also made a bunch of other candy jars which they called "boxes" in more modern times. In this image I have photographed the #835 1/2-pound jar in Tangerine, the #568 1/2-pound jar in Celeste Blue (had quilted optic), the #735 1/2-pound jar in Florentine Green (optic rays) and the #736 pound jar in Persian Pearl (optic rays).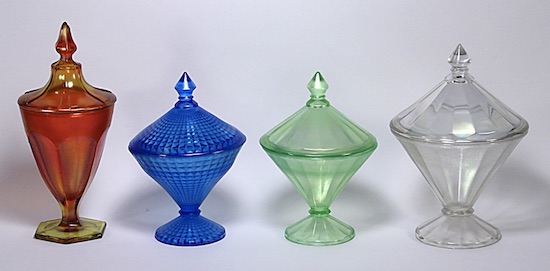 Surprisingly, Lancaster Glass made several covered bonbons/jars that are nicely done. By my count, the produce five different shapes. The first one is a round, squatty bonbon. This one is in Iris Ice (crystal glass with crystal stretch). These can have round knobs or hexagonal knobs.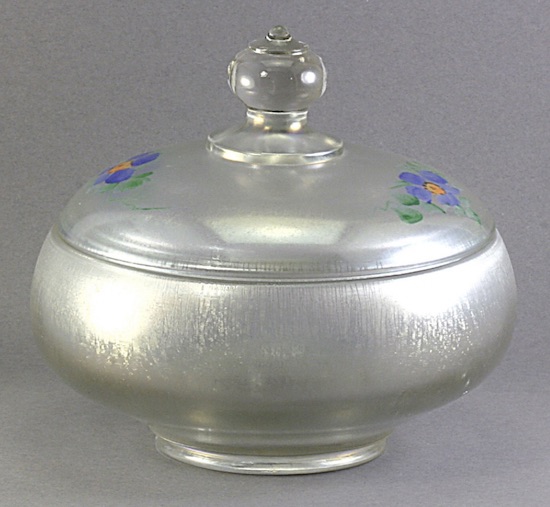 Here is the cone-shaped jar which is often mistaken for a Fenton jar. This is in Ruby Lustre (crystal stretch glass with an overall orange to yellow enamel and flowers).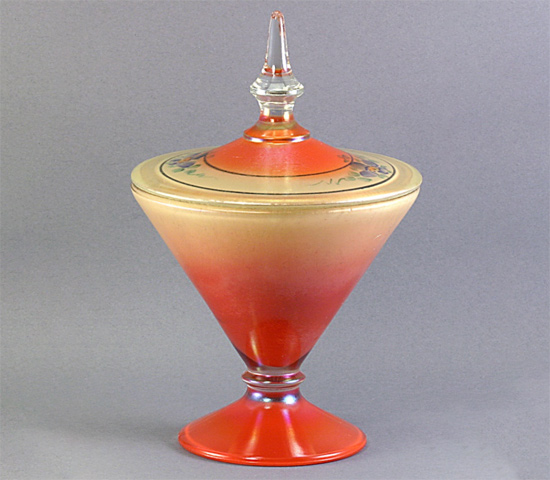 Then there are low-footed and high-footed bonbons. The low-footed example is in White Lustre (crystal stretch with a cream-colored enamel) and the high-footed is in Aztec (a bright marigold stretch). You've likely seen these without the lids being passed off as comports!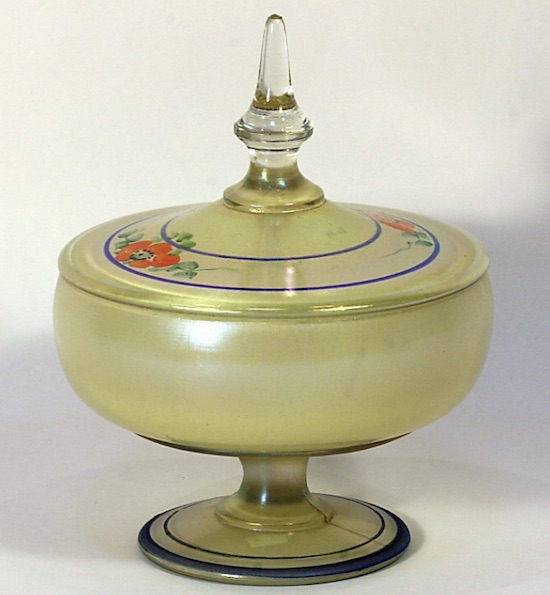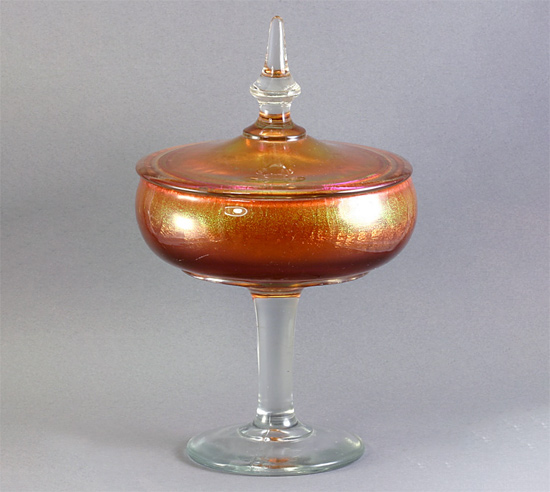 The final Lancaster piece is a three-footed jar. This is most commonly found in Iris Ice and the lid may also be missing, making it a three-footed bowl! LOL! I'll stop here and let Cal show a few remaining jars as well as salvers and servers that are also really good for serving sweets!