2020.01.07 Tuesday Stretch

BugDoc Dave with the first Tuesday Stretch of the New Year. Yes, there are mysteries in iridescent stretch glass! There are several pieces that have yet to be associated with a manufacturer though we have some strong suspicions. There are also some mysteries as to "missing" pieces! Let me first start with some of the unidentified pieces. My first one is a nice blue bowl that has nine external panels. This one is about 8-inches wide and looks like a Fenton or Northwood blue. I can't find any matching pieces with this design in old catalog pages or industry advertisements. Anyone recognize it?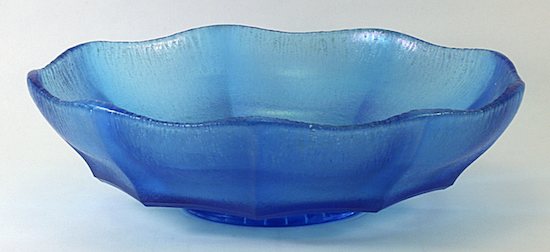 My second one is another 8-inch bowl with six optic rays (ribs inside) that end in indentations along the rim. This one is in white stretch and it has the look of some U.S. Glass or Imperial pieces.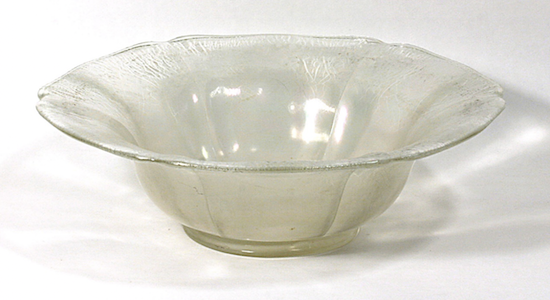 The next bowl has three peg-like feet and a ground marie base (there was a little glass ring that was used with a snap to hold the piece for finishing and this was ground off to look like a ground pontil). This looks a bit like the Fenton 'melon rib' design, but it is definitely not the same. The color in this image is true with the piece having some cobalt blue overtones. Both Vineland and U.S. Glass made pieces in very similar colors and the quality of this piece makes me think that it is more likely a U.S. Glass piece.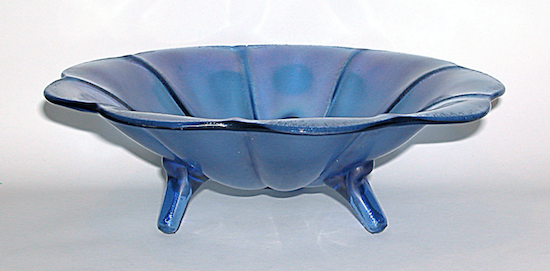 I remember the day that Bill Crowl showed up in Chicago to have a personal sale to assembled stretch glass collectors. He pulled out this little five-inch berry bowl and several of us raised our hands. He smiled and dug out two more identical dishes! It looks a lot like a U.S. Glass piece, but I've not been able to find the pattern in any of the U.S. Glass books or catalog pages!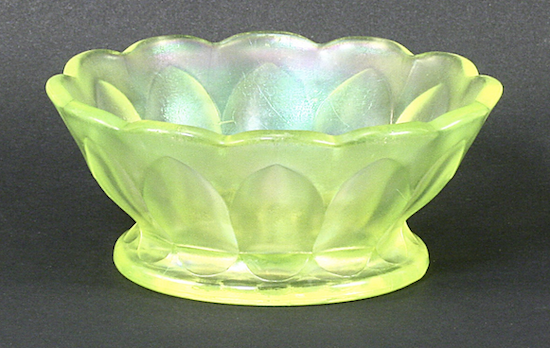 One of our Stretch Glass Society members showed up with this strange green bowl. It has a very light stretch finish to the bowl which is about eight-inches wide. The base has definite panels and I suspect that this is an old Victorian glass mold that was pulled out by one of the companies (again I'm leaning to one of the U.S. Glass companies) as a trial for applying the stretch finish.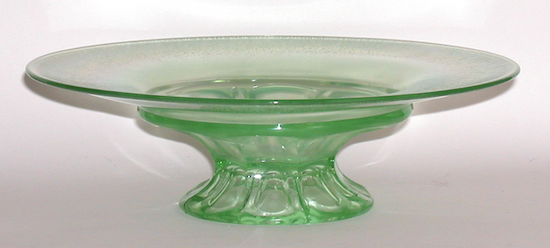 A couple of years ago, Phil and Nancy Waln showed up with this unusual blue candleholder. Again nobody has seen this holder in any catalog pages! The color looks like Fenton or Northwood.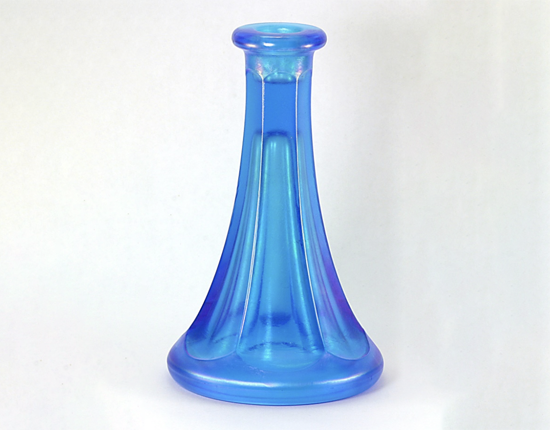 A couple of these little 4.5-inch wide dishes are known. They have eight panels and two tabs that could serve has handles. The green has a distinctive tint that is very different than the normal Florentine Green of Fenton. Again, there are some Diamond, Central and U.S. Glass pieces that have similar green tones.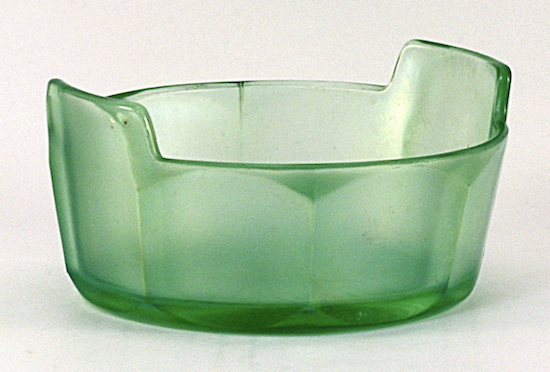 A few years ago, I got this set of three toothpicks off eBay (apparently when nobody else was watching!). I figured that they may have been some recent production but now know that they are old production. Again, I suspect that they are of U.S. Glass in origin.
My final piece is a 12-inch diameter bowl that has only a hint of stretch effect in the iridescence. In fact, I lean more to calling it "carnival," but it has absolutely no pattern. The glass appears to be crystal, but it has an overall light blue enamel on the exterior and a hand-painted floral design inside. Burns showed up with a 10-inch version of this bowl at our convention this last summer and it has the identical decoration! Does anyone recognize the floral design? I'm leaning to Lancaster Glass, but none of the Lancaster glass books illustrate this effect!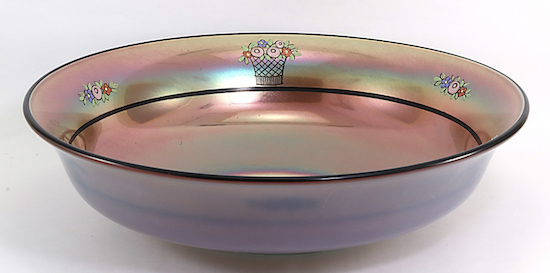 I mentioned that there are some mysteries of missing pieces. To me, the most famous of these are Fenton's #231 bowls and #232 candleholders. In the bowls, Tangerine is a pretty common color, but Tangerine candleholders are unknown! Where are they?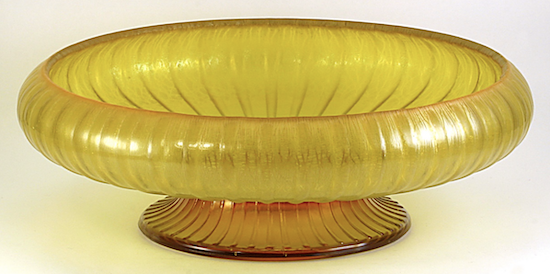 On the other hand, only one set of Royal Blue (dark cobalt blue) #232 candleholders are known, but no bowl has shown up! Matching sets of bowls and candleholders are known in Celeste Blue, Florentine Green, Velva Rose, Persian Pearl and Grecian Gold! Where's the sets for Tangerine and Royal Blue??