2019.12.31 Tuesday Stretch

Cal here. Before we turn the calendar to 2020 and a new focus for January, I want to share a few more examples of stretch glass which I love to use now and then – the items with dolphins as part of the mold.
Dolphins in glassware are known at least as early as Venetian glass and probably well before that. I first became interested in dolphins when I saw the ones Boston & Sandwich made in the mid-1800s in the home of an antique dealer for whom I did yardwork as a teenager.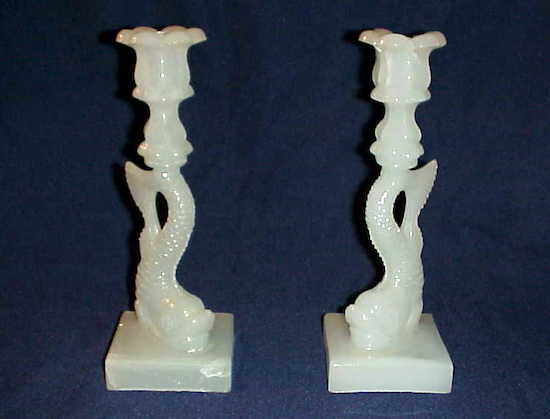 At one time, they were quite difficult to obtain. Today some of the Boston & Sandwich dolphins are less difficult to obtain but there are still some which are quite rare. Boston & Sandwich featured the dolphins in candleholders, comports, lamps, epergnes and possibly other items. Typically the dolphin was upright and served as the stem of the item or in the case of candlesticks, as the 'stick.'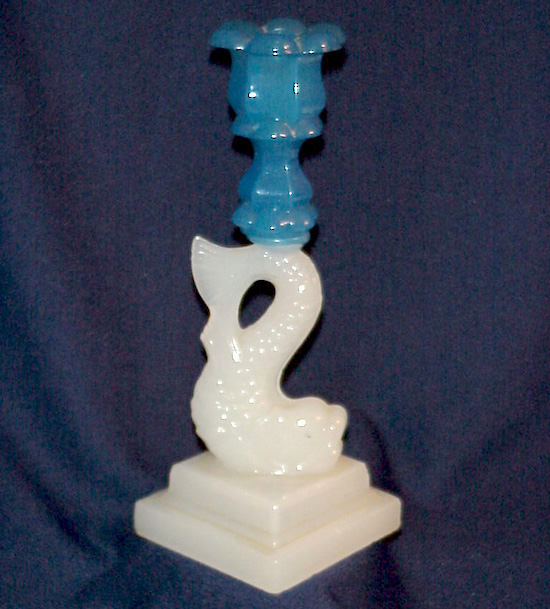 When I began collecting stretch glass, I found dolphins as handles on fan vases, bowls, candy jars and comports. On the vases, candy jars and comports there are 2 dolphin handles (all three shapes are made from the same molds – there is a larger one and a smaller one). On the bowls, there are 3 dolphins, also protruding from the sides of the bowls. I also saw a rose bowl which had 3 dolphins on the sides. Later I found the dolphins on candleholders, mint cups, butter ball and larger center handled servers. This means that stretch glass with dolphins or in 'the dolphin pattern' exists where there is 1, 2 or 3 dolphins in the design of the glass.
Fenton produced dolphin handled glass in the early and late stretch glass periods as well as at various times in between, so Fenton glass with dolphin handles is generally somewhat available. The fan vases and comports are most frequently seen followed by candy jars. Handled trays, mint cups and candleholders are more difficult to find. As with any class of glassware, some of Fenton's dolphin glassware is quite rare and expensive.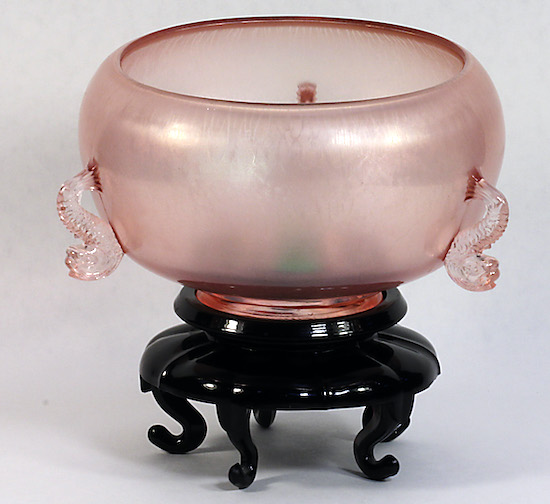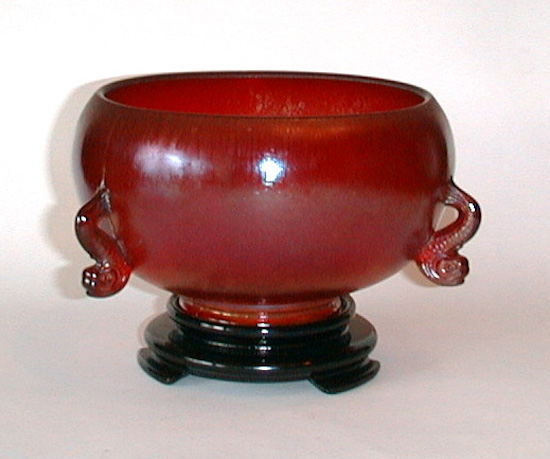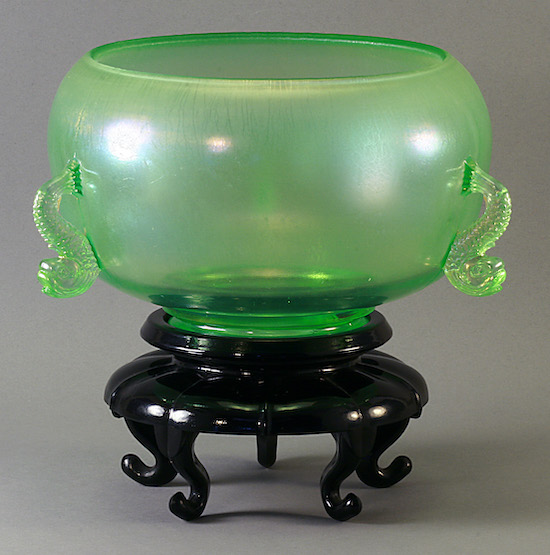 Some bowls are not difficult to find, but the triple dolphin rose bowls are the jewel in the crown when it comes to a stretch glass collection. There are only a few of these known in stretch glass and anyone who likes dolphin glass wants to have one in their collection. The first one discovered was ruby in color. Frank Fenton must have been very proud of the color that was achieved as it is a deep ruby from top to bottom and all around. There is not a hint of Amberina in it. Eventually a second of the ruby ones was found. Then two Florentine Green triple dolphin rose bowls were found and more recently one in Velva Rose was located by Tom Burns. While these triple dolphin rose bowls have been owned by various collectors over the years, if we count these bowls based on them being known at the same time, it seems to me that there are only 5 of them. Today, all 5 of these are in collections; one of the ruby ones being in Phil & Nancy Waln's collection which will be sold in 2020. This means that someone is going to have an opportunity to acquire one of the rarest and most desirable examples of stretch glass in 2020. Will it be you?
The members of The Stretch Glass Society were quite fond of dolphin handled items and a number of our early souvenirs were made in the Fenton dolphin molds. Fenton also found them to be popular and made a number of dolphin items during the late stretch glass period. Curiously, many of the late period square red/ruby comports do not contain the Fenton logo and are often thought to be from the early stretch glass period. With careful examination, however, they are easily attributed to the later period of production, but remain a 'confusing' item, none the less. You have seen some of these in recent posts of SGS souvenirs, so I will not include them again here.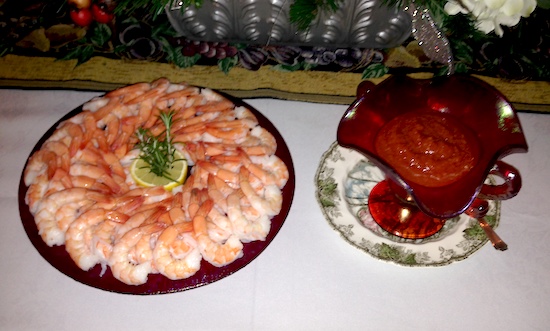 When we began to entertain on a larger scale, we discovered that the larger dolphin handled servers worked well for serving cold shrimp and the dolphin handled comports worked equally well for serving the cocktail sauce. I'm guessing this is not what the Fentons had in mind when they made these items, but they are particularly attractive and useful when used in this manner. I've never used the ruby triple dolphin rose bowl for an arrangement of roses, but I believe it would be most attractive with roses in it. Maybe I'll try that for Valentine's Day this year.
The fan vases, bowls and candleholders are equally useful and will typically elicit questions and comments from our guests when they are incorporated into our table. I'm afraid I have to admit that I don't recall us ever putting mints in the dolphin mint dish or butter balls on the dolphin butter ball server. (I'm making a mental note to do this in the future!)
I'm curious to hear from others reading this regarding their interest in iridized dolphin glass. Does the dolphin qualify as a "pattern" for carnival glass collectors? I see it listed in carnival glass books, in Doty's pricing information and in the HOC pricing tool, which seems to indicate that there is some interest in it by carnival glass enthusiasts but I wonder if this interest is widespread or more limited? Maybe we will hear from some of you on this topic as we wind up 2019.