2019.12.03 Tuesday Stretch


BugDoc Dave with the first Tuesday of December, so I need to show you some stretch glass! Brian has picked some interesting monthly topics and this "useful" pieces has stretch written all over it! It appears that the glass companies were on their way from "ornamental" carnival glass to utilitarian Depression glass when they made stretch glass. As others have already shown, we now see pieces of glass that were used for smoking (ash trays, cigarette boxes, match holders) and for the bath/bedroom (colognes, puff jars, bath jars, etc.). Pitcher and tumbler sets were also made in abundance, but I believe that the abundance of handled servers, cheese and cracker sets and plates of all sizes is quite different than what is seen in carnival glass, but common in Depression glass lines. Tonight, I'll concentrate on some even more specialized useful pieces – relish/marmalade sets and mayonnaise sets!
It seems that Fenton was the only company that made a relish set (they called it a sweetmeat server) that contained a cheese dish (the same little stemmed dish that is used with cheese and cracker sets) and a plate with segmented areas. I've only seen this set in Celeste Blue and Topaz.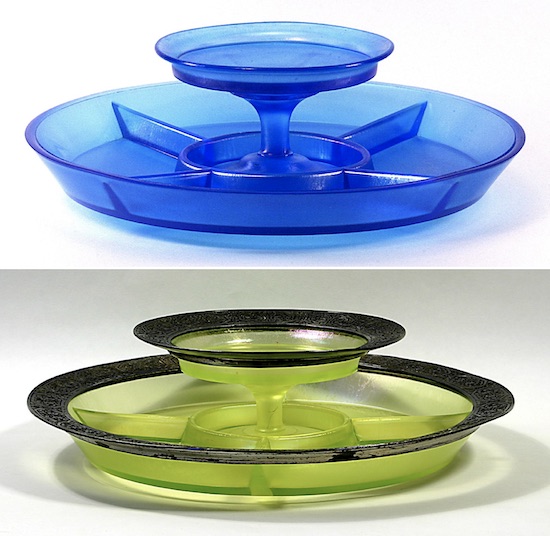 This Topaz example is even more special with the applied metal band!
Fenton also made a marmalade jar that has a domed lid with a little slot suitable for a small metal spoon. Like the sweetmeat servers, these are really difficult to obtain, especially with the lid. While not shown in any of the Fenton catalogs, this jar fits perfectly in the ring of the cracker dish that would normally hold the cheese dish. I've seen the jars in Topaz, Celeste Blue and Florentine Green.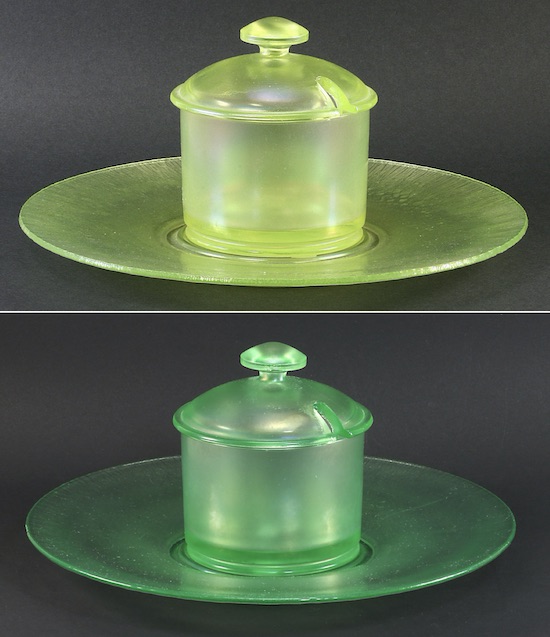 The last Fenton jar with plate is an item that took a long time to identify. The set consists of a wide jar with lid that sits in a nearly 12-inch wide plate (the plate has a ring for the jar). The jar and plate were known in blue, pink and green which are Fenton colors, but also common colors of U.S. Glass. In fact, in my book, we had this set listed as a U.S. Glass production. However, when a Tangerine set showed up, even Frank Fenton had to say, "Well, I guess it's ours!"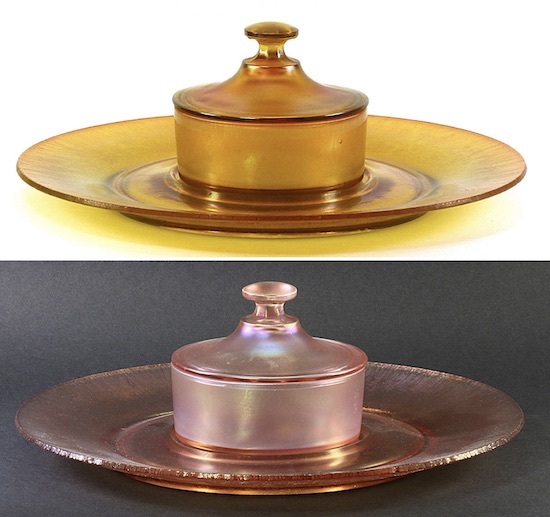 Fenton wasn't the only company that made some specialized servers. Northwood's almond jar is quite unique. It is a squatty piece with a flat lid with scalloped panels. This piece is most common in their Blue and Topaz, but a few Russet pieces are known.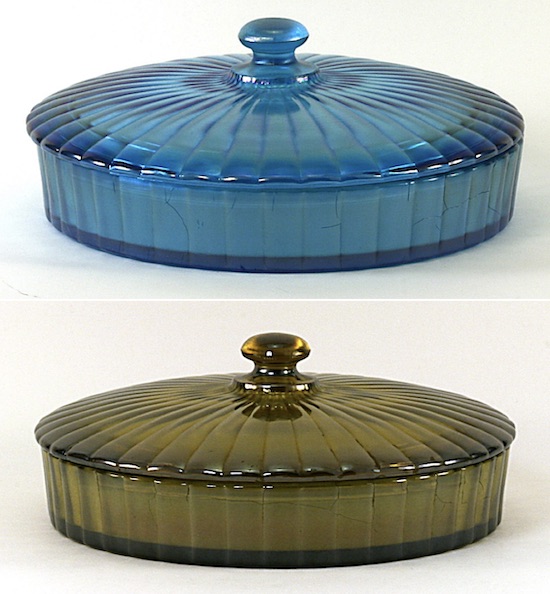 When it comes to mayonnaise bowls (and often a matching underplate), Fenton, Imperial, Northwood and U.S. Glass dominated the production. However, Lancaster also made a mayo set. This first one is the standard Fenton mayonnaise in aquamarine.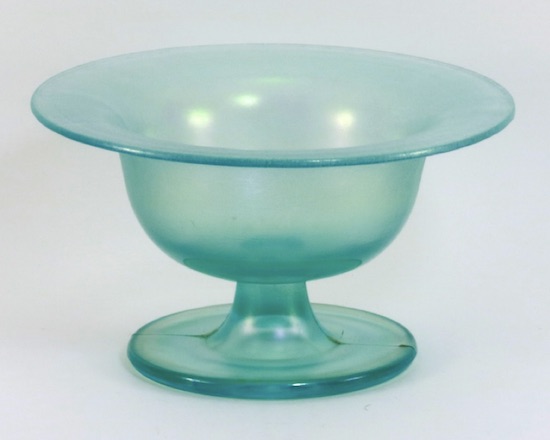 Fenton also made an oval version of their mayonnaise and these are much more difficult to find.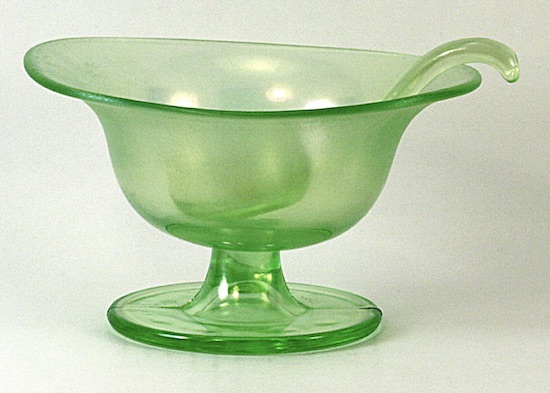 The Northwood mayos come in two forms, normal or upright and one with a rolled rim.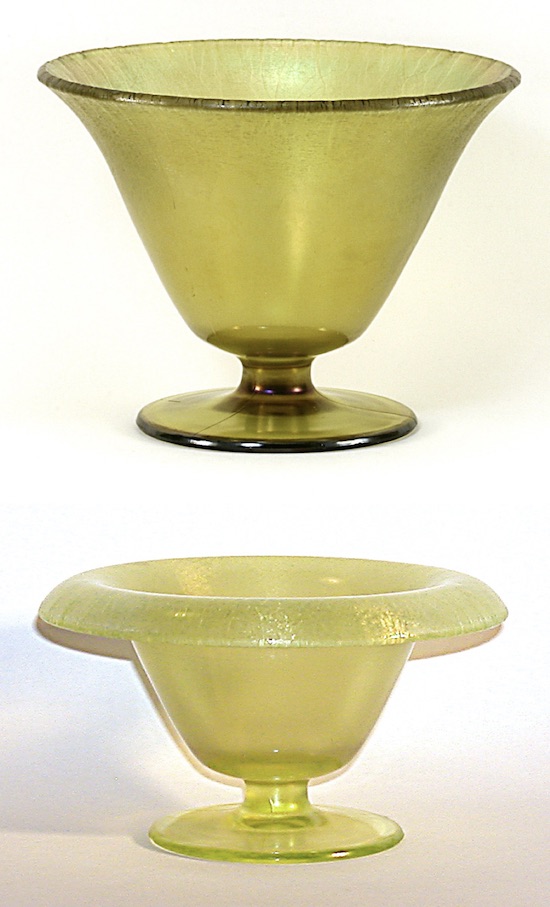 Imperial made quite a few mayo sets, some with stems and others with a flat-bottom bowl. Most of their mayos came as sets with a matching under plate.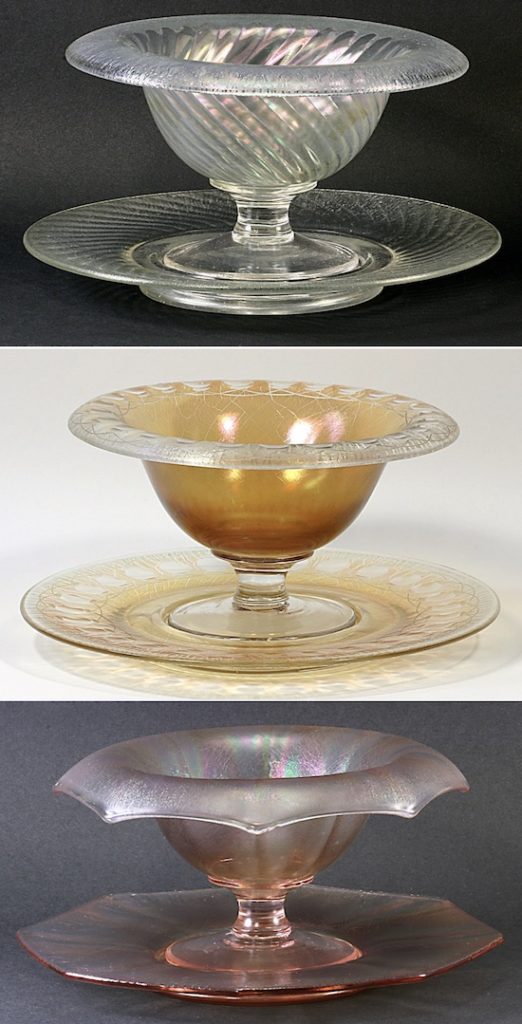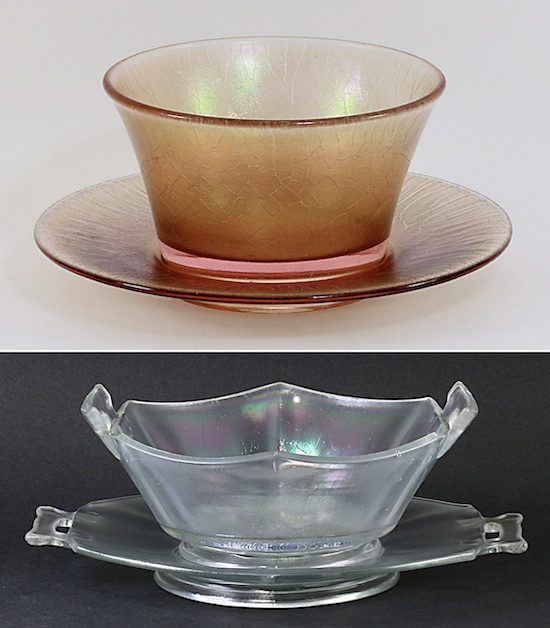 U.S. Glass made most of their mayos without plates, but some seem to have come as sets. Several lines had mayonnaise dishes. The first one is a #314 mayo with the Cumula decoration.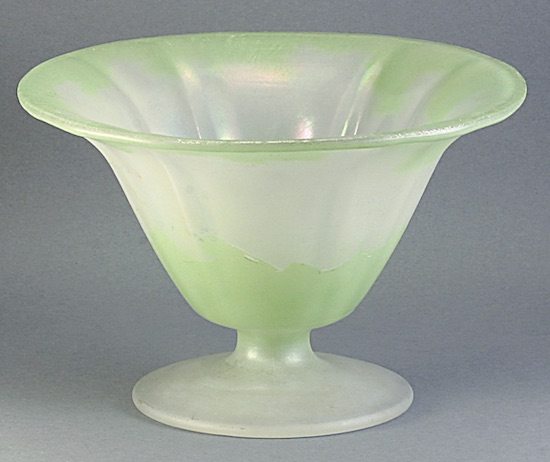 And another #310 mayo in purple.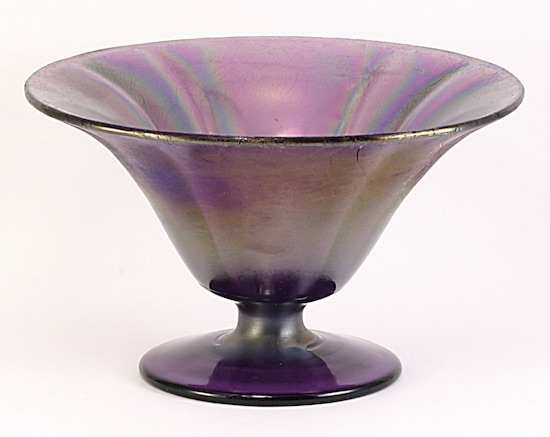 And here is a "rays and points" mayonnaise (we don't know the number for this line!) in amber.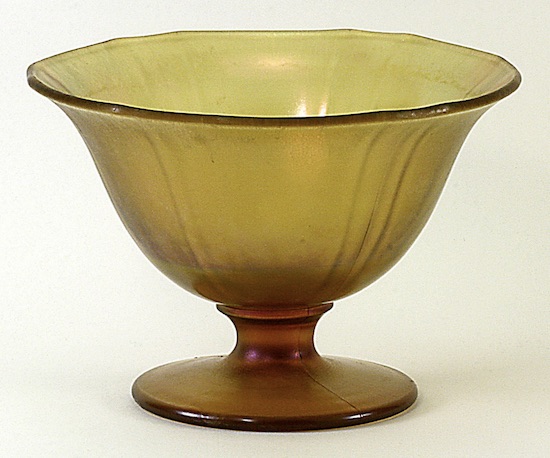 Finally, here is the #310 mayonnaise with its ladle.