2019.10.01 Tuesday Stretch

BugDoc Dave with the first Tuesday of October, which is another Stretch Tuesday! I see that Brian has declared this month to be 'Pastel October.' When he made the declaration, I had to chuckle a bit because many stretch colors are called pastels by carnival collectors. When Renée and I first began collecting stretch glass, we were very confused by the terms that carnival collectors used and what we were being taught by our fellow stretch glass mentors, especially folks like Berry Wiggins. We kept seeing descriptions of "Ice Green" which looked exactly like Fenton's Florentine Green to us. "Ice Blue" seemed to be the same as Fenton's Aquamarine. Of course, "Vaseline" was "Topaz" or "Canary." As a background, the Stretch Glass Society has always had a tradition of trying to use company names for glass colors where we were sure of the original names. We know this is confusing to other collectors but it's kind of fun to learn and use these original color names.
In general, we consider the light colors (except for marigold on crystal glass) as being pastels. Most would agree that this would include glass colors such as: light green (aka, Florentine Green, though many of the companies simply called this color Green), Topaz, light blue-green (aka, Aquamarine), and pink (aka, Fenton's Velva Rose and Diamond's Afterglow). Some also include Celeste Blue (simply called Blue by many companies, but some, like Diamond, used the name, Harding Blue; Vineland used the name Tut Blue). The blues are a bit difficult as we know of Fenton Celeste Blue pieces that are very pale to the point that they are nearly Aquamarine, and Northwood had three distinctive blues – a light blue with a greenish cast, a true Celeste-type blue, and a dark blue which collectors designate as sapphire). I'll just cover the blues and green tonight and let Cal cover the other pastels later in the month.
An Aquamarine-type blue was made by Fenton and U.S. Glass. Here is a three-dolphin, six-crimped bowl in Aquamarine.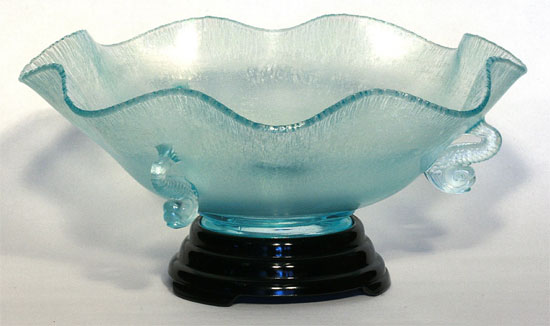 And here is a U.S. Glass piece (their #179 vase) in a pale blue-green that is nearly identical to the Fenton color. We don't know the U.S. Glass name for this color, but it's not real common and has nice color.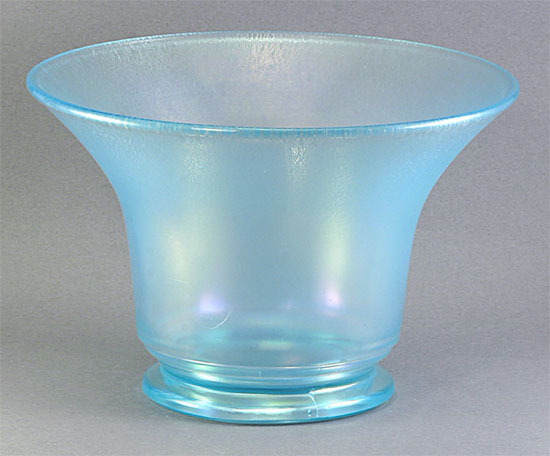 The true blue types have considerable range. While all of the following would be considered Celeste Blue because they are Fenton's, you can see there are some light blue pieces like this candy jar. On the shelf, this looks like Aquamarine, but when you put it next to a true Aquamarine piece, it's not the same!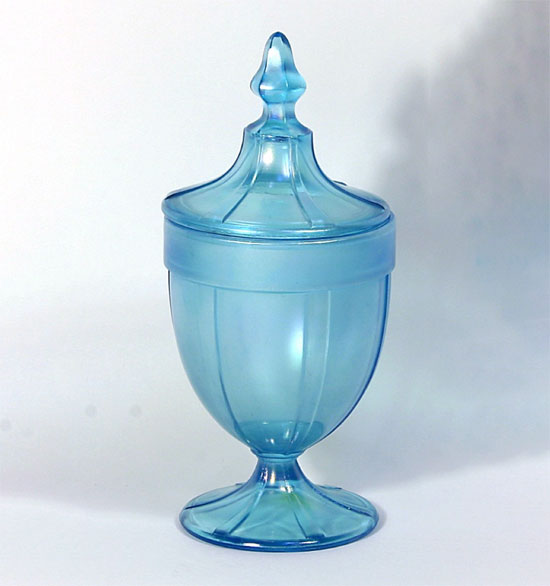 The following candy jar is a more classic Celeste Blue though it's dark enough to be a sapphire!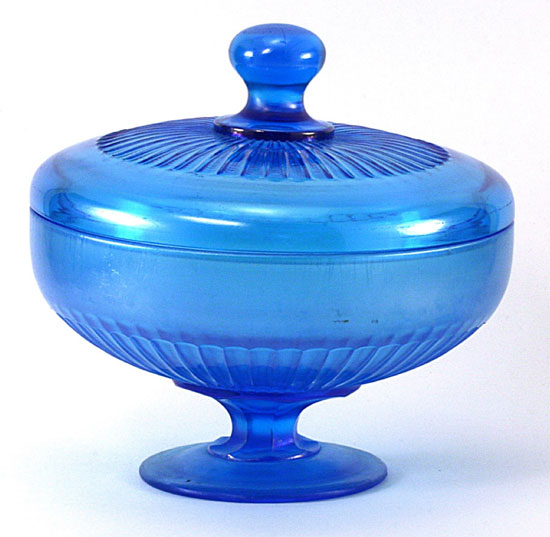 And here are the three Northwood blues. A light blue-green "Tree-of-life" low bowl.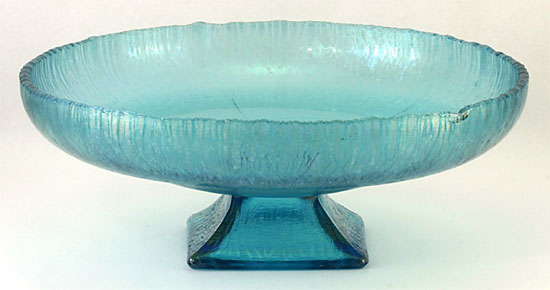 And a Celeste-type blue bowl.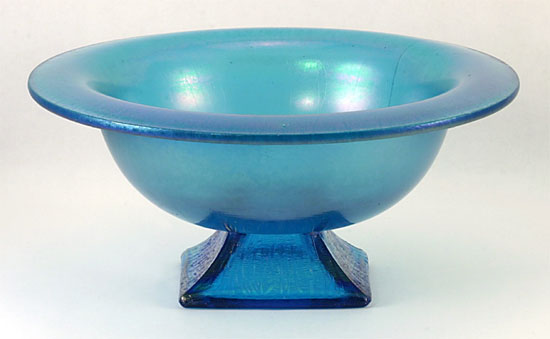 And, a sapphire-type blue bowl.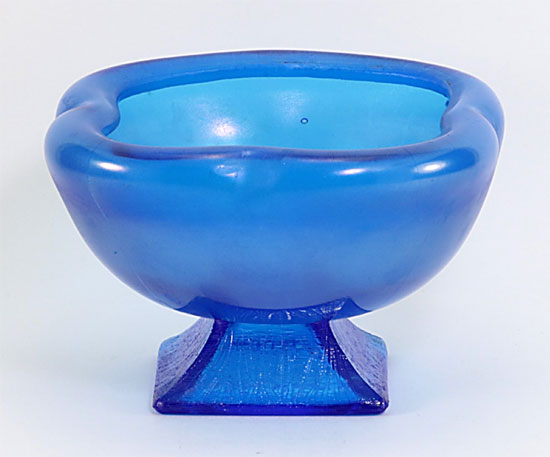 Green can also vary a bit within a company's production, and there are differences between companies. Again, Fenton is considered to be the standard with their Florentine Green. Here is a console set in Florentine Green.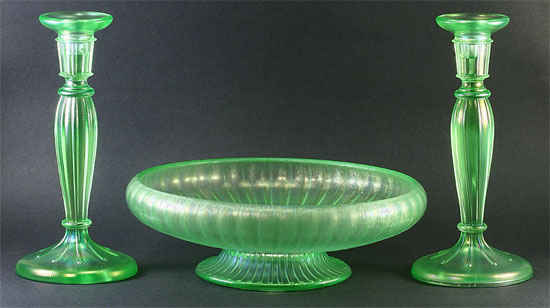 Central, Diamond, and U.S. Glass made very similar greens, but the Central and Diamond greens seem to have a little more blue in them. Here is a Central bowl in their Green.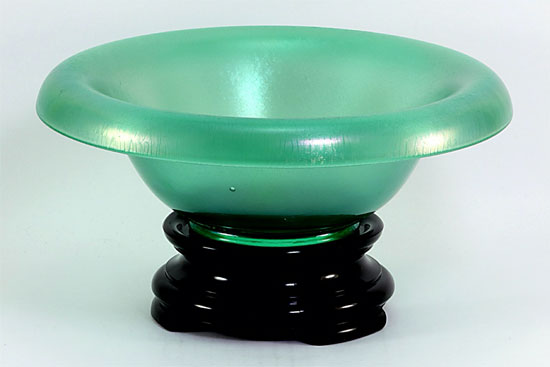 And here is a Diamond example.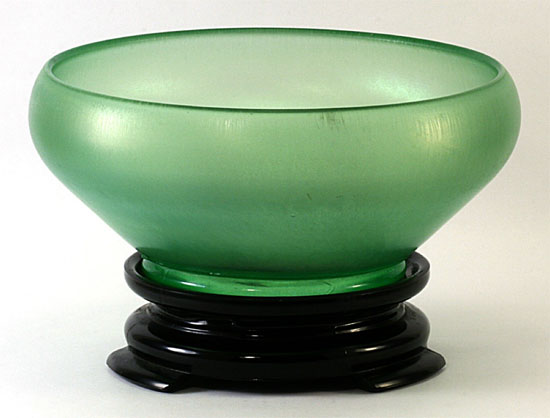 U.S. Glass also made some green which is usually a dead-ringer for Florentine Green, especially in their #310 line.