2019.07.02 Tuesday Stretch

BugDoc Dave here. Hi, it's time for some stretch glass! Brian keeps trying to make it interesting and this month's topic of lucky finds left me wondering if he meant the good luck carnival pieces, but then I realized that it was the "luck of the hunt!" I think that every collector that I've talked to has a tale or two of their lucky finds. In my case, I can think of many lucky finds and they don't really deal with being cheap, but when you have a lucky find and it's cheap, that makes it doubly sweet.
One of our (Renee and I) early lucky finds were a pair of large candleholders that we didn't know and really weren't sure that they were even stretch glass. They were a pair of the thick Diamond candleholders in wisteria. We found them at a flea market in Pennsylvania when we had just started collecting. A couple of years later, we were told that we needed to attend the Stretch Glass Society Convention and Show (in Batavia, NY), so we packed up all our stretch glass and headed out. When we pulled out the candleholders, all the members said that they had never seen them before! Wow, we had something rare!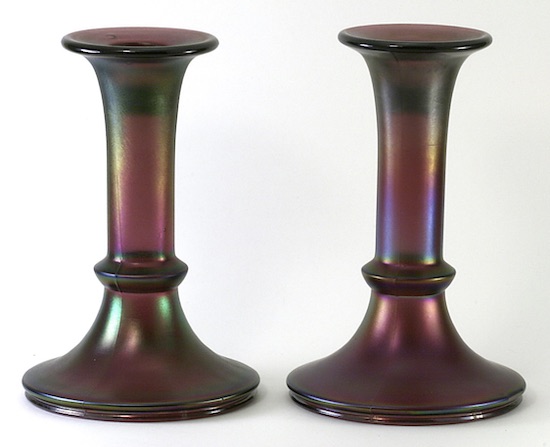 A few years later, we were hitting the antique shops in southeastern Michigan and dropped into a small shop that had several pieces of stretch glass. I was immediately drawn to a Topaz mug. When I picked it up, I noticed that it has some pins in the bottom which I had seen before in shaving mugs! Wow, a stretch glass shaving mug!! Of course, there was no price on the piece, so I set it down and went into the next shop to tell Renee. She went in and came back out a few minutes later with a couple of bags. The shop owner quoted a really reasonable price (well under $50), but he was haggling about another bowl that Renee also wanted. Eventually, she got both.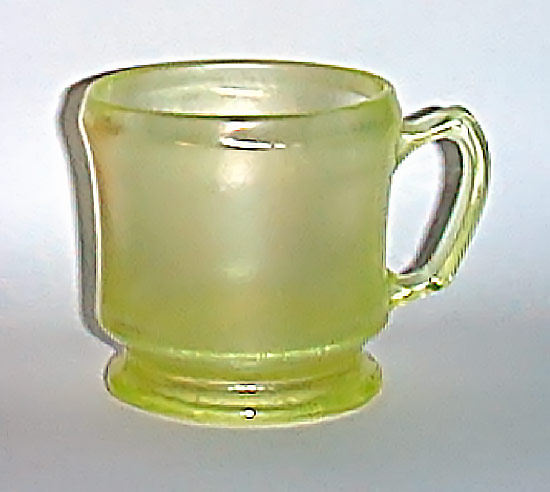 Interestingly, a larger shop down the street had a bit Imperial red stretch plate standing on a table in the basement. It was covered with dust and was priced at $25! I figured that it had to have a chip or crack, but careful inspection revealed nothing! I took it up to the checkout place and the clerk ask if I was paying cash, and if so, they were having 20% off! OK, deal! The plate is a 12.5-inch one.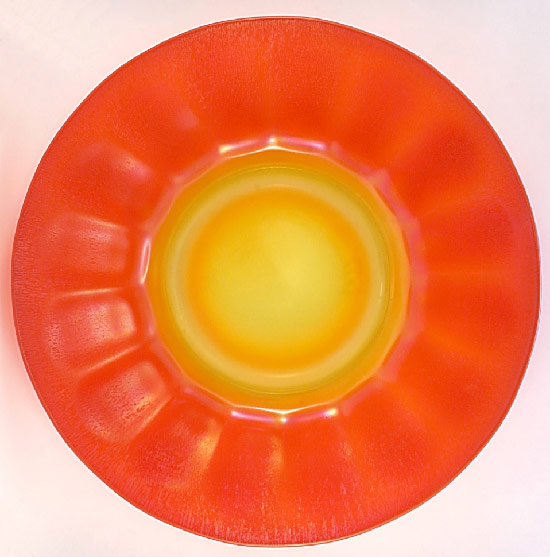 And, something that most people would pass by is a set of sherbets by U.S. Glass in their Mandarin Yellow (translucent to opaque yellow). Found these in a shop in Little Rock, Arkansas sitting in the back of a cupboard and only $30 for a set of six! I've never seen them before or since.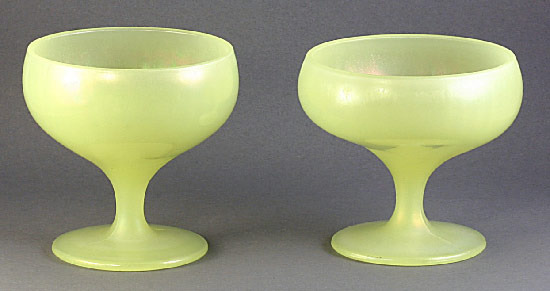 Finally, a piece that I really relish because it has such fantastic iridescence (yes, it is that green!). It is a Diamond Egyptian Lustre vase that was sold at our convention last summer and I feel lucky that the other bidders stopped before I had to! LOL!