2019.05.21 Tuesday Stretch

Happy Tuesday…take a big S-T-R-E-T-C-H and let's look at some more flowers on stretch glass! Dave got the first shot at showing stretch glass which fits into the flower theme for this month. He covered quite a few of the available options, which are pretty limited to start with since stretch glass is supposed to mostly be without patterns or decorations. So, I'm going to have to get a little creative to come up with some more flowers to show you. I have a few pieces to share which have flowers, although only one of them has flowers which were created in the mold at the time the glass is made. Let's take a look.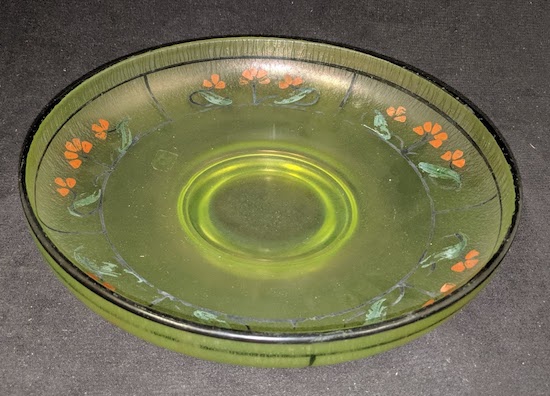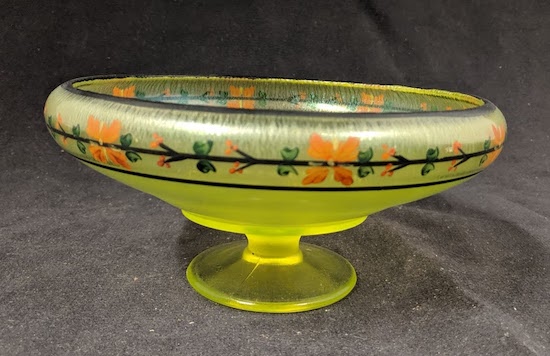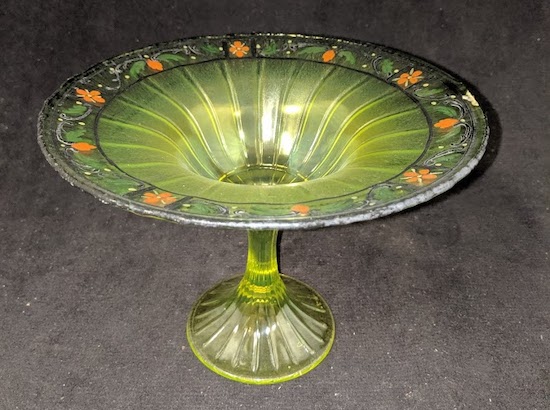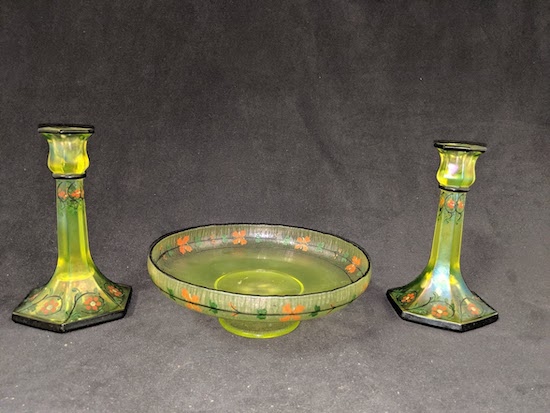 First up is some Northwood decorated stretch glass. These flowers are painted onto the stretch glass after it has cooled. Maybe they were added by Northwood or maybe by an outside decorating company. I'm going with Northwood because they show up on quite a few pieces of Northwood stretch glass, and as far as I know, they are always found on Topaz. I don't know of these flowers being found on any other company's stretch glass, which also lends credence to the idea that Northwood applied this decoration. They are really quite colorful and when several pieces are assembled together, they are quite delightful. I thought it would be interesting to show the painting as it looks on the glass…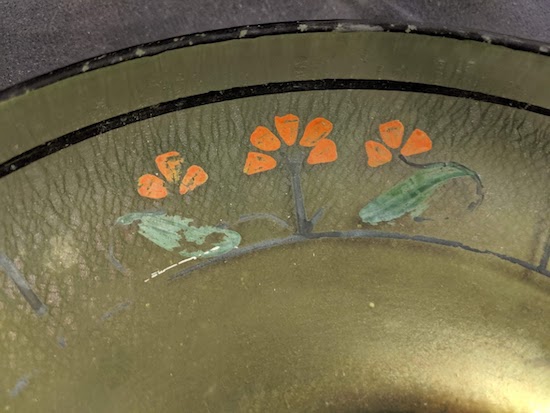 …as well as thru the glass.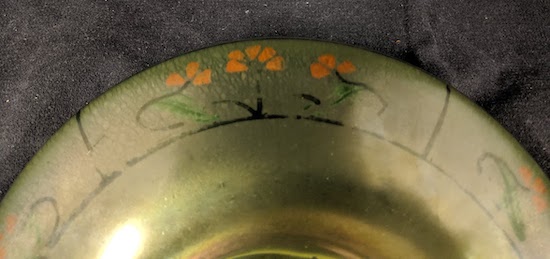 Keep in mind that when the decorated item is for food use, such as a bowl or comport, the decoration will appear on the surface which does not come in contact with the food and will sometimes be viewed thru the glass. On candleholders, however, the decoration appears on the 'face' or external side of the glass.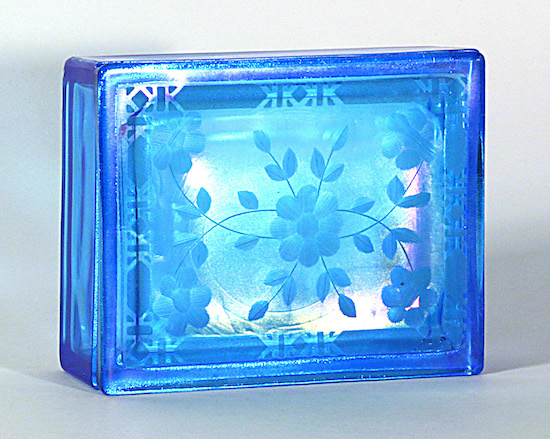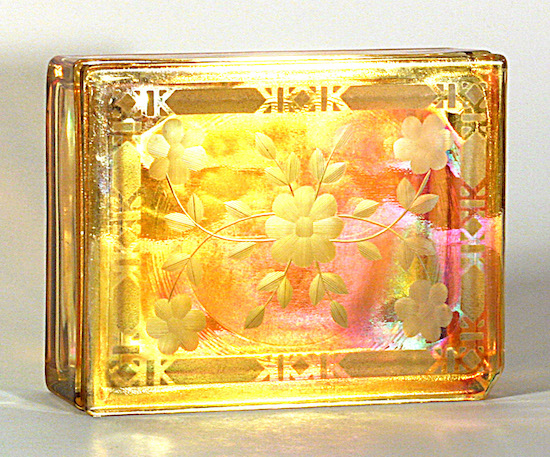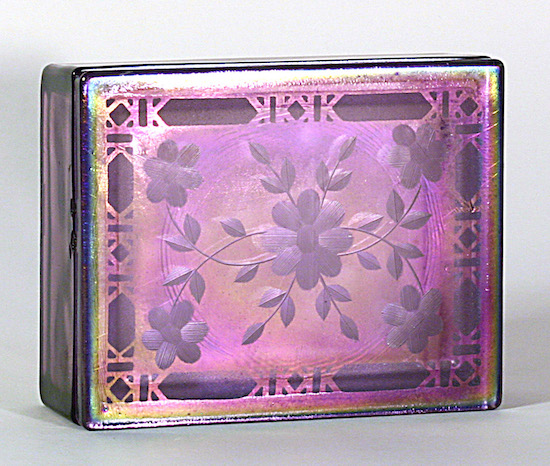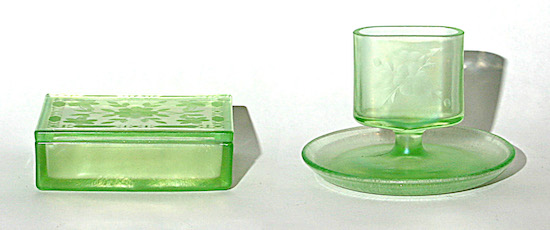 Changing course completely, let's look at some of Fenton's smoking-related items. Here we find a flower-like image which is wheel cut into the glass, again, after it was iridized and cooled. This cutting is found on the cigarette holders, generally the oval ones, and on the cigarette boxes. I am not aware of it being known on the ashtrays.
Infrequently we will find early period Fenton stretch glass with painted decorations such as this cigarette box.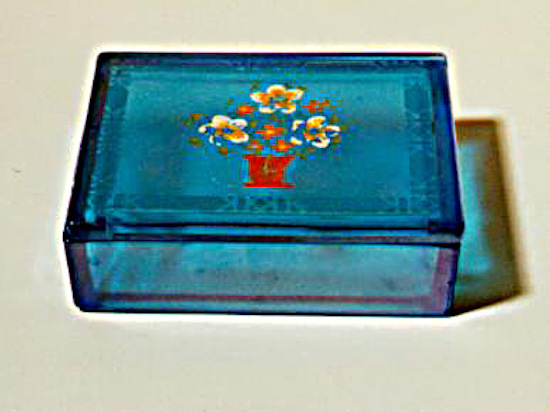 Once in a while we also find painted flowers on the Fenton early period vanity items such as this square jar.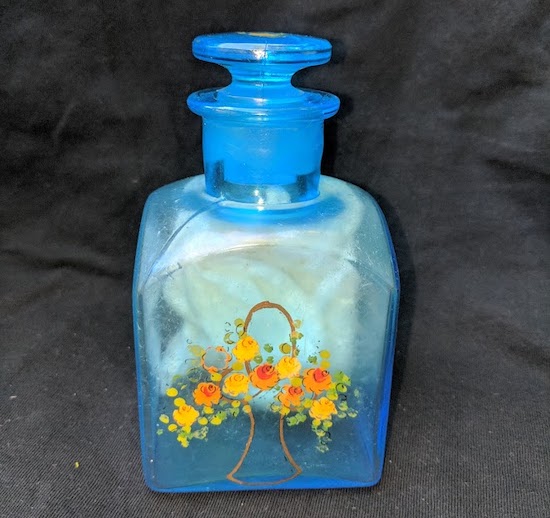 During the late period of retail stretch glass production, beginning in 1980, there are some examples of stretch glass with impressed flower patterns…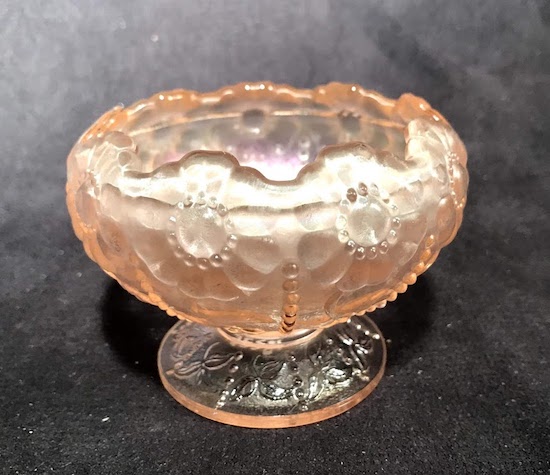 …as well as painted flower decorations.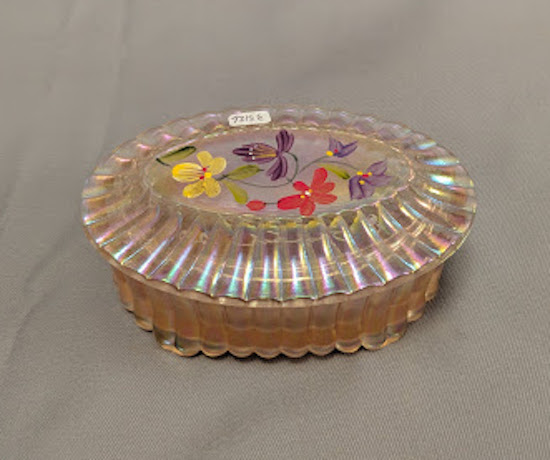 Staying with Fenton for a moment, they incorporated molded flowers into their stretch glass. You will find the 'flower top' smaller melon rib candy box in a variety of colors. Look at the flower carefully before purchasing and make sure it is all intact and has not been repaired. A similar flower appears atop some cologne daubers and also atop the stopper for the vanity jars which held things like cotton balls, witch hazel, mouthwash and the like.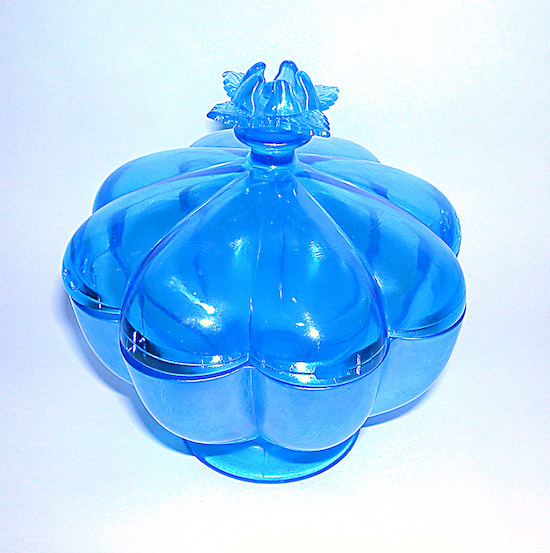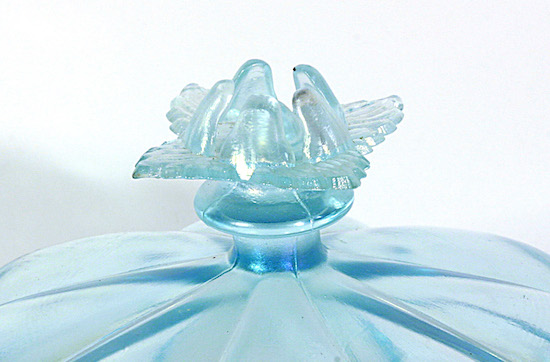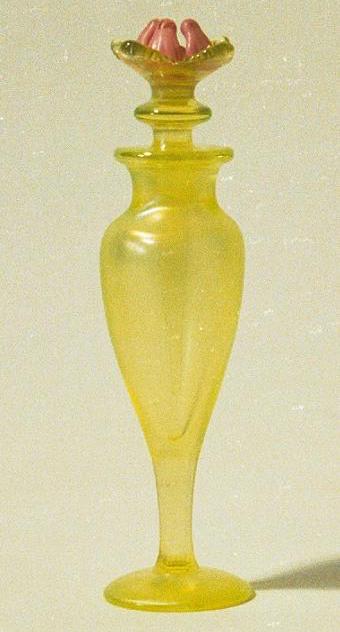 I have a pair of matched factory painted flower top tall colognes like this one; the petals of the flower are painted dusty rose and the leaves are painted green. I acquired these on eBay many years ago. Only one was listed for sale; it was perfect or near perfect, including the full glass dauber. After I won the auction, the seller told me there was a second one but the dauber was gone. We arrived at a price for it and kept the pair together, at least for now.
Fenton also did very beautiful wheel cut flower decorating. Dave showed you a couple of these decorations earlier. There are several others but they are very difficult to photograph, so I will not attempt to show them to you tonight. Maybe I can send some of these before May comes to an end and we move on to another theme.
So, there is my contribution to flower month from the world of stretch glass. I hope you enjoy these items. None of them are easy to find. What is easy to find is information about the 45th Annual Stretch Glass Convention and Glass Show. All you need to do is visit www.stretchglasssociety.org to find our schedule of events, registration form and fundraiser glass items. Even our fundraiser glass conforms to flower month as we are offering tickets to win three items, one of which is similar to Daisy and Button but in Celeste Blue Stretch Glass. It is a large bowl and a beautiful example of late period stretch glass by Fenton.


Our Convention will be July 24-26, 2019, at The Quality Inn, 700 Pike St, Marietta, OH.
One of our events will feature Master Florist and SGS VP, Robert (Bob) Henkel of Fort Defiance, VA. He will assist those in attendance with arranging flowers in a vase from their collection. The Stretch Glass Society is providing the flowers, Bob is donating his expertise and time and those who participate will have their creations displayed as center pieces on our Thursday evening banquet tables and then get to take them home. Here is an arrangement Bob created at last year's convention.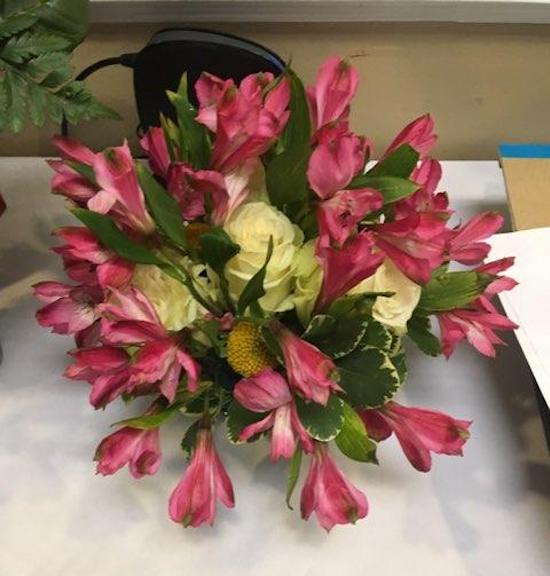 This is another example of how we keep stretch glass relevant and in vogue in the 21st Century. Please join us and see the best display of stretch glass in one place this year, learn about stretch glass and meet/renew friendships with stretch glass collectors. We look forward to seeing you in Marietta in July and hope you will stay for the Burns auction of stretch and other glass on Friday afternoon.