2019.01.15 Tuesday Stretch

Cal here and it is time for Tuesday Stretch. I'll continue with the big and small theme as it relates to stretch glass. I noticed the Fenton 'pen holder' aka toothpick has shown up a few times in your photos. That item is certainly one of the smallest examples of stretch glass. Here is a whimsey of that item.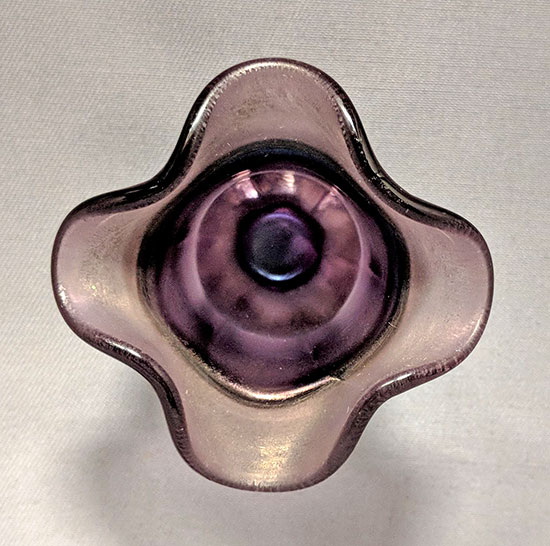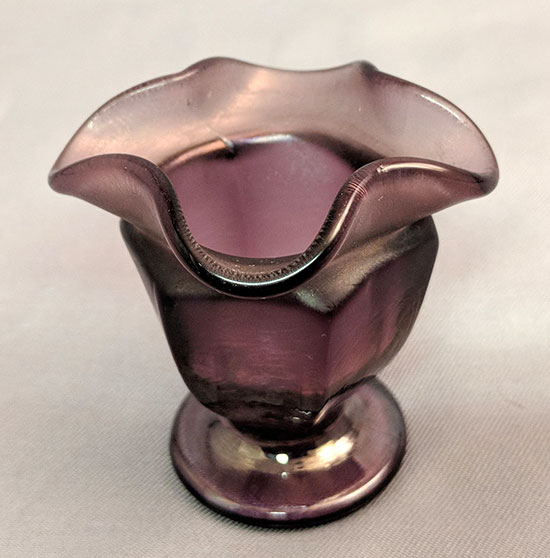 This was in the late John Madeley's collection (co-author of American Iridescent Stretch Glass). John traveled far and wide to amass a fabulous collection. Before he passed he sold his collection piece-by-piece to a number of us and I was fortunate to be able to obtain this item.
After considerable thought, I've selected the inserts to the Fenton ashtray as examples of small stretch glass for tonight. A complete set of inserts consists of 4 which are graduated in size.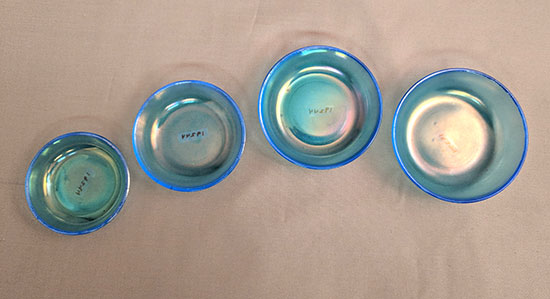 The smallest is xx wide and xx high. The 3 larger ones increase proportionately until the largest is xx wide and xx high.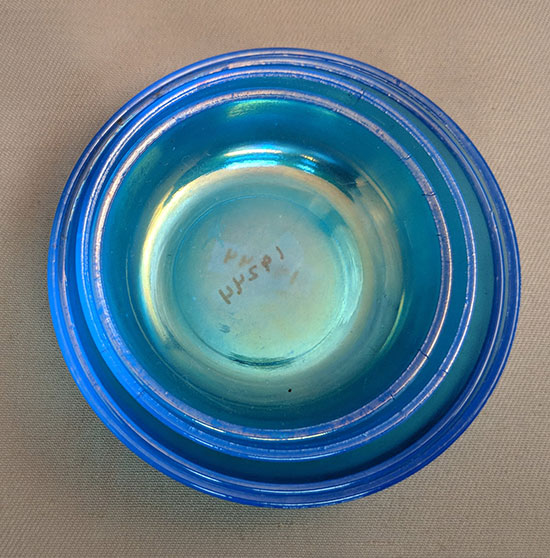 These all fit into the ashtray base which is neither small nor large, in the context of the current discussion, measuring xx wide and xx tall.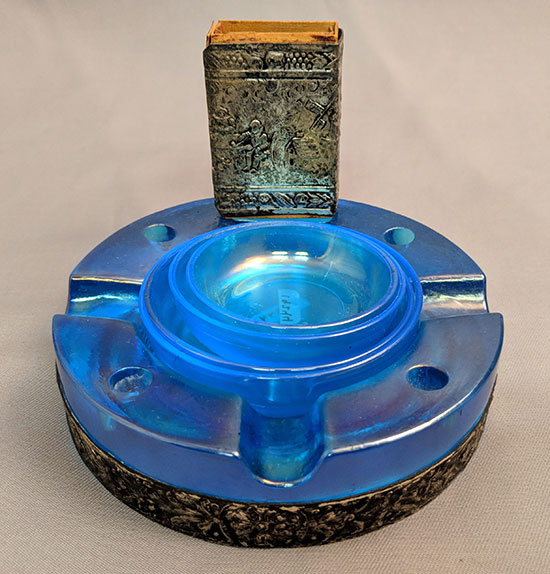 The ashtray bases are quite available in Celeste Blue and Topaz; any other color would be considered rare. I am aware of a Florentine Green ashtray complete with inserts…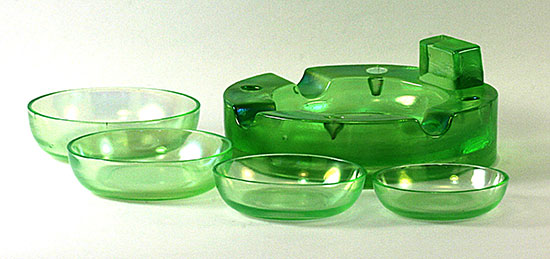 …and what appears to be a Grecian Gold ashtray for which we are still looking for inserts.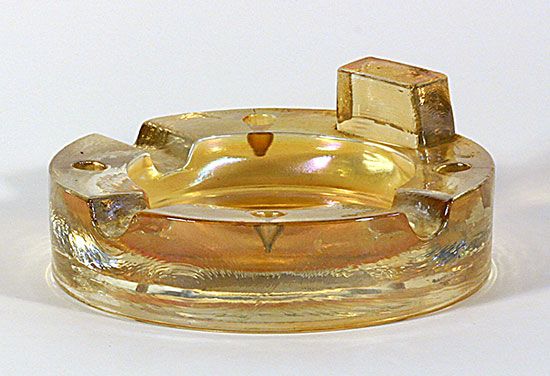 Inserts for an ashtray are known in Persian Pearl, but I do not believe the ashtray base has been found. There may be others; maybe you have one in a different color? If so, we would love to see a picture of it, with or without the inserts. The inserts are hard-to-find to rare, depending on the color. As with the ashtray base, the Celeste Blue and Topaz inserts are considered hard-to-find but not rare. The Florentine Green inserts are rare and any other color inserts would be considered rare.
Sticking with smoking items, US Glass made a small ashtray which measures 3" x 4" and it is 3/4" deep. These are known in blue (similar to Celeste Blue); it would make sense that they exist in Topaz and Crystal as well, but I am not aware of any in these colors.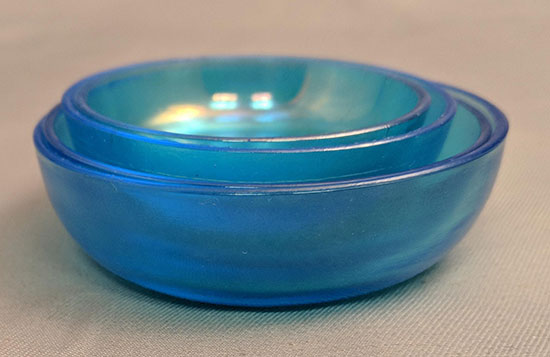 To give you a sense of the 'smallness' of the US Glass ashtray, here it is next to the Fenton ashtray.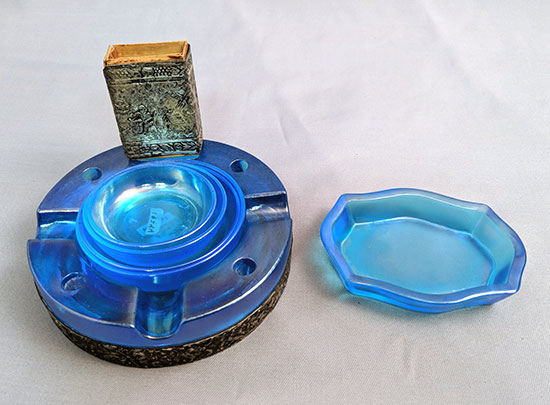 On the large side of stretch glass, in addition to the bowls Dave showed you in his recent feature, all of the bowls made from the Fenton #604 mold are quite large. This is the mold which most often was used to make the punch bowl, which were flared or infrequently given a crimped rim.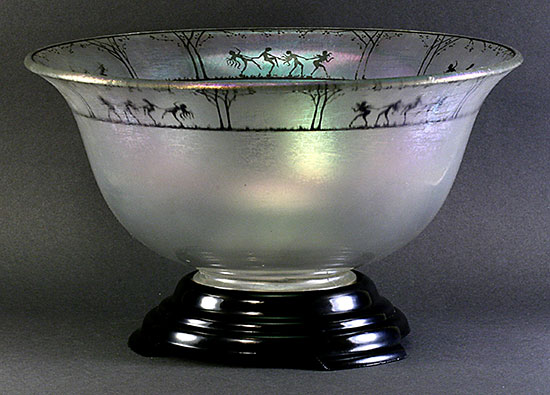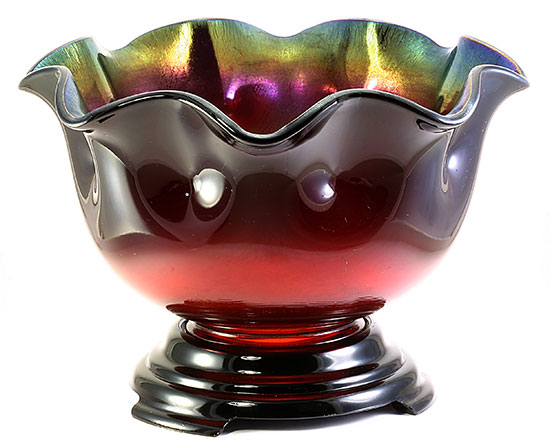 Punch bowls are known in Persian Pearl, Florentine Green, Celeste Blue, Ruby, Purple (more like lavender than Wisteria)…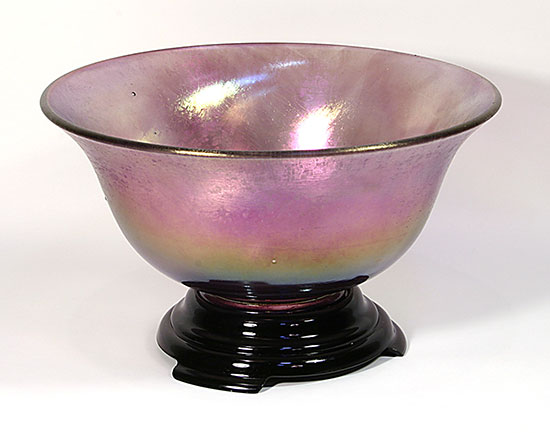 …and Grecian Gold. I believe there may also be a Topaz Fenton #604 punch bowl; there is a Topaz punch bowl which looks like Fenton's #604 until you examine the foot, then it is clear it was made by Diamond.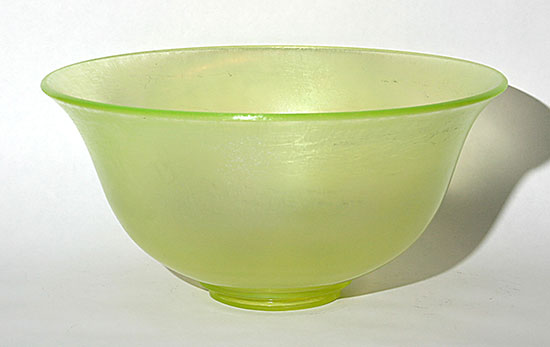 I am not aware of Fenton #604 punch bowls in Aquamarine, Tangerine, Royal Blue (Cobalt) or Velva Rose. If you have one, I'd love to see a photo. Diamond did make a similar shaped punch bowl in Royal Lustre which is deep cobalt glass sprayed with a silvery iridescence; it is a nice punch bowl, but you have difficulty telling that it is Cobalt Blue because of the silvery iridescent spray. They also made a couple of Egyptian Lustre punch bowls.
As I mentioned, Fenton used the #604 mold to make various shaped items, all of which are on the larger end of the spectrum. The 17" plate was made from this mold; it is known to me only in ruby; I believe we know of about 5 of them in existence.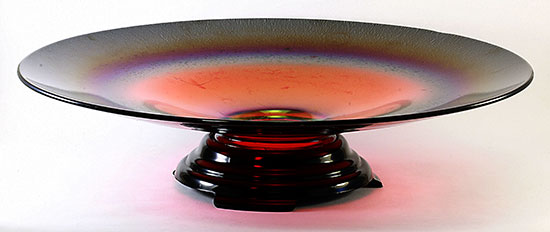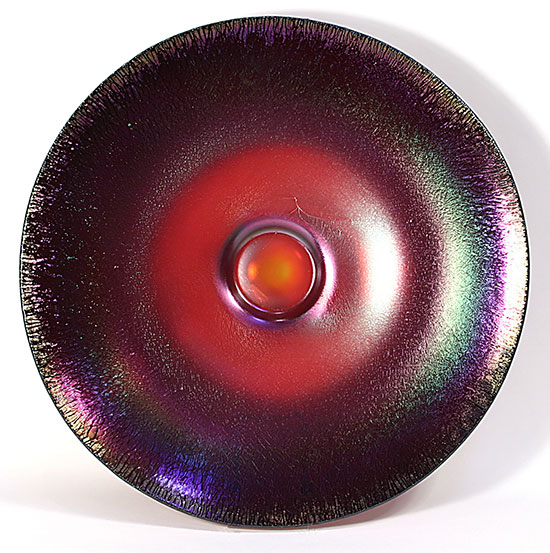 Another large item made from this mold is the wide flared, cupped bowl, aka ice cream shape. These are known in several colors: Ruby, Florentine Green, Wisteria, Grecian Gold and Persian Pearl; maybe there are others.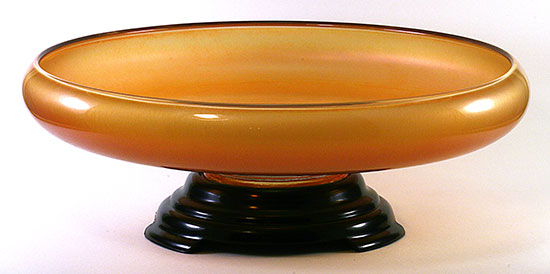 They measure approximately 14" in diameter and 2 1/2" tall. The Fenton aquarium also came from this mold. It is 9 3/4" wide and 6" deep.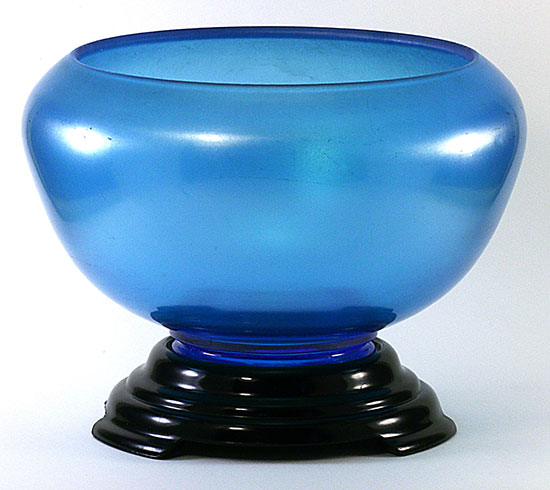 A special rolled rim bowl was also made from this mold and those examples measure approximately 14" wide and 2" tall. I have one of these in Topaz and one in Velva Rose confirming that Fenton did use these colors in the #604 mold.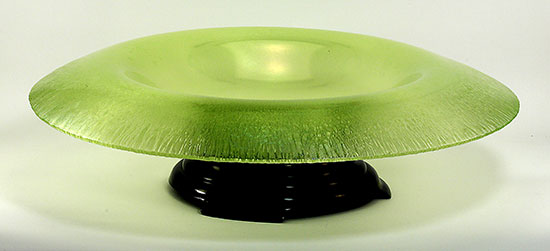 Why we don't find other shapes from that mold in Topaz (other than an aquarium which I also have in Topaz) and Velva Rose is a bit of a mystery. The final shape made from the #604 mold is a console bowl which is both flared and cupped. It is an impressive piece at 14" wide and 4" tall.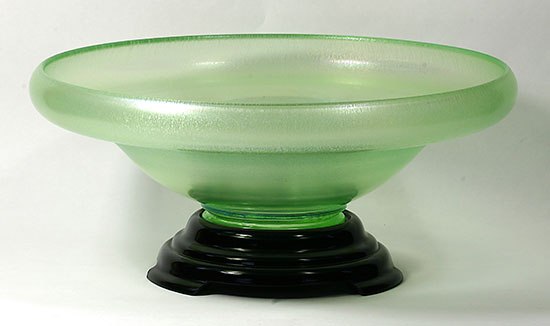 The base on all of items made in the 604 mold is 4" in diameter; this is the easiest way to tell if what you have might be in the 604 line. Fenton (and possibly others) did make items in other molds which had a 4" base, but you can't have a bowl or plate in the 604 line unless the base is 4".
Imperial and Diamond made some large and small items as well. Maybe we can take a look at them on a different day but for now, that's it for Tuesday Stretch. I hope you enjoy this big and small stretch glass.