2017.11.28 Tuesday Stretch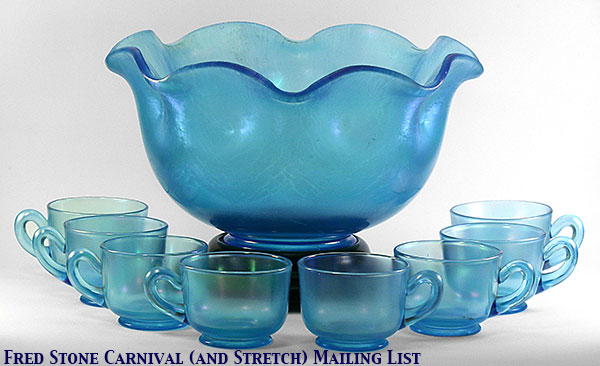 Cal here for Tuesday Stretch. If you weren't able to be at the Tom & Debra Burns stretch glass auction on Sunday, November 19th, you missed a great opportunity to see a number of rare pieces of stretch glass. With on-line, phone and absentee bidding, not being on hand in person didn't stop anyone from buying this stretch glass, but those absentee bidders did miss seeing the array of stretch glass as Tom and Debra had it displayed and they also missed some of the excitement of the bidding on a few of the more unusual pieces. There were between 20 and 30 folks at the auction in person (including several regular readers and contributors to HOC and members of The Stretch Glass Society). Many more were on-line or on the phone bidding. I didn't keep a count of which lots sold in the house and which ones had to be packed and shipped, but the folks who were in charge of wrapping and packing were pretty busy and there were lots of boxes of glass to be shipped at the end of the auction.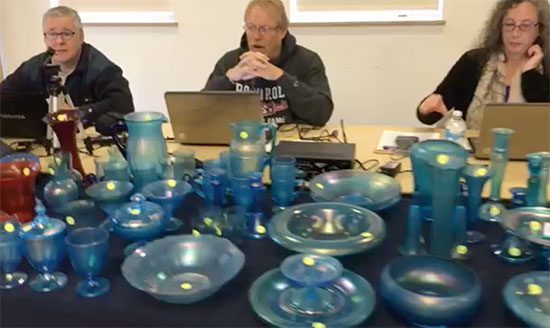 As you will see, there was a perfect mix of rare, hard to find, not so hard to find and easily found stretch glass in the 360 lots offered for sale. If you looked at the on line listing and photos, you probably figured out that there were some extraordinary pieces of stretch glass in this collection. A number of these pieces caught the attention of members of The Stretch Glass Society, including our advanced collectors. This led to lots of competition and bids for the truly unusual items. Here are some highlights and photos. The results of the auction and the photos are on http://www.tomburnsauctions.com/, so you can check out more results and pictures there.
Long-time SGS members and stretch glass collectors took home lot #40, one of the most unique pieces in the auction . It is a topaz petal bowl that has been worked into nearly a square. I will be surprised if another one shows up anytime soon, but if you have one in topaz or another color we would love to see it. Also offered in topaz was a US open work vase, lot #50, and a fenton #844 covered candy box (listed as having a ground finial, but it may have a nipple finial which has more of a satin finish than a stretch finish), lot #38. The vase brought a premium price of $700; the covered candy box did not garner much interest and sold for $25. Another unusual item, a topaz tankard pitcher with applied handle, lot #275, similar to ones believed to have been made by Diamond, was hammered down at $540. Unfortunately, there is a heat check where the handle is attached to the side of pitcher.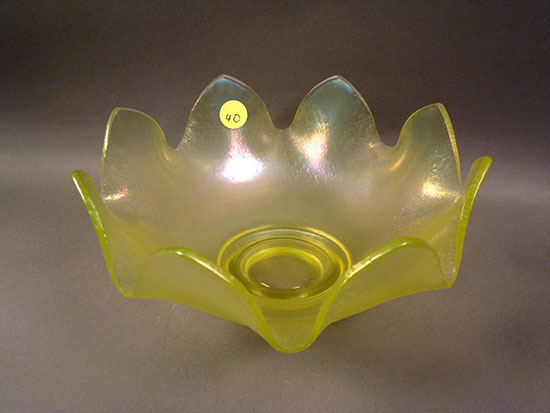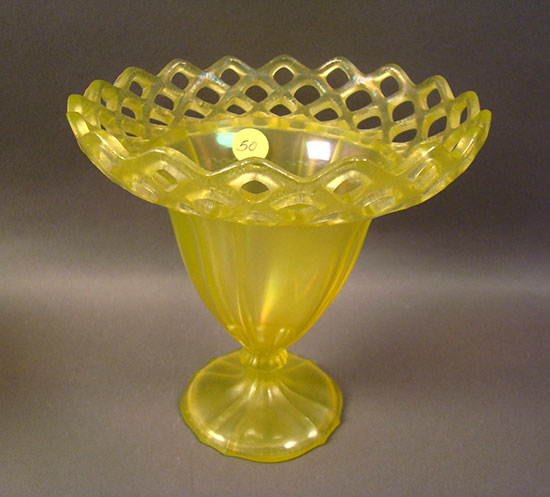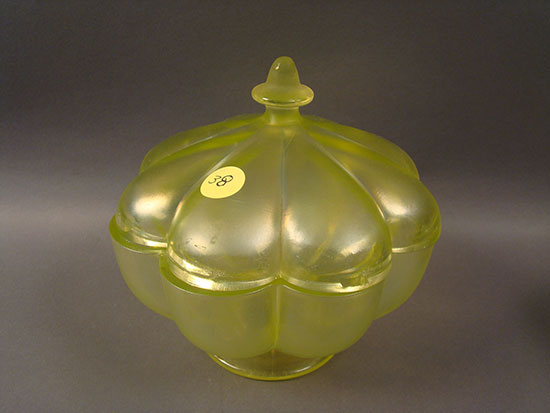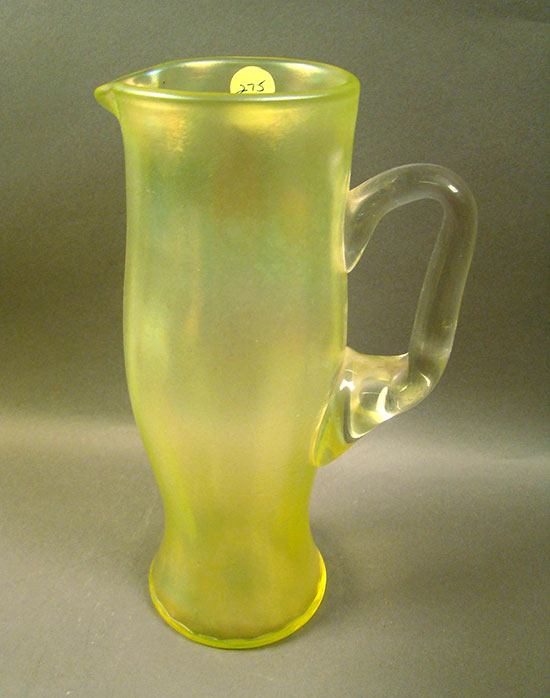 A celeste blue ashtray, lot #100, which was not identified to a specific maker (the blue is indicative of Northwood deep blue), also commanded a premium price when bidding ended at $1050. Lot #129, featured a Fenton #231 cupped bowl in aquamarine, which showed up in this collection. I don't recall seeing this bowl or the #232 aquamarine candlesticks. If anyone has the matching candlesticks, I'd love to hear from you as I am the new owner of the bowl. Another unusual bowl, this time by Diamond in green stretch glass with a pressed star in the base, sold as lot #144 for a very reasonable $50. The 4 Fenton celeste blue juice tumblers in lot #230 sold for only $22.50. Now I am looking for the matching juice pitcher. Lot #235, an 11" Tall Diamond Pulled Loop Swung Vase in blue commanded $700 after much spirited bidding between in house and on-line would-be buyers.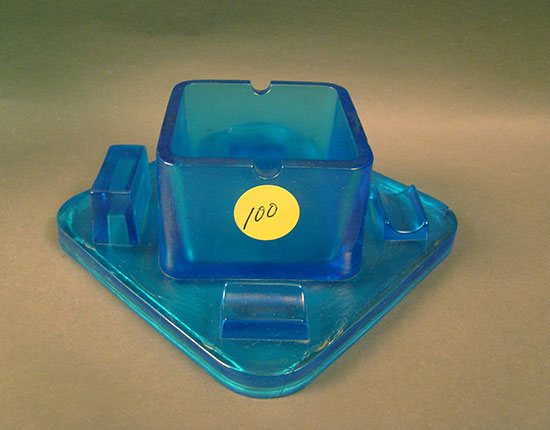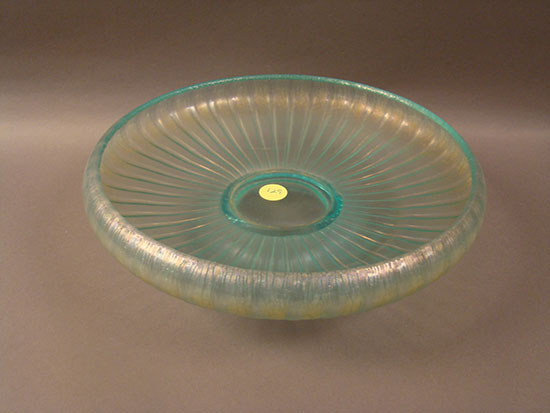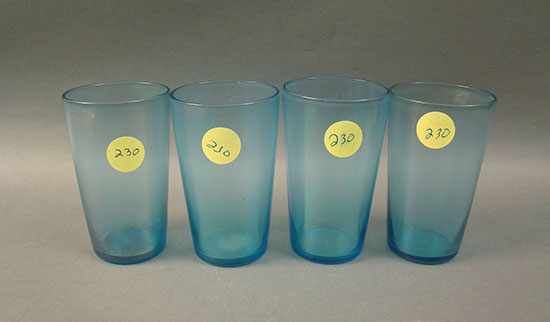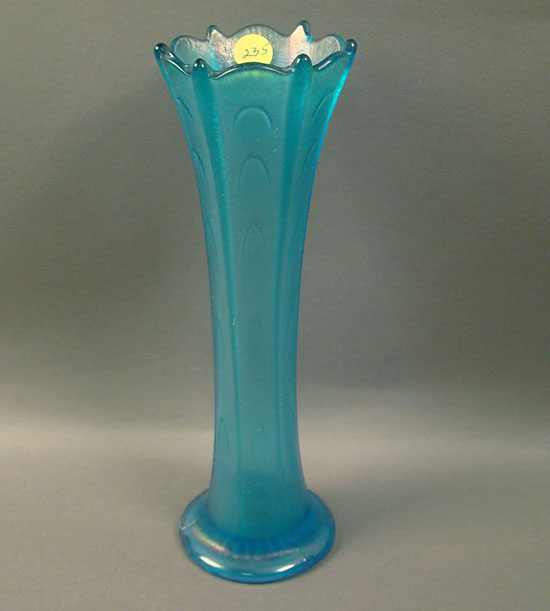 A US Glass Florentine Yellow chop plate with very nice iridescence was lot #254a and sold for $190. This is a very unusual piece of stretch glass. Another interesting 8" plate, lot #335, this time in US Glass "Pamona" sold for $230, reflecting the unusual size and decoration. One of the most unusual pieces in the auction was an Imperial #711 Ranger covered cracker jar in marigold. it is very stretchy, not shiny, and it is similar in color to Lancaster's deep amber/marigold color – basically a bronze color. Imperial "Ranger' cracker jars are a challenge to find even in Iris Ice; Tom told us he was aware of one other in this marigold color. The bidding ended at $1300 with a round of applause. An Imperial wide flared console bowl in marigold on milk glass sold for $175. Another Imperial piece, this time a super red 9 ½" tall swung vase – the best red color I have ever seen in a vase this size – sold for $300. It is a beauty. A ruby Fenton flared vase also with great color (better than the photo shows) sold for a modest $220.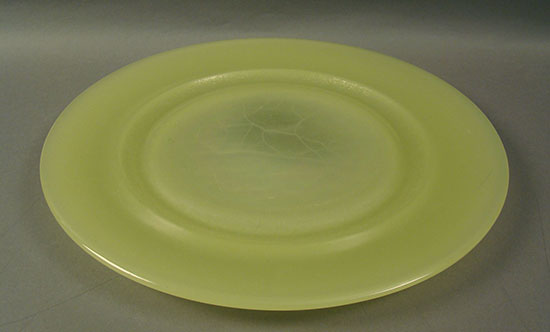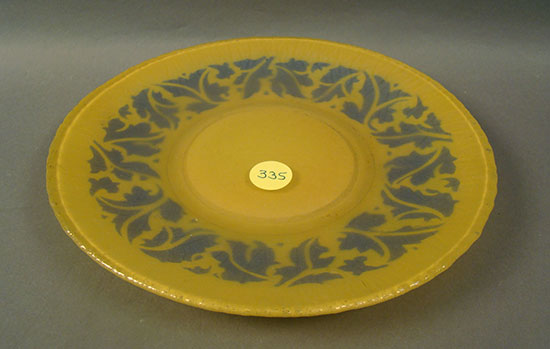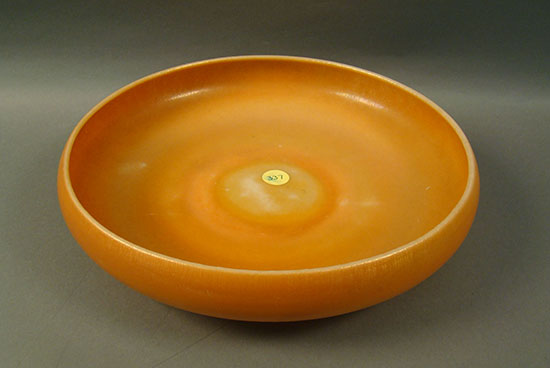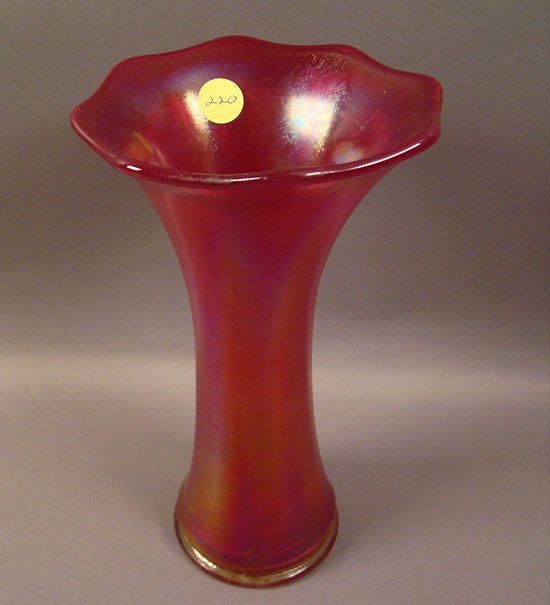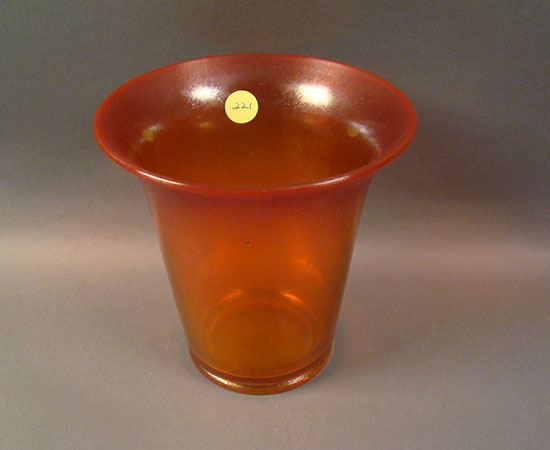 I'm happy to report that a number of the individuals in attendance took advantage of the opportunity to become members of The Stretch Glass Society when we offered a 2018 membership for only $10. It was a bit of an early Black Friday deal. We are pleased to have 6 new memberships (individual or family) and thank these new members for their support of The SGS and their interest in stretch glass.
Just before heading to Bath for the auction, I was in Carlisle, PA for The Eastern National Antique Show. This is one of the best shows around, offering lots of quality glass from all periods as well as other fine antiques. I came home with 6 Fenton topaz curtain optic ringed/flared tumblers, approximately 5.25" tall. These are a welcomed addition to go with my matching pitcher. All in all, it was a good weekend for stretch glass.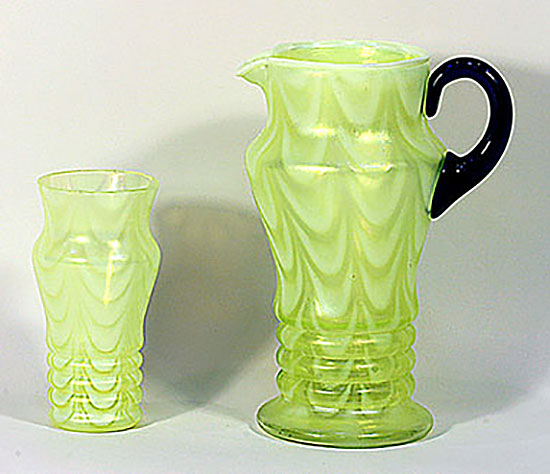 There will be another great Burns auction including lots more stretch glass on July 28, 2018, at The Stretch Glass Society's annual convention. The convention schedule and information on hotel rooms will be available soon on www.stretchglasssociety.org.