Seven weeks of travel including a week of glass conventions is just a memory at this point, but the memories are very sweet. Our travels included visits with 5 glass collector friends where we were treated to personal and up close looks at an array of Fenton, Stretch, Carnival, Art and much more glass. It was so much fun and very educational to see these collections – definitely one of the big wows from our summer travels. Another wow was the amount of glass we saw for sale. We came home with some carnival glass, a number of pieces of stretch glass, lots of Early American Pressed Glass, a few pieces of Depression Glass and an assortment of "other" glass.
One of the conventions we attended was the Stretch Glass Convention. After months of planning, it finally happened and the displays of stretch glass were spectacular. Some very nice stretch glass was offered for sale both by members and by Tom Burns in our convention auction. I was very fortunate to come home with a pair of 12" tall Fenton #749 topaz stretch candleholders.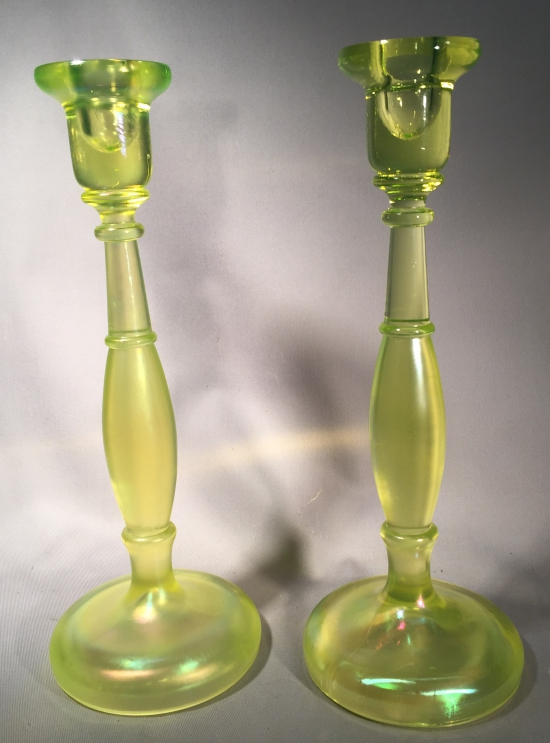 They are awesome and are a very nice addition to our stretch glass collection.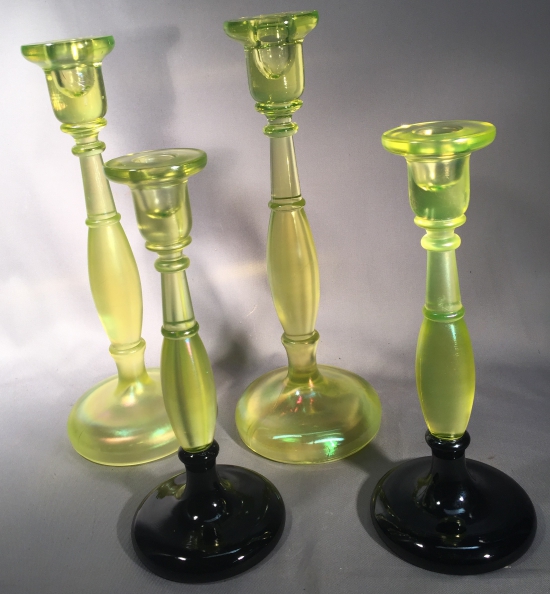 I thought you might like to see them along with a pair of #649 9" tall topaz stretch candleholders with black bases.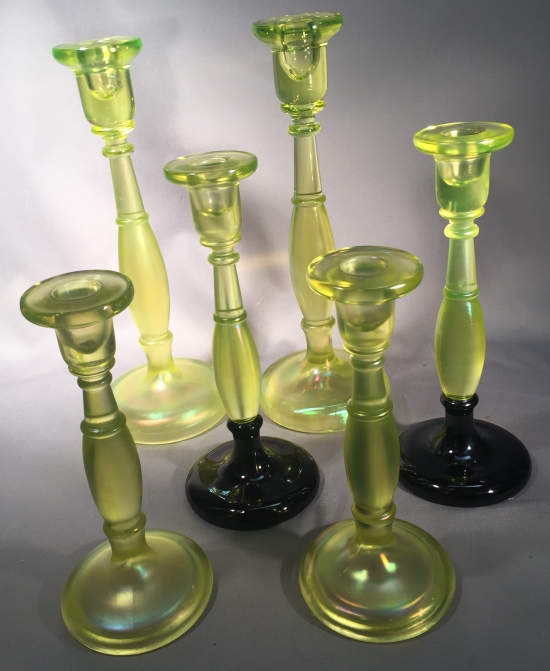 And while I was at it, I pulled out the Fenton #549 topaz stretch candleholders which are a mere 8 ¼" tall. The photos will give you some idea of the size difference between the various candleholders. The #749s are also known in Celeste Blue and Marigold stretch glass and in at least Jade Green and ruby without iridescence. Maybe you have a single or a pair in another color? If so, we would love to hear about them and see a photo if you have one. The #649s with black bases are also known in a number of color combinations as well as in single colors. No matter whether they have a color combination or are all one color, they are always impressive candleholders. And the #549s are known in a number of colors of stretch glass, as well. One can assemble quite a collection of these candleholders over time, with patience and "some help from your friends."