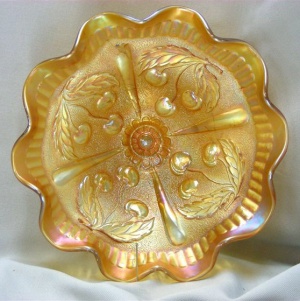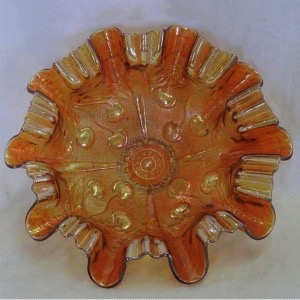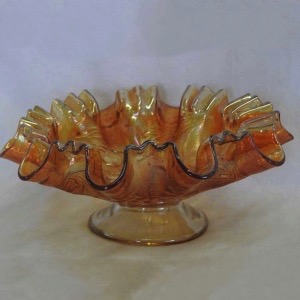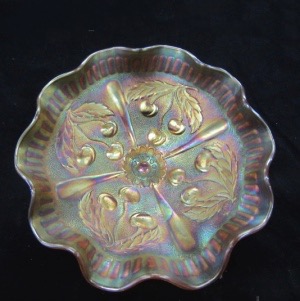 Manufacturer:
Dugan
Year(s) of Production:
Early 1920's
Pattern Description:
A stylized center flower-four rays extend from the flower creating four panels. Each panel has three cherries hanging towards the center on a stippled background.
Similar Patterns:
Dugan's Cherries (Daisy and Plume), Cherries (Jeweled Heart Back) and Paneled Cherries, Northwood Cherries Intaglio, Millersburg Hanging Cherries, Fenton's Cherry Circles and Cherries
About Weeping Cherries
The bowls are domed footed and the edge treatments known are 10 ruffle and 3n1. The exterior has a difficult to see pattern that is minimally embossed (and on a radium finish) – Larry Keig has named it Winding Cherry Blossoms. The exterior design is composed of 9 small open blossoms, each with 12 petals and a prominent stamen, plus several veined and stippled leaves. The bowls measure approximately 8″ to 9 1/2″ and the base of the foot is 3 1/2″ in diameter.
HoC Pricing Database
Select a shape below (available colors will display)