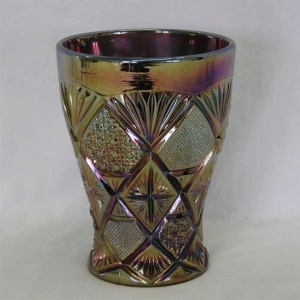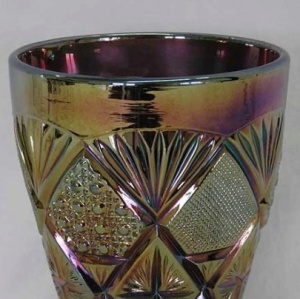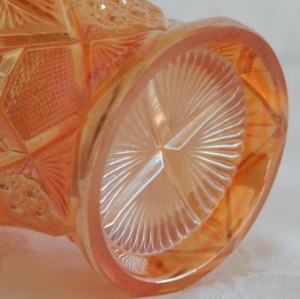 Manufacturer: Brockwitz
Year(s) of Production: Circa 1920
Pattern Description: Diamonds circle the exterior of these tumblers. Diamonds may be filled with hobnail, file or starburst designs. Plumed rays are at the top and bottom of the rows of diamonds.
Similar Patterns:
About Texas Tumbler
This Germany company originally had this celery vase as part of the Northern Lights (or Star and Hobs) pattern line. The original manufacturers name was Imperat. Standing about 6″ high, the mouth is 4 3/4″ wide and the base is 3 1/4″ The bottom of the tumbler has a cross with 11 rays between each part of the cross.
This piece is also called the Texas Shot Glass as a humorous way of stating that everything is bigger in Texas.
HoC Pricing Database
Select a shape below (available colors will display)