Savannah Vases
Unknown or Fenton
By Gary Sullivan
The maker of the Savannah vases is currently listed as unknown in Hooked on Carnival website and I recommend that we change that to be Fenton.
The Savannah vase is found in two colors, marigold and olive green, and was made by the Fenton Art Glass Company around 1915.  The name Savannah is noted in the 12th edition of the Standard Encyclopedia of Carnival Glass by Mike Carwille, as well as, in Hooked On Carnival.  No attribution for the name was given. The maker of this vase has long been unknown but the vase does appear in a 1915 ad for Fenton custard glass.
This ad appears in Fenton Glass The First Twenty-five Years by William Heacock.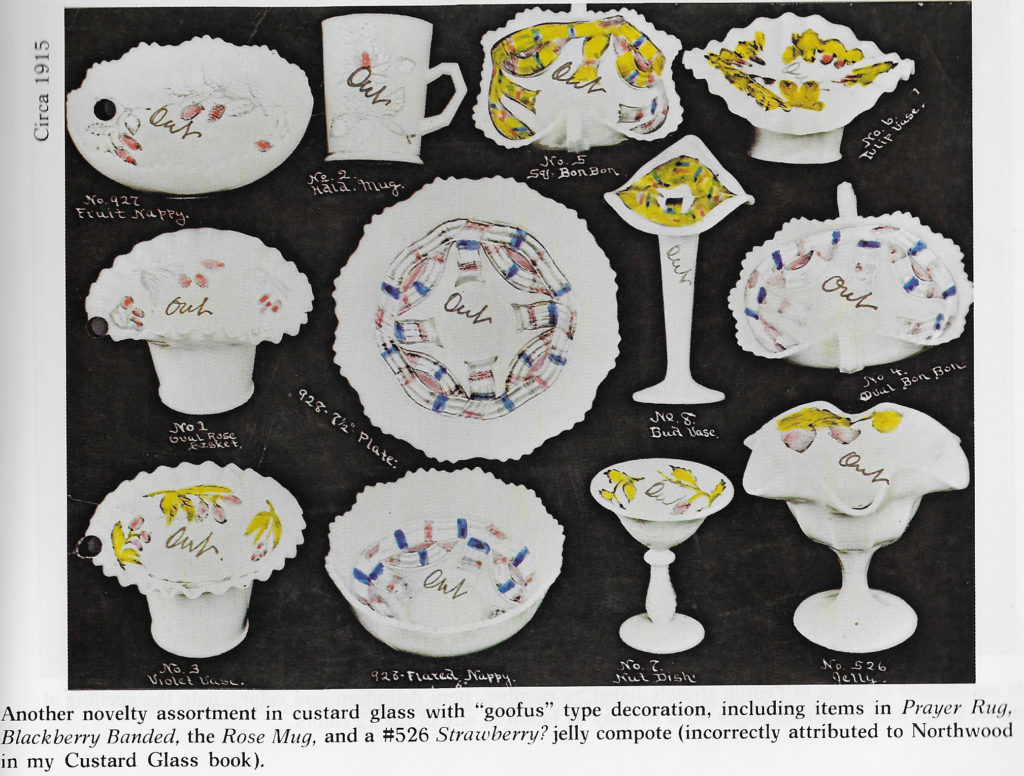 The vase in the ad has the Prayer Rug pattern on the top.  Prayer Rug is an accepted pattern of Fenton.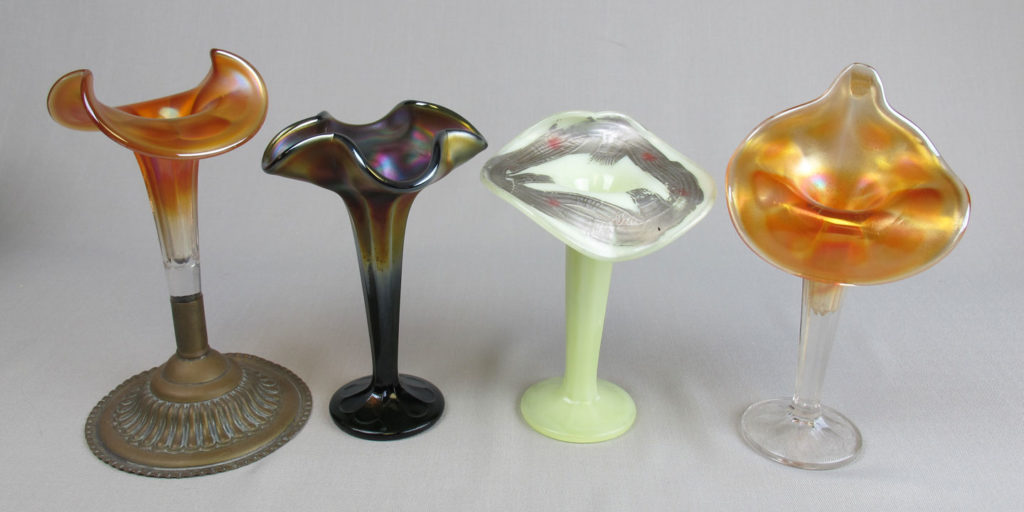 The custard Prayer Rug vase above is shown here with three other Savannah carnival glass vases.  The dimensions and the pattern are identical on each with the exception of the Payer Rug vase having a pattern on the top and the Savannah vases having no pattern on top.  The Prayer Rug vase was made using a plunger that gave the vase a top pattern while the Savannah vases were made with a plain plunger that left no pattern.  The bases are each 2 1/4 inches across.  The four sided olive green vase is 5 7/8 inches tall.  The custard Prayer Rug vase is 5 3/4 inches tall and the marigold JIP vase is 7 inches tall.  The height of each vase is dependent on the shape of the top rim.  Each vase is from a 3-part mold.  There are nine vertical panels around the exterior of the vase that start on the base and go almost to the rim on the underside of the top.  Both ends of the vertical panels are rounded.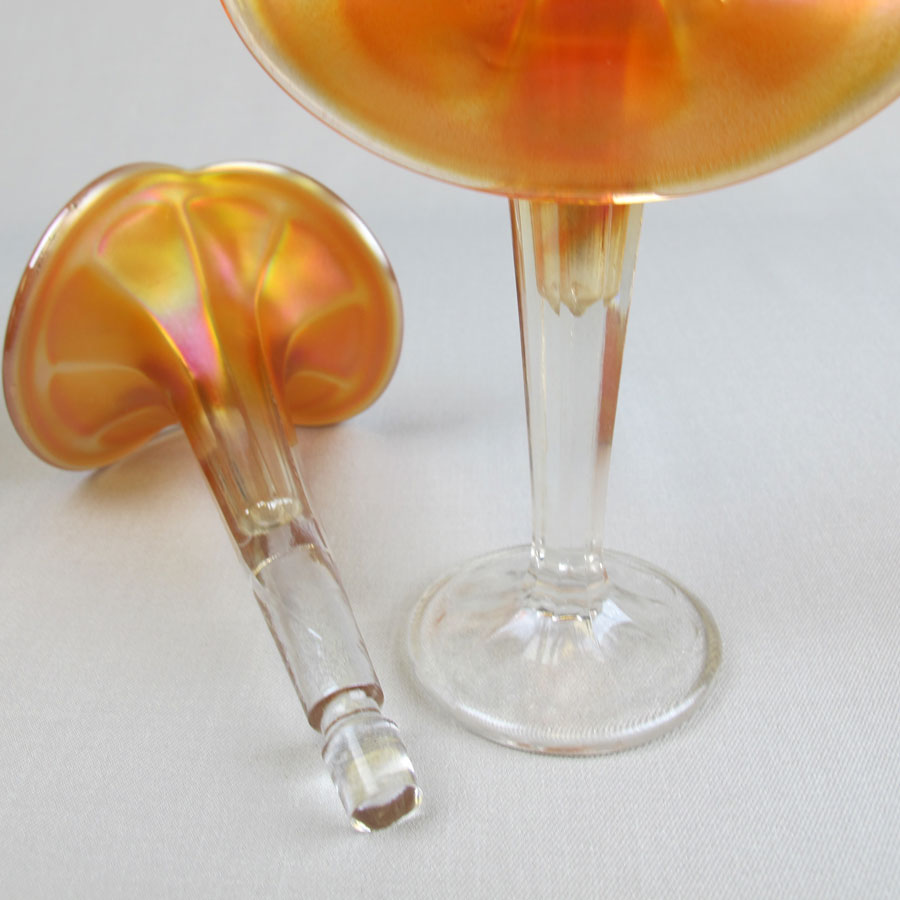 One factory made variation is that some of the vases are made without bases and fit into a metal stand.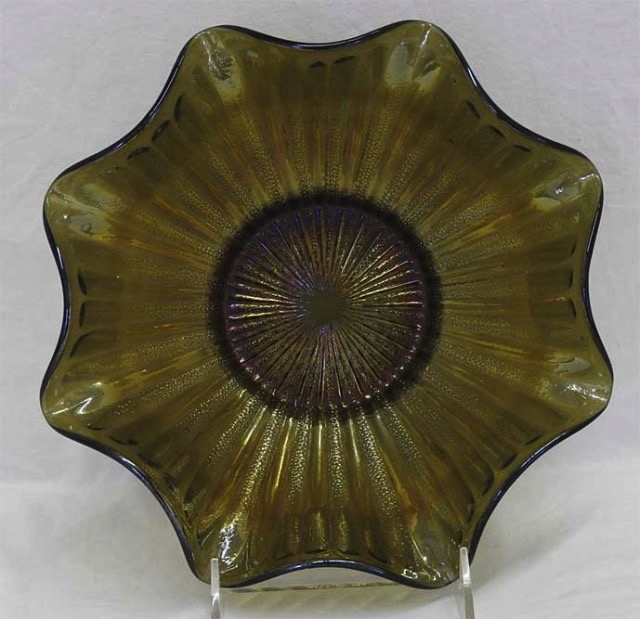 Olive green is an unusual color for Fenton, however, pictured here is an olive green Stippled Rays bowl that is attributed to Fenton.

Shown above is the base tops of the custard and the olive green vases to show that they are the same and the underneath of the tops of the custard and the marigold vases to show that they are also the same. This would appear to be made at the Fenton factory.