Dugan's Heavy Web pattern was written up on Carnival Glass 101 (by Diane & Dean Fry) in January of 2006, it was on a page labeled 'DUGAN GLASS – Part 2'. This has been copied with Diane's permission.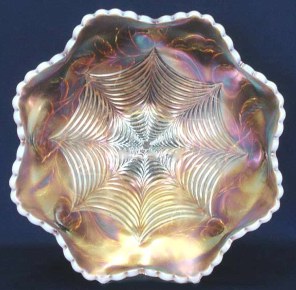 HEAVY WEB Low Ruffled Bowl. MORNING GLORY Exterior pattern – Peach Opal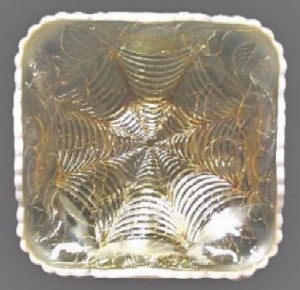 HEAVY WEB Square Bowl has MORNING GLORY Exterior – Peach Opal.
HEAVY WEB Bowls: Scarcely ever available in the 10″ bowl form. Since fragments of this design were unearthed at the plant site in Indiana, PA, we can be certain of the manufacturer. However, the production run must have been brief, or perhaps Heavy Web was a victim of the 1912 fire.
Bowls have been found with two sides pulled up into banana shape. Few square examples are known. Most bowls have a distinct eight ruffle shape.
Since Peach Opal examples in any pattern will vary greatly in depth of color/iridescence, the bowls/plates in Heavy Web are variously endowed.
Dugan's GRAPE INTAGLIO plate.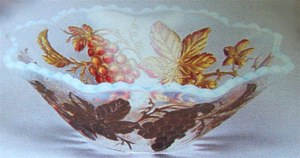 Originally named GRAPE INTAGLIO.
GRAPE INTAGLIO Prints: The Grape Clusters exterior design seen on some examples was developed in 1907 as part of the Intaglio line of products documented in a Dugan Glass Co. Catalog. An "INTAGLIO FRUIT DECORATED" ASSORTMENT appeared in one of the early Butler Brothers Wholesale Catalogs.
The design is verified on page 54 of DUGAN/DIAMOND by Heacock, Measell and Wiggins.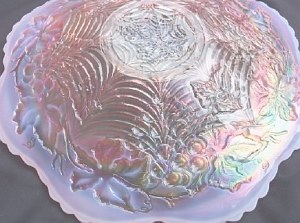 GRAPE CLUSTERS Exterior Design on HEAVY WEB Chop Plate. Peach Opal. (Small Grape Cluster within marie.) Photo Courtesy Ardonna Bucher.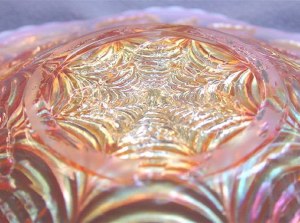 Factory ground marie area on all HEAVY WEB examples.
GRAPE CLUSTERS Exterior: Ardonna Bucher shared this photo of her Heavy Web 12.5 in. plate showing the exterior, along with an angle of the usual factory ground marie area of the bowls and plates. In the process, some unevenness resulted, as clearly seen in the photo.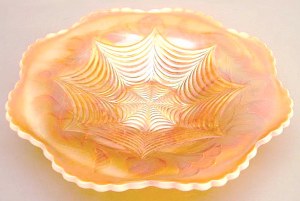 HEAVY WEB CHOP Plate – 12.5 inch – Peach Opal.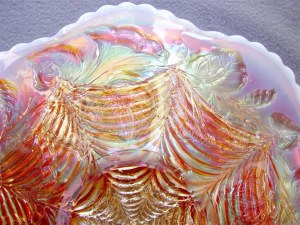 MORNING GLORY Exterior of HEAVY WEB – Peach Opal
HEAVY WEB Chop Plates: Since Don Moore purchased the first plate during the 1980's, only a few more have surfaced. With no accurate count available, we would estimate a possible 6-8; perhaps fewer than that. Thick glass and heavy to handle, they do command attention (with delight!)
MORNING GLORY Exterior: Another Intaglio design in evidence here. Your guess is as good as anyone's, as to which of the two exterior designs are more prevalent.