Fine Rib Footed vases – Fenton or Northwood?
By Hooked on Carnival
Fine Rib Footed only comes in a vase. At one time this vase was called Jack in the Pulpit (JIP) because that was the only shape that it was found in, but as time went on more and more of these vases were found ruffled. So the name no longer fit.
As more research was done it was found that there are two different molds and that both Fenton and Northwood manufactured this vase. Although they are similar, there are some very obvious differences to help you identify the manufacturer.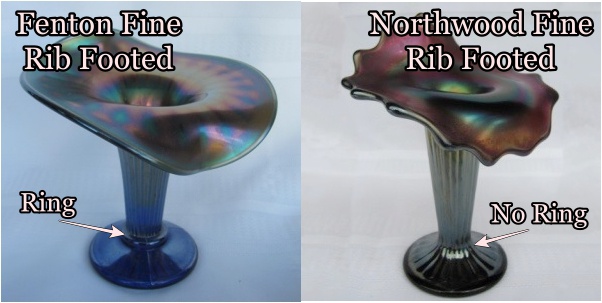 Fenton:
About 5 ½" to 6" tall
Edge treatments include Ruffled and JIP
Edge is smooth
Ring around top of base
Northwood:
About 6 ½" to -7" tall
Edge treatment JIP or Tri-corner
Edge has 15 points
Ribs go from the base all the way up
No ring around top of base