This was published in the August 27 & 28, 2021 Hooked on Carnival daily emailed mail list and is printed here with permission from Ingrid Spurrier.
August 27th, 2021
I have been threatening to offer you some of my points on Diamond Point vases. First, I don't collect only marigold examples (more colours to come). If you look at the Pricing Database, there are 21 colour options in the auction list. Wow…I still have a lot to chase.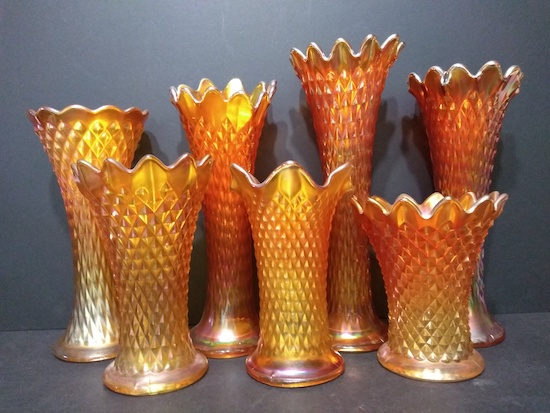 I really didn't start to "look" at Diamond Points until I first saw a six Diamond vase at auction. After that, I paid much more attention. The majority of vases fall into the twelve Diamond variety.
The original mold is the twelve scallop top, with no large Diamonds, from the opalescent period. This may later have been improved simply by the creation of a twelve Diamond ring cap, but, how many molds are there? The bottom row of Diamonds are pear shaped. One easily found difference is at the three mold lines. Some clearly go between the bottom diamonds, others go through them. This shows, most clearly, on the shorter vases. I don't know how much swinging may have affected their appearance, but, taller vases seem to have more of a slope to their base shape with diamonds, possibly, starting higher up. As well, I've gone a bit cross-eyed counting diamonds. Some vases have 21 diamonds around the base, some seem to have as many as 24.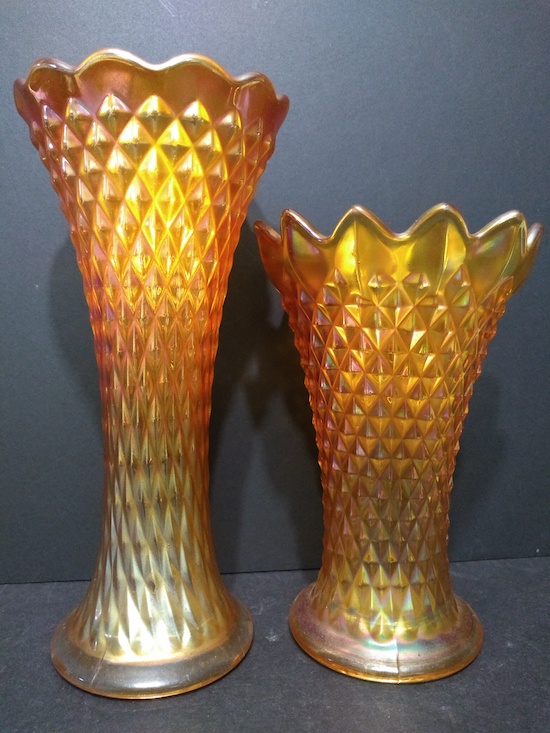 The tops of the twelve Diamond vases also show "differences". My first photo pair shows a scallop top and a twelve Diamond with two small diamonds intruding into the bottom points of each alternate pair of large Diamonds. I think this is the most commonly found of the twelve Diamond vases.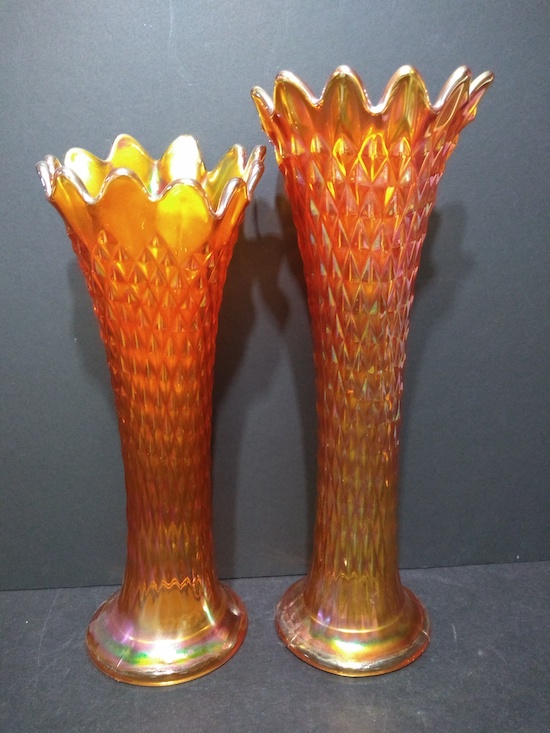 The second pair shows all twelve large Diamonds without any intrusions. I usually find this the most attractive version. The vase next to it has a small diamond "fitted" into the bottom point of each of the alternating pairs of large Diamonds. It almost looks like a mold variation (?). These are not as easily found and I hunt for them.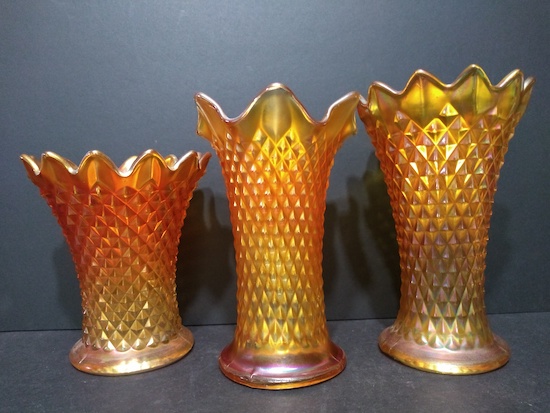 My first trio shows three shorties: diamond in Diamond; six Diamond and full Diamond. These also show that the large Diamonds are generally convex with a clear central ridge, top to bottom. There are some swung vases where the large Diamonds appear a bit concave, without a clear ridge. Different top or just a result of the swinging?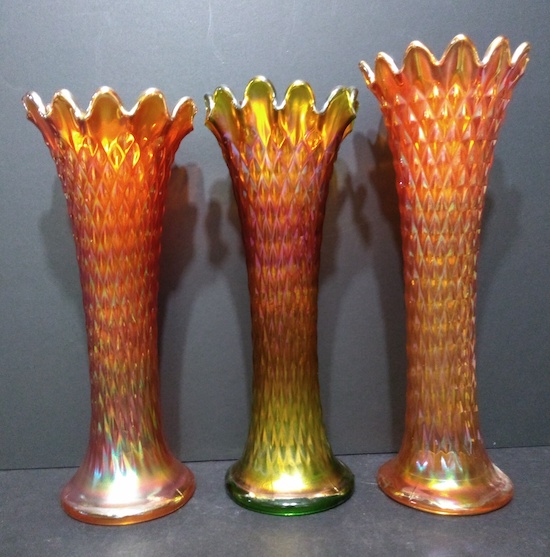 If you glanced quickly at this one you might have thought three more marigolds…yawn. The vase in the center is a very rich marigold on green.
Way too much? I'll be back…
August 28th, 2021
I'm going through colours tonight, so, I'll start with my greens, twelve and six Diamond. You've seen the vase in the center before. It looks greener in this company.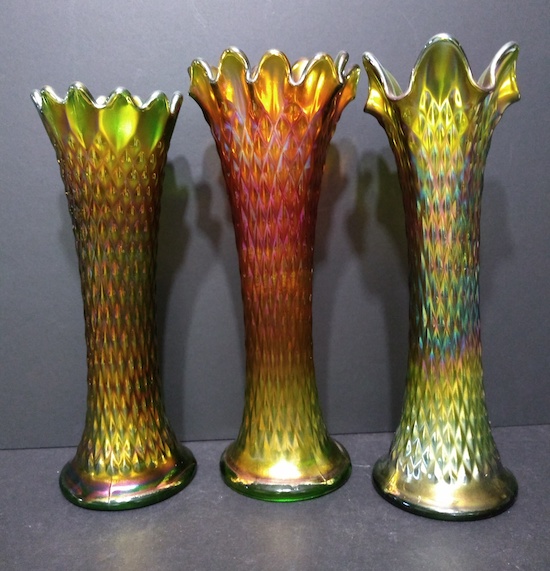 Next, my purples, twelve (note the diamond in Diamond) and six Diamond.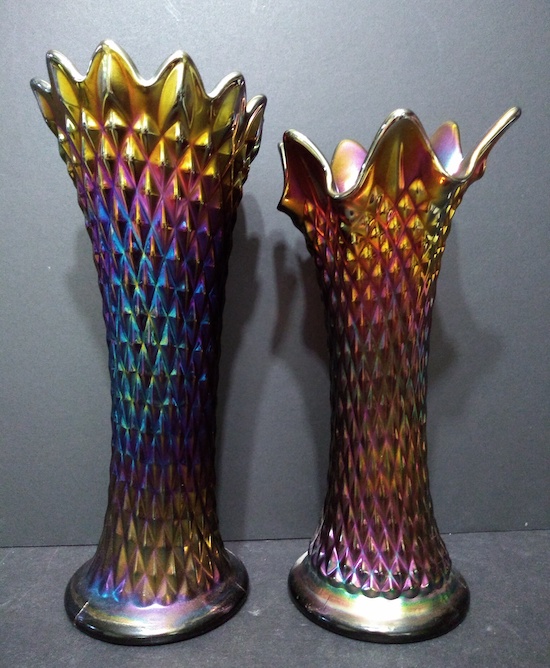 My blues are all twelve Diamond.​ I'm trying to show the base colours because while the cobalt and Renninger are pretty clear, the third vase may be ?? It came from eBay and I wasn't sure of the listing photos. The marigold iridescence was much better looking and the seller thought he saw "some amethyst". I have taken eight or nine photos and this seems to be the best of the bunch. Does it look more like a Fenton version of Powder blue?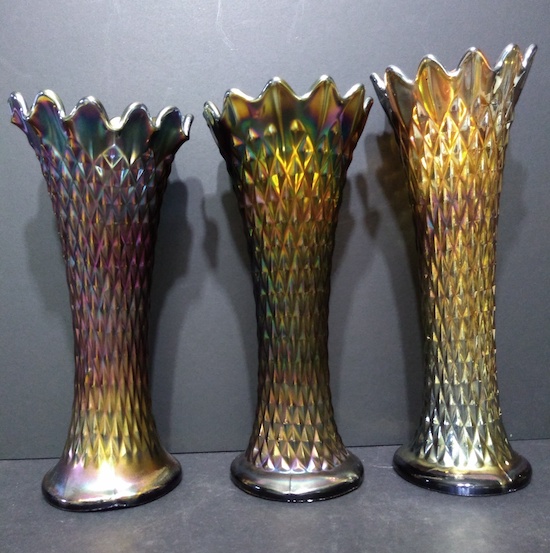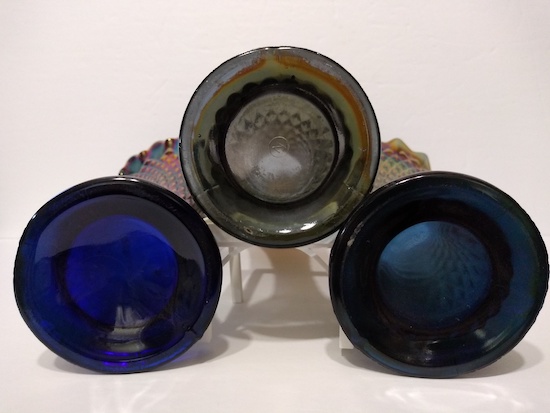 My pastels are ice blue six Diamond and aqua opal and white twelve Diamond.


I'm closing with my six Diamond vases, marigold, purple, green and ice blue, the latter two are 10 1/4″. These are part of my "in house" collection. I have two more "in transit", a white and a squatty green. I look forward to adding their bodies to my shelves and their portraits to my gallery.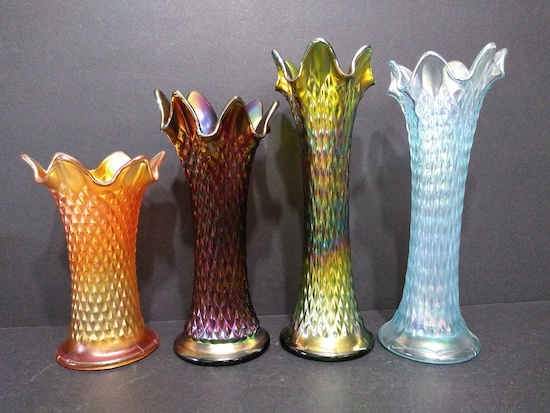 When I started my Diamond Point study, I thought that marigold would be the best colour to find the most variables. Surprisingly, marigold six Diamond Point vases are hard to come by. There are none in the Pricing Database. Mine came from eBay. White, ice blue and ice green seem to be the most available colours. Has anyone seen an aqua opal or blue six Diamond Point vase?
This winds up my contribution to Vase Month.