Portieux Vallerysthal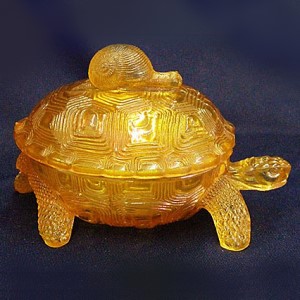 This covered dish stands about 4 1/2″ tall and is 8″ long.
Portieux Vallerysthal was a French glassmaking company created by combining 2 companies (in about 1872) and it became the largest in Europe (they had about 2200 workers). Vallerysthal actually was located in Germany and did the industrial and commercial portion of the business. Portieux was in France.
This is a page from a 1907-1908 catalog. These covered dishes are found in frosted glass, pink, a blue milk glass and this iridized version.