Strawberry Wreath-Blank Leaf Gravy Boat Whimsey
By Carl and Eunice Booker
Millersburg glass never ceases to amaze us as we keep seeing and finding pieces that haven't been reported. Several years ago we were fortunate enough to be able to buy a Strawberry Wreath in the gravy boat whimsey shape with a collar base. This piece is special not only because of its shape, but it is in vaseline glass.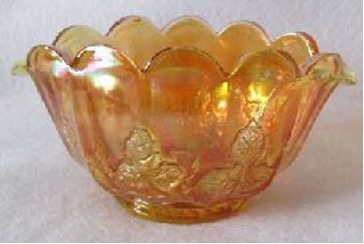 Above is the Strawberry Wreath gravy boat whimsey in vaseline.
Recently we were able to purchase another unusual piece of Millersburg. This one attracted us as it, too, is in the gravy boat whimsey shape. We took pictures of the piece as we didn't think we would be able to buy it. As luck would have it, we did buy it and were pleased to have two pieces in the gravy boat whimsey shape. We started looking at the pictures we had taken, and, to our surprise, we noticed that it had another unusual feature. It has the blank leaf. This wasn't mentioned to us when we were looking at the piece. We could see only its shape and not its pattern print.

Above on the right is the Strawberry Wreath compote with blank leaf in the gravy boat whimsey shape.  The left picture shows the gravy boat whimsey compote from the side to show the short stem on this piece.
In checking the Doty site, we discovered that there are several different shapes of the Strawberry Wreath compote with the blank leaf. The shapes Dave lists are tri-corner, square, rosebowl, sherbet, and punch bowl, but no gravy boat whimsey. The one we bought is in a deep green color. Other colors known are marigold, olive green, vaseline; and amethyst is reported.
There are other gravy boat whimsey pieces known in the Strawberry Wreath and Holly patterns, but none with the blank leaf, none at least to our knowledge. With Millersburg, one can never be sure. We are not aware of any blank leaf pieces other than those on the Strawberry Wreath compote shape. If this information is wrong, please let us know.
Photos courtesy of Carl and Eunice Booker.
This article first appeared in the ICGA Pump in the September 2019 issue and is reprinted with permission.