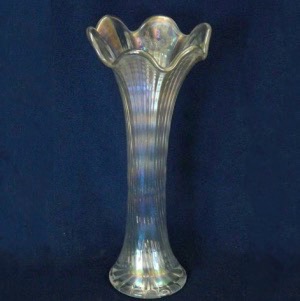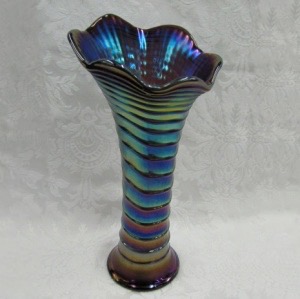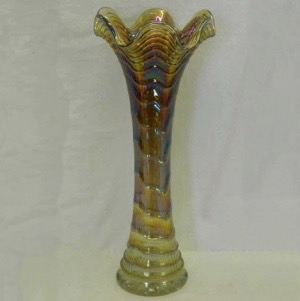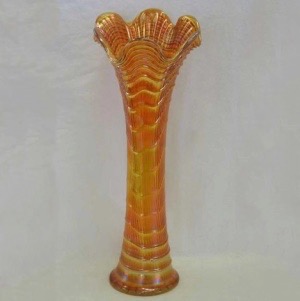 Manufacturer: Imperial
Year(s) of Production: 1912-1929 Butler Bros Catalog
Pattern Description: A multitude of wavy rings encircle these vases from top to bottom. The more the vase is swung, the more blurred the rings become and the more they resemble ripples on water. The interior has vertical ribs.
Similar Patterns: Northwood Drapery, Northwood Drapery Variant, Imperial Gothic Arches, Crown Crystal Gum Tips, Fenton Ring Optic
Shapes in Database: Vase
Colors in Database: Amber, Amethyst/Purple, Aqua, Aqua/Marigold Overlay, Blue, Clambroth, Green, Lavender, Lime Green/Marigold Overlay, Marigold, Olive Green, Powder Blue/Marigold Overlay, Smoke, Teal, Vaseline/Marigold Overlay, Violet Blue, White, Yellow/Marigold Overlay*
*Not all colors are available in every shape.
About Ripple vases
Imperial's Ripple has a pattern of rings horizontally encircling the vase, and when the vase was manufactured, and they swung it to 'stretch' it out, the rings become wavy ripples. The interior has vertical ribs. Only reported in the vase shape, it appeared in the Butler Bros Catalogs from 1912 to 1929. The base dimension determines the defined size (not the height).Ripple is found in a rainbow of colors.
It was reissued (see reissue-ripplevase) by Imperial in the 1960's (only in marigold, smoke and pink) – they should be marked IG or LIG on the base.