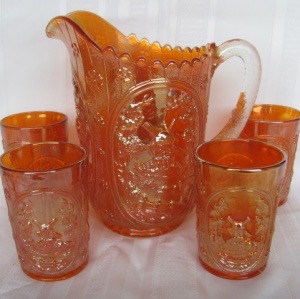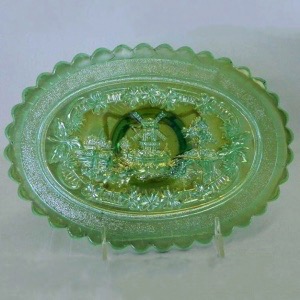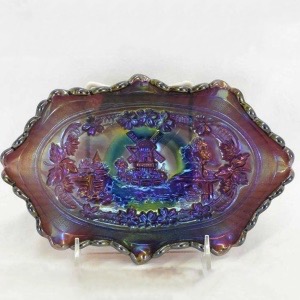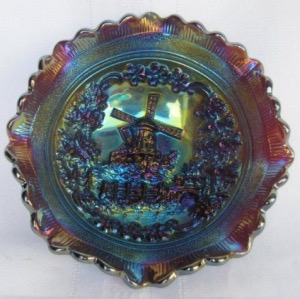 Manufacturer: Imperial
Year(s) of Production: 1915-1923 Butler Bros Catalog
Pattern Description: A single windmill in a landscaped design sits in the interior of various sized bowls which are collar based. On pitchers and tumblers this design sits in several large ovals that go around the pieces (under the spout there is a fisherman in a boat).
Similar Patterns: Imperial Double Dutch, Homestead
Shapes in Database: Bowl, Dresser Tray, Pickle Dish, Pitcher, Tumbler, Water Set
Colors in Database*: Amethyst/Purple, Clambroth, Emerald Green, Green, Lavender, Lime Green, Lime Green/Marigold Overlay, Marigold, Marigold On Moonstone, Pastel Marigold, Smoke, Teal, Vaseline, Vaseline/Marigold Overlay, Violet Blue
*Not all colors are available in every shape.
About Windmill
A highly detailed scene shows the mold makers skill: the central windmill has trees, a stone bridge, wooden fence and even a church type building with a steepled roof. The original pattern was listed as #514. This pattern was also reproduced in the 1960's through the 1980's, and the pieces should be marked with IG, LIG, ALIG, or S with a circle trademarks.