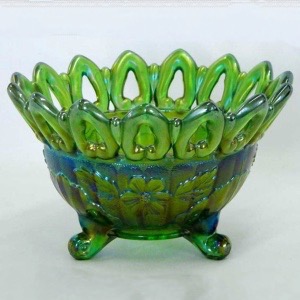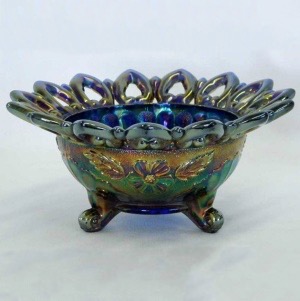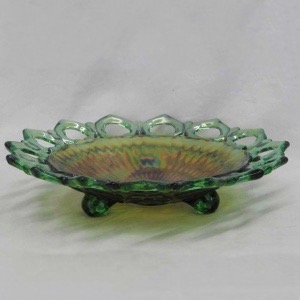 Manufacturer: Northwood
Year(s) of Production: Circa 1908-1912
Pattern Description: Exterior of these three toed bowls has six petal flowers with leaves on either side. Interior has one of four patterns and there is open scrollwork on the top edge.
Similar Patterns: Riverside Wild Rose
Shapes in Database: Bowl, Nut Bowl, Plate, Rose Bowl
Colors in Database*: Amethyst/Purple, Black Amethyst, Blue, Celeste Blue, Electric Blue, Emerald Green, Green, Ice Blue, Lavender, Marigold
*Not all colors are available in every shape.
About Northwood's Wild Rose
The pattern on the outside is of a large plain leaf going up the bowl from each foot, and between them are a six-petaled Wild Rose with two leaves angling up. The entire background is stippled. The interior is one of four patterns (see nwoodwr-interior). All shapes are ball footed.

This is a perfect example of using one mold to generate multiple shapes (see nwoodwr-shapes). Bowls are about 7″ across, 3 1/4″ high and have a 2 1/2″ base. Many of these will contain the Northwood trademark of an underlined N in a circle.