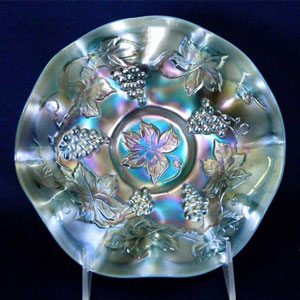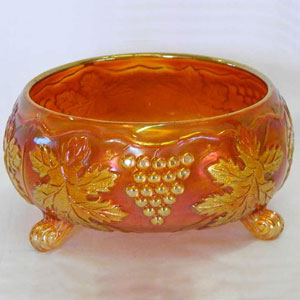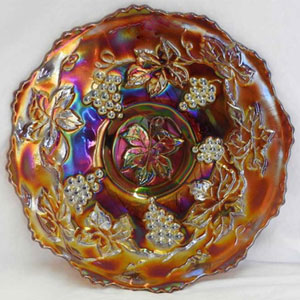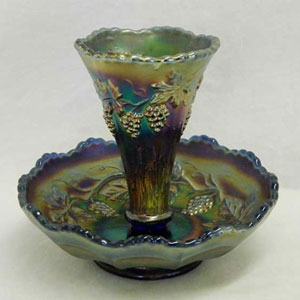 Manufacturer: Fenton
Year(s) of Production: 1910-1918 Butler Bros Catalog
Pattern Description: A ring of grape leaves and grape clusters around a center grape leaf. The grape cluster quantities vary on the different sizes.
Similar Patterns: Dugan Vintage, Northwood Grape and Cable, Imperial Grape, US Glass Palm Beach
Shapes in Database: Berry Set, Bonbon, Bowl, Compote, Epergne, Fernery, Plate
Colors in Database*: Amber, Amberina, Amethyst Opal, Amethyst/Purple, Aqua Opal, Blue, Celeste Blue, Green, Lime Green/Marigold Overlay, Marigold, Peach Opal, Persian Blue, Powder Blue/Marigold Overlay, Red, Vaseline/Marigold Overlay
*Not all colors are available in every shape.
About Vintage
"Grapes were a popular theme in carnival glass, and Fenton's version can a challenge to identify. This version will NOT have a cable (that version is called Grape and Cable and Fenton's version only comes in a few shapes). An interior pattern with vines, grape clusters and grape leaves encircling the piece. Bowls, plates and bonbons have a center grape leaf while stemmed compotes do not. On ferneries and the lilies of the epergnes, the pattern is actually on the exterior. Many shapes come in a great variety of colors.