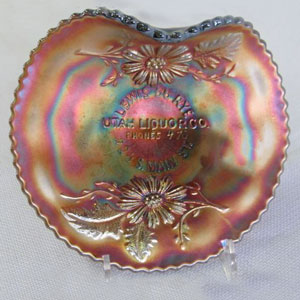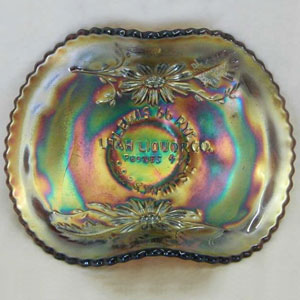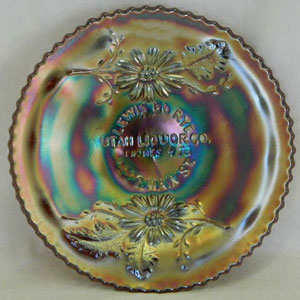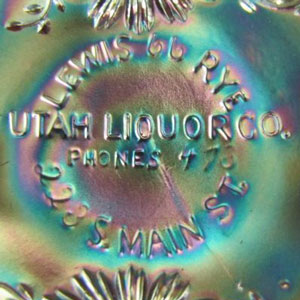 Manufacturer: Fenton
Year(s) of Production: Circa 1915
Pattern Description: Sprays with a cosmos or mum-type flower and leaves are at the top and bottom of the pattern, while the advertising for Utah Liquor Co is prominently displayed in the center.
Similar Patterns: Fenton's small advertising plates (Braziers Candies, Gervurtz Bros, Ogden Furn, Norris Smith Real Estate, Fern Brand Chocolates, Central Shoe)
Shapes in Database: Plate
Colors in Database*: Amethyst/Purple
*Not all colors are available in every shape.
About Utah Liquor
The pattern consists of two opposing flower sprays consisting of a Cosmos type flower, leaves and stems. The advertising for Lewis 66 Rye (a popular whiskey), Utah Liquor Co, Phone 478, 223 S. Main St circles the center of the plate.
This advertising piece comes in a small plate, 6″- 6 1/4″ and it has a wide panel back. The plate comes in 3 variations: flat, one side up (called a handgrip) and two sides up (called a double handgrip).