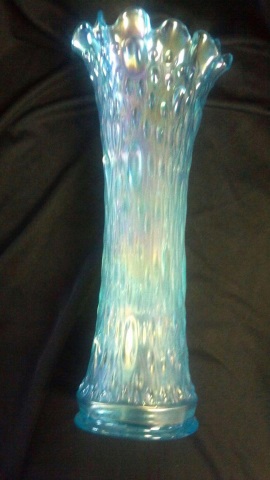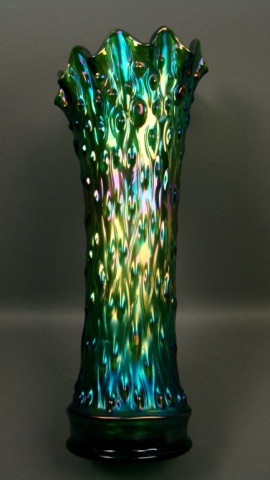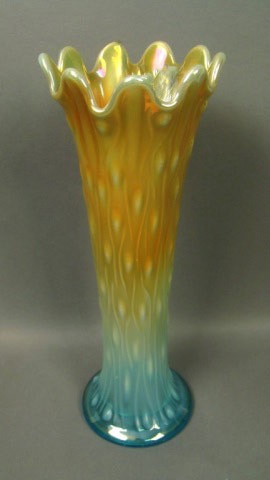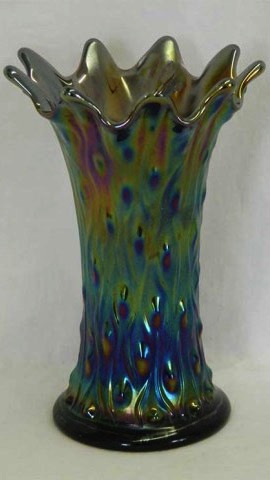 Manufacturer: Northwood
Year(s) of Production: 1909-1915 Butler Bros Catalog
Pattern Description: Various sized hobs with curved lines beside them make a tree bark like design on these standard, mid-size and funeral vases.
Similar Patterns: Fenton April Showers, Fenton Knotted Beads, Fenton Long Thumbprint Hobnail, Millersburg Swirled Hobnail
Shapes in Database: Jardiniere, Vase
Colors in Database*: Amethyst/Purple, Aqua Opal, Aqua Opal Butterscotch, Aqua Opal Pastel, Black Amethyst, Blue, Electric Blue, Emerald Green, Green, Green/Marigold Overlay, Horehound, Ice Blue, Ice Green, Lavender, Lavender/Marigold Overlay, Lime Green, Marigold, Marigold on Moonstone, Renninger Blue, Sapphire Blue, Sapphire Blue/Marigold Overlay, White
*Not all colors are available in every shape.
About Tree Trunk vases
The Tree Trunk pattern is distinguished by its irregularly spaced hobs and short crescent shapes distributed between the hobs. It is found in the Butler Bros Catalog from 1909-1915 (the shorter 'Elephant Foot' Funeral vase appeared in 1910 and 1911 releases).
Tree Trunk was made in a variety of colors.
Available shapes include: