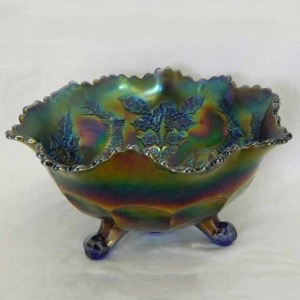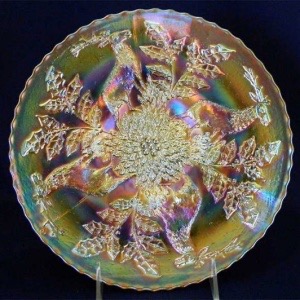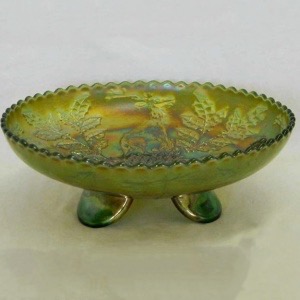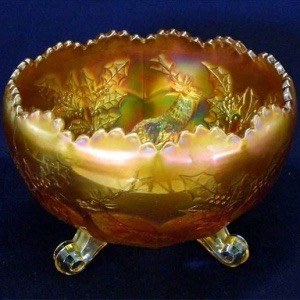 Manufacturer: Fenton
Year(s) of Production: 1913-1922 Butler Bros Catalog
Pattern Description: Around a large center cluster of holly leaves, stand four stags with antlers and four sprays of holly leaves and berries.
Similar Patterns: Fenton Two Flowers
Shapes in Database: Bowl, Chop Plate, Plate, Rose Bowl
Colors in Database*: Amber, Amberina, Amethyst/Purple, Aqua/Marigold Overlay, Black Amethyst, Blue, Electric Blue, Green, Lavender/Marigold Overlay, Lime Green/Marigold Overlay, Marigold, Pink/Marigold Overlay, Powder Blue/Marigold Overlay, Red, Smoke, Vaseline, Vaseline/Marigold Overlay
*Not all colors are available in every shape.
About Stag and Holly
This pattern is a favorite with beautiful Stags surrounded by holly leaves and berries. It was a long running pattern, showing up in the Butler Bros wholesale catalogs from 1913 to 1922. The pattern has had fakes done by a far eastern company.