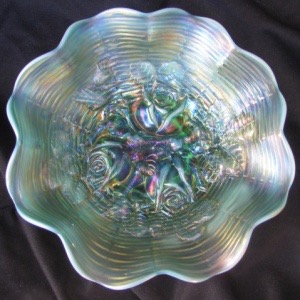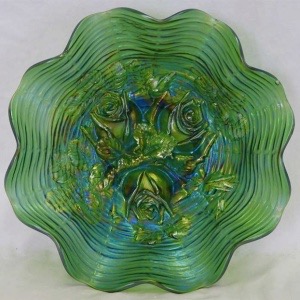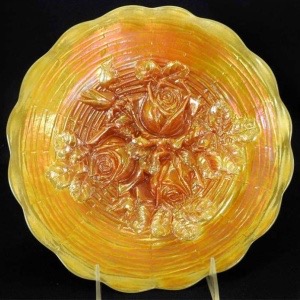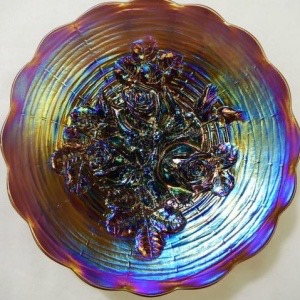 Manufacturer: Northwood
Year(s) of Production: Circa 1913
Pattern Description: Three large roses in great relief form the center of the piece. Leaves and rose buds surround the roses. Exterior pattern is a form of basketweave.
Similar Patterns: Imperial Lustre Rose/Open Rose, Northwood Rose Show Variant
Shapes in Database: Bowl, Plate
Colors in Database*: Amethyst/Purple, Aqua, Aqua Opal, Aqua Opal Butterscotch, Aqua Opal Pastel, Aqua/Marigold Overlay, Black Amethyst, Blue, Electric Blue, Emerald Green, Green, Horehound, Ice Blue, Ice Green, Ice Green Opal, Lavender, Lime Green, Lime Green Opal, Lime Ice Green, Marigold, Marigold on Custard, Pastel Marigold, Sapphire Blue, White
*Not all colors are available in every shape.
About Rose Show
Highly detailed roses and leaves fill the center of the bowl, with a circular stem-like thread woven out to the edge. Advertised in a 1913 trade catalog, it's a highly collectible pattern.