Open Edge 2 Row/Millers Market, Fenton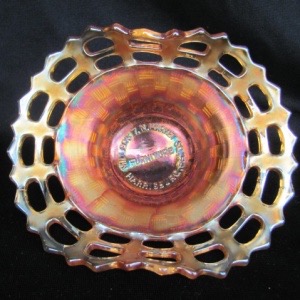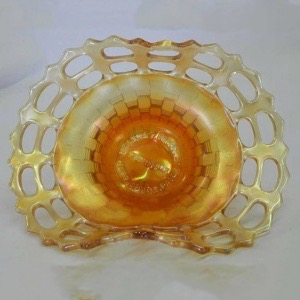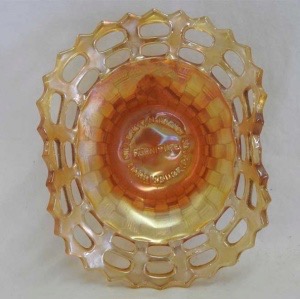 Manufacturer: Fenton
Year(s) of Production: Circa 1913
Pattern Description: Small bowls with a basketweave exterior and Millers Market advertising in the center. The webbing of the basketweave has two rows of open spaces at the outer edge.
Similar Patterns: Fenton Open Edge 2 Row, Feldman Bros, John H Brand
Shapes in Database: Hat
Colors in Database*: Marigold
*Not all colors are available in every shape.
About Open Edge 2 Row/Millers Furniture Market Sq
This Fenton pattern is characterized and named after the two rows of open holes that are on the top edge, the back/outside is a basketweave pattern. The center of the piece has molded advertising "Miller's Furniture 7.N.Market Sq. Harrisburg, PA. The collar base measures 1 7/8". The advertising versions are 2 Sides up and marigold. The edge is sawtooth. This is one of 3 advertising versions (see oe2row-fenton-advertising). The furniture company moved into the 7 Market Square store in 1913, so it is probable that they purchased these as a gift for their customers around that time.