1910 Detroit Elks B.P.O.E., Millersburg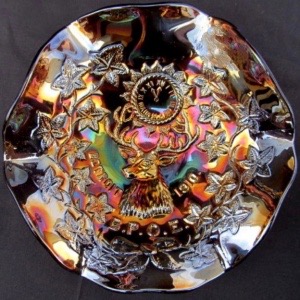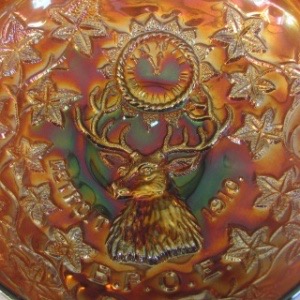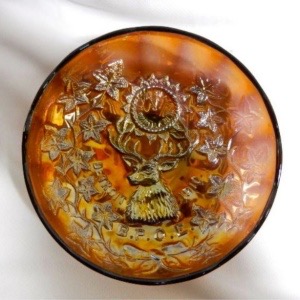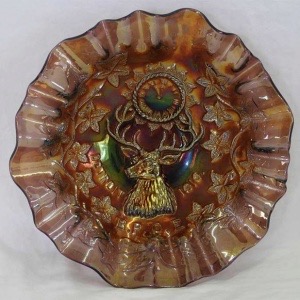 Manufacturer: Millersburg
Year(s) of Production: 1910
Pattern Description: A portrait of an elk with a clock above and ivy below. Reads "Detroit 1910 BPOE". Elk faces to the viewers left and both eyes are seen.
Similar Patterns: Dugan Elks, Fenton Elk commemoratives, Millersburg Elks Paperweight
Shapes in Database: Bowl
Colors in Database*: Amethyst/Purple
*Not all colors are available in every shape.
About Millersburgs 1910 Detroit Elks B.P.O.E.
This commissioned commemorative pattern (for the BPOE, Benevolent & Protective Order of Elks) was made for the 1910 convention in Detroit. The elk in the center is looking to the left and you can see both eyes. Bowls are about 6 1/2″ to 8″ and have edge treatments of 3N1, ICS and 6 ruffle. The edge is smooth and the back is plain; it sits on a collar base with a rayed center. Fenton also did a commemorative for the same convention, but their elk has one eye and is looking right.