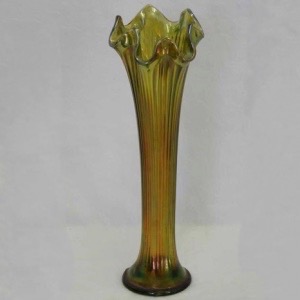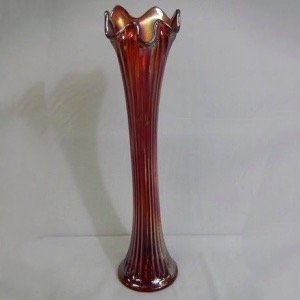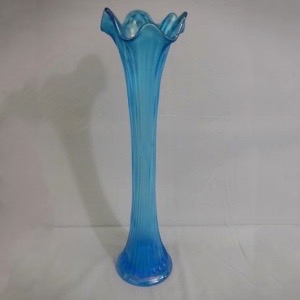 Manufacturer: Fenton
Year(s) of Production: 1909-1928 Butler Bros Catalog
Pattern Description: Two sizes of vases with flat round bases. Tight vertical ribs run the length of the pattern.
Similar Patterns: Northwood Fine Rib, Fine Rib Footed
Shapes in Database: Vase
Colors in Database*: Amber, Amber Slag, Amberina, Amethyst/Purple, Aqua, Aqua Opal, Aqua/Marigold Overlay, Black Amethyst, Blue, Celeste Blue, Green, Ice Blue, Lavender, Lavender/Marigold Overlay, Lime Green, Lime Green/Marigold Overlay, Marigold, Marigold on Moonstone, Olive Green, Peach Opal, Pink Opal, Pink/Marigold Overlay, Powder Blue, Powder Blue/Marigold Overlay, Red, Red Slag, Sapphire Blue/Marigold Overlay, Smoke, Tangerine Opal, Teal, Vaseline, Vaseline Opal, Vaseline Opal/Marigold Overlay, Vaseline/Marigold Overlay, Yellow Slag
*Not all colors are available in every shape.
About Fenton Fine Rib
The Fine Rib pattern consists of close vertical lines running from the bottom to the top of the vases. This was a long running, popular pattern that appears in the Butler Bros Catalogs from 1909-1928.