[column-half-1]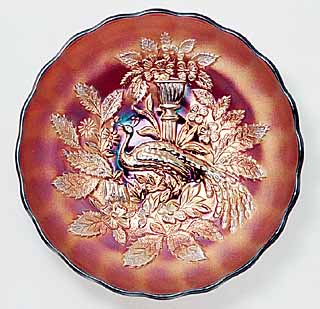 [/column-half-1][column-half-2]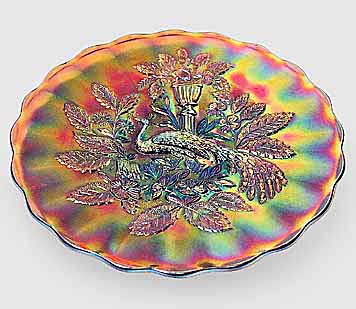 [/column-half-2]
Millersburg's Peacock & Urn, like those of Fenton and Northwood, has a bee just beyond the bird's beak. A rayed star in the base can confirm the pattern as Millersburg. Ron Britt put together a chart that can be used to identify the different versions. Does it have the peacocks' tiara facing front or back? How many beads are on the urn? Check it out here! NOTE: If there is no bee, it could be a Millersburg Peacock.

There are actually 5 different moulds that were used for the Millersburg Peacock & Urn pattern (and another 5 for the Millersburg Peacock!).Pictured below are Ron Britt's drawings of the 5 variations of Millersburg Peacock (called Pat #6- Pat #10). Whenever possible, this information will be added to the database as part of the pattern name. If you click on a version, you will be taken to the page listing the features of that variation (compiled by Ron Britt).
Click here for the Summary Page of Features for all 10 Millersburg Patterns.
[column-third-1]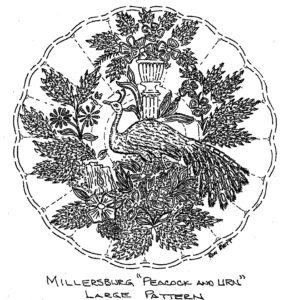 Millersburg Peacock & Urn Pat #6[/column-third-1]
[column-third-2]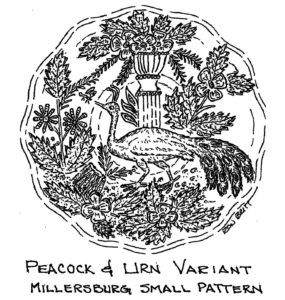 Millersburg Peacock & Urn Pat #7[/column-third-2]
[column-third-3]

Millersburg Peacock & Urn Pat #8[/column-third-3]
[column-half-1]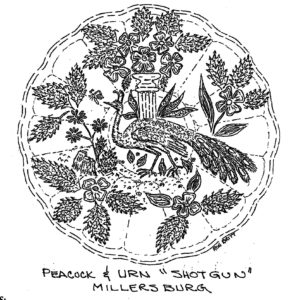 Millersburg Peacock & Urn Pat #9[/column-half-1]
[column-half-2]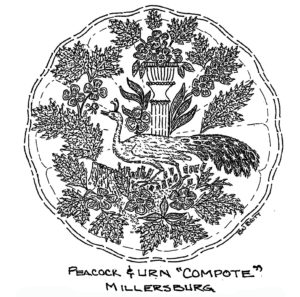 Millersburg Peacock & Urn Pat #10[/column-half-2]