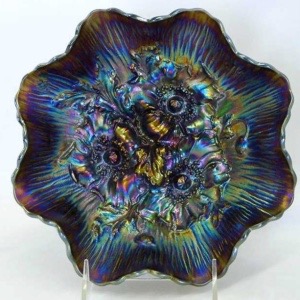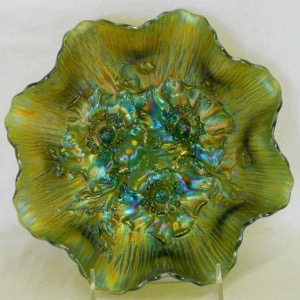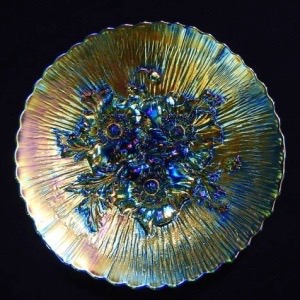 Manufacturer: Northwood
Year(s) of Production: 1913
Pattern Description: Three heavily sculpted poppies with leaves and buds. Straw like rays complete the pattern to the outer edge. The exterior pattern is Reeds.
Similar Patterns: Northwood Rose Show
Shapes in Database: Bowl, Plate
Colors in Database*: Amethyst/Purple, Aqua Opal, Aqua Opal Pastel, Blue, Electric Blue, Emerald Green, Green, Horehound, Ice Blue, Ice Green, Ice Green Opal, Lime Green, Marigold, Pastel Marigold, White
*Not all colors are available in every shape.
About Northwoods Poppy Show
This heavily detailed pattern has 3 wide-open poppy flowers with buds and leaves in the center. It was pictured in a 1913 Baltimore Bargain House advertisement (with Northwood's Rose Show, Peacocks on the Fence, Hearts & Flowers and Bushel Baskets) proving the manufacture timeframe.