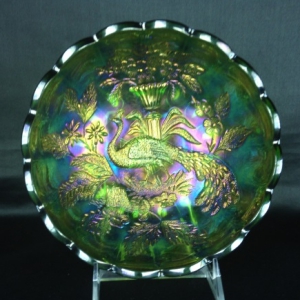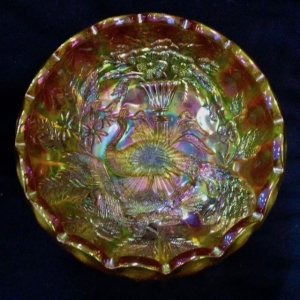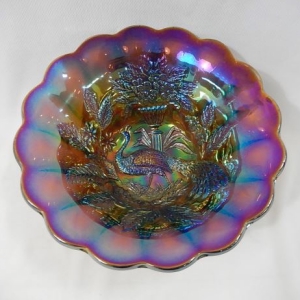 Manufacturer: Millersburg
Year(s) of Production: 1909-1911
Pattern Description: A single peacock is standing in front of a pedestaled urn with leaves and flowers around, base is starred - has NO bee.
Similar Patterns: Fenton, Millersburg and Northwood Peacock and Urn
There are actually 5 different moulds that were used for the Millersburg Peacock pattern (and another 5 for the Millersburg Peacock & Urn!). There are two sizes of moulds, a large one used for the large berry bowls, and a small one for the small berry bowls and sauces (above center). The easiest identifier (once you know it's Millersburg): Peacock has no bee, Peacock & Urn has a bee.
Here is a table (put together by Ron Britt) to help identify which Millersburg Peacock pattern you have – the full table on all Peacock patterns is attached below. Do the peacock's tiara face forward or backward? How many tail feathers does it have? Check it out here!



Pictured below are Ron Britt's drawings of the 5 variations of Millersburg Peacock (called Pat #1- Pat #5). Whenever possible, this information will be added to the database as part of the pattern name. If you click on a version, you will be taken to the page listing the features of that variation (compiled by Ron Britt).
Click here for the Summary Page of Features for all 10 Millersburg Patterns.
[column-third-1]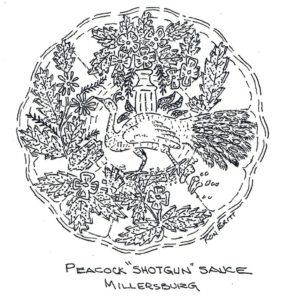 Millersburg Peacock Pat #1[/column-third-1]
[column-third-2]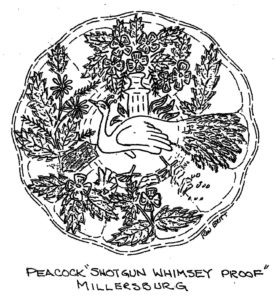 Millersburg Peacock Pat #2[/column-third-2]
[column-third-3]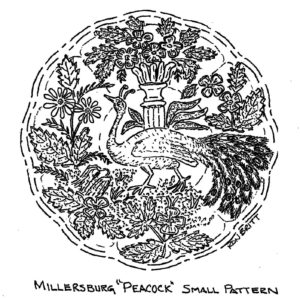 Millersburg Peacock Pat #3[/column-third-3]
[column-half-1]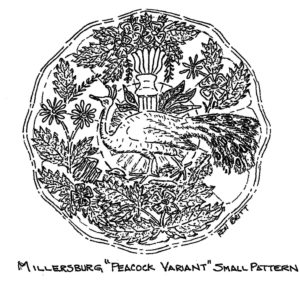 Millersburg Peacock Pat #4[/column-half-1]
[column-half-2]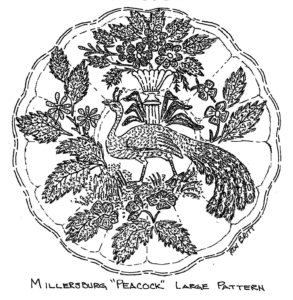 Millersburg Peacock Pat #5[/column-half-2]   
HoC Pricing Database
Select a shape below (available colors will display)