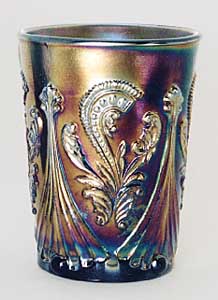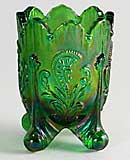 The design dates back to early Dugan patterns where they are found on the exterior of bowls, but none of these shapes are from that era. Most of the tumblers were made by Joe St. Clair and a few of these were made for the Original Carnival Glass Society. Found in cobalt, ice blue, marigold, and amberina, signed examples sell for $15 to $20, unsigned a little less.
Some of the toothpick holder were signed by Joe St. Clair and are found in green, marigold, amberina, and purple. These sell in the $10 to $15 range. A white example sold for $124 on eBay in 2004.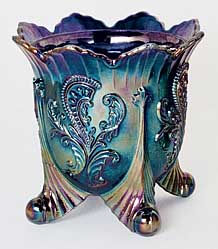 The jars are found both with and without a top. With the top, they're considered a covered sugar, without they're called a spooner. None are old, and some are listed as Imperial, but I have never seen an Imperial piece in this pattern. I frankly do not know who is making them. Many of these, especially the blue, are sold by dealers of recent glass. I wouldn't pay more than $15 for any of them.