Grape and Cable, Northwood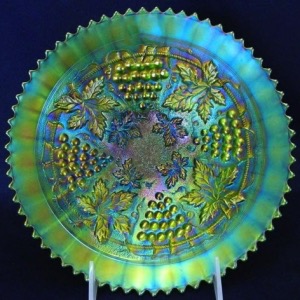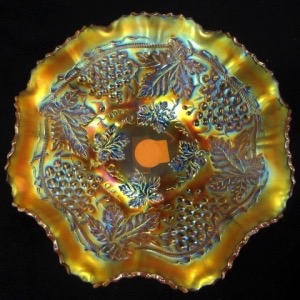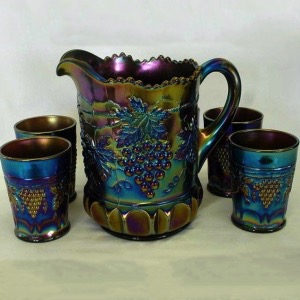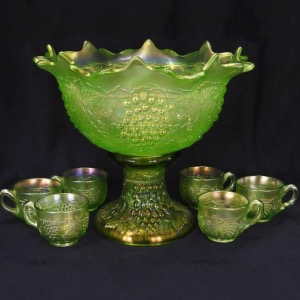 Manufacturer: Northwood
Year(s) of Production: 1910-1918 Butler Bros Catalog
Pattern Description: Northwood's main grape pattern with a rope like cable circling the many shapes.Grape vines, leaves and grape clusters hang off this cable.Many variations exist including stippling and the addition of tendrils and other details.
Similar Patterns: Fenton Grape and Cable, Vintage
About Northwood's Grape and Cable
This long running pattern with a cable that has grape vines, leaves and grape clusters hanging from it was made in the highest number of shapes in carnival glass. There are many molds that have variations on the pattern (stippled, additional leaves/tendrils, different back patterns) giving a collector a tremendous amount of choice. Many of the shapes came in a limited amount of colors, while others were made in a long list of colors.
This pattern is pictured in the 1910 Butler Bros Catalog and was advertised thru 1918.
Grape & Cable has been reissued by many companies and has fakes as well. (see fakegnc)
There are also some interesting whimsies and variants in the Grape and Cable pattern.
The reported shapes include:
Additional Articles and Videos
Copyright Gary Sullivan & Steven Lindquist. Used with permission.
HoC Pricing Database
Select a shape below (available colors will display)