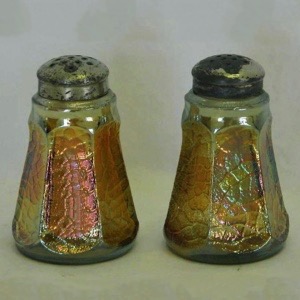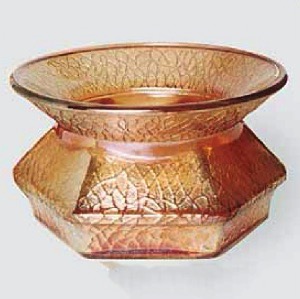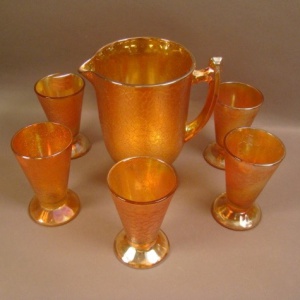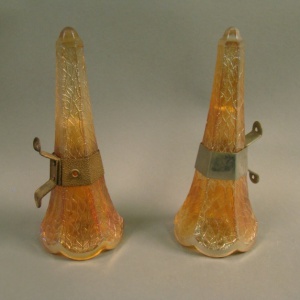 Manufacturer: Jeannette
Year(s) of Production: Circa 1929
Pattern Description: Thin meandering lines cover the exterior surfaces. The background is stippled.
Similar Patterns: Imperial Soda Gold, Unknown Hobnail Soda Gold
About Crackle
This unassuming pattern replicates the look of crackle glass that was created in the 16th century. For the original process, the glass was immersed in cold water while it was molten hot, cracking the glass which was then reheated and either mold or hand blown into the shape the glass blower desired. The reheating of the glass sealed the cracks, and if you run your hands over crackle glass, you can geel the cracks but the inside is smooth to touch. The carnival glass version of crackle is a molded pattern where the 'crackles' are simply part of the mold; it somewhat resembles a spider web. In some cases, this crackle pattern has also been called 'Tree of Life'. The pattern was introduced at the end of the classic carnival glass era and can be found in catalogs from about 1927. The reported shapes are candlesticks (approximately 6 1/2″-7″ tall), car vases, plates, shakers and water sets (dome footed/pedestaled pitcher and cone shaped tumblers). Limited colors are reported in all shapes. This pattern is similar to Soda Gold and Hobnail Soda Gold. See crackled-comparison here. 
HoC Pricing Database
Select a shape below (available colors will display)