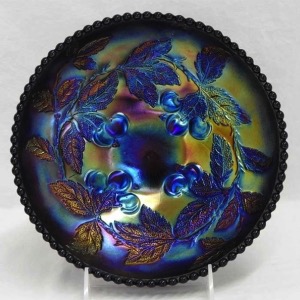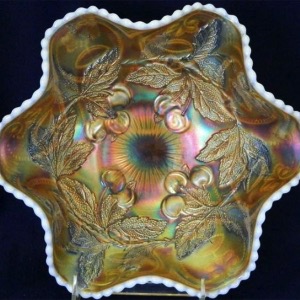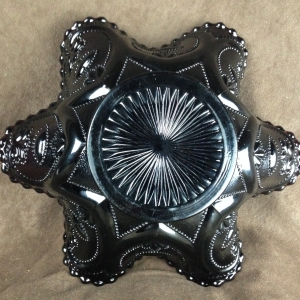 Manufacturer: Dugan
Year(s) of Production: Circa 1909
Pattern Description: Cherry leaves ring the interior with four clusters of cherries hanging towards the unpatterned center. The outer edge is serrated, noticeably prominent on large bowls, less distinct on small bowls and plates.
Similar Patterns: Dugan Cherries (Daisy and Plume exterior), Paneled Cherries, Wreathed Cherry, Weeping Cherries; Fenton's Cherries, Millersburg's Hanging Cherries
About Cherries (Jeweled Heart Back)
Virtually all of the Dugan's Cherries with a collar base have a Jeweled Heart Back pattern; they come in large and small bowls and small plates.
Dugan's Cherries, with Jeweled Heart exterior, has a round collar base and characteristically a serrated outer edge.
Cherries/Jeweled Heart is an oft seen combination. The interior design is comprised of four clusters of the fruit: two clusters with three cherries, the others with two. It also includes realistic-looking stems and veined and stippled leaves. Two large leaves reach the outer edge, the remainder not that far. On large bowls, the open area in the center is slightly larger than a silver dollar. On the small, the open area is about the size of a 25-cent piece.
The exterior Jeweled Heart design has three key features: highly raised outlines of eight hearts, jewels which dangle like pendants within the outline of each heart,, and tiny beads which follow the inner contour of the heart and jewels.
Large bowls have a base diameter of four inches and a 36-point star pressed into the bottom of the base. Small bowls and plates have a two and one-half inch base diameter.
The bowls edge treatments are varied, including ICS, Ruffled, Round and Crimped.The small plates do not meet the actual carnival glass collectors definitions of a plate – the definition says that the edges will be consistent and flat (NOT crimped as these are) and come straight out from the center of the piece (in other words, it should not curve up into a bowl with a lip). However, these small dishes are called plates by the majority of the collecting community.
Our thanks to Dr. Larry Keig for his assistance in describing the pattern. Other Dugan and/or Diamond Cherries patterns are: Cherries (Daisy and Plume exterior), Paneled Cherries, Wreathed Cherry, and Weeping Cherries. Other similar (cherry) patterns include Fenton's Cherries and Millersburg's Hanging Cherries.
HoC Pricing Database
Select a shape below (available colors will display)