Cherries (Daisy and Plume), Dugan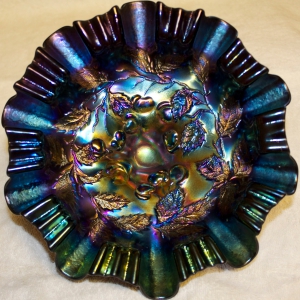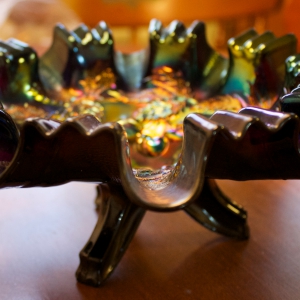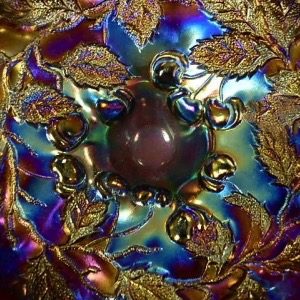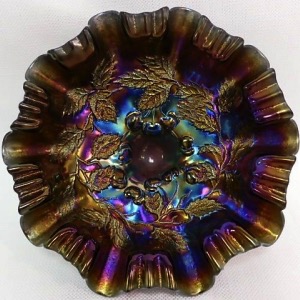 Manufacturer: Dugan
Year(s) of Production: Unknown
Pattern Description: Dugan's Cherry interior on a splay footed bowl, has a Daisy and Plume exterior.
Similar Patterns: Dugan Cherries (Jeweled Heart Back), Paneled Cherries, Fenton Cherries, Millersburg Hanging Cherries
About Cherries (Daisy and Plume)
Dugan's Cherries bowls with Daisy and Plume exterior are always splay-legged. Those reported have a three-and-one, non-serrated edge.
According to Dr. Larry Keig, the interior of Cherries/Daisy and Plume is the most realistic and intricate of the Dugan and Diamond cherries patterns. On this pattern, three cherries are found in two of the four clusters, two in the other clusters. A distinguishing feature of Cherries/Daisy and Plume is a "sandy" (neither stretchy nor stippled) surface texture extending from the outer rim to about an inch and three-fourths inward. A small open area, about the size of a quarter coin, is found in the deeply recessed center.
The exterior pattern is typically distorted, making it hard to discern the three blossoms (each with eight petals) and three plumes that are set against a stippled background. The legs are almost always chipped.
This is an extraordinarily difficult pattern to track down. It is found on large bowls measuring from 8 3/4 to 9 1/2 inches in diameter. The few that have been reported are fiery amethyst (a reddish purple) or oxblood.
HoC Pricing Database
Select a shape below (available colors will display)