Butterfly and Berry, Fenton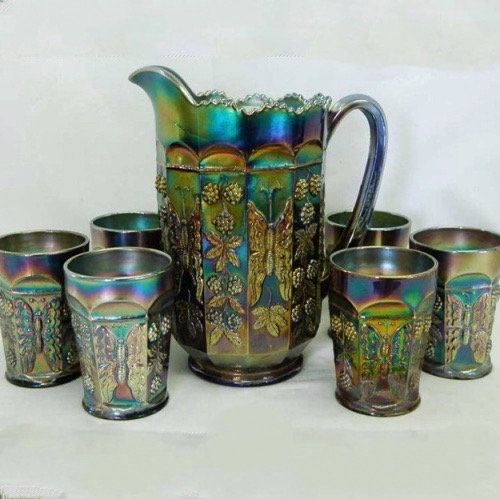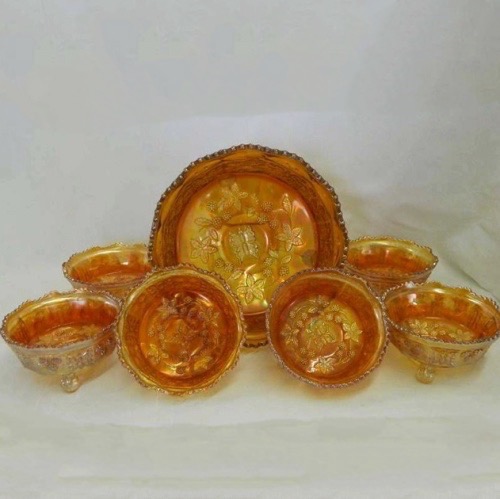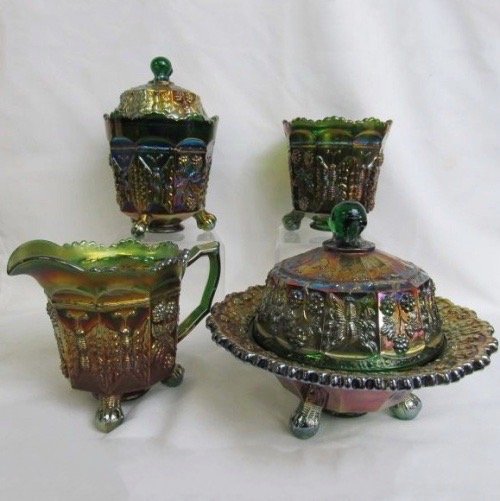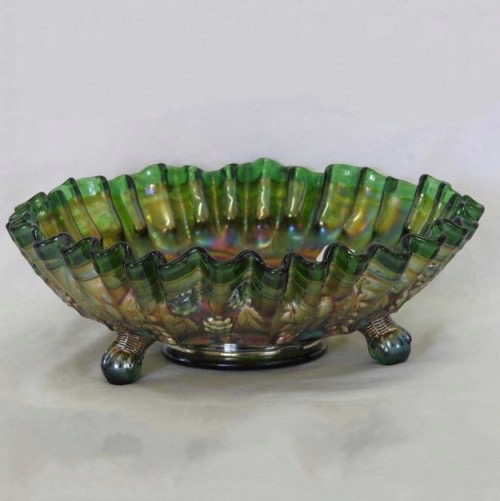 Manufacturer: Fenton
Year(s) of Production: 1911-1924 Butler Bros Catalog
Pattern Description: Panels with arched tops and bottoms surround the exterior of these various shapes alternately filled with a butterfly or a spray of berries. Some footed bowls will have an interior pattern of a center butterfly ringed by berries.
Similar Patterns: Fenton Fantail, Hearts and Trees, Panther, Fenton's Fantail, Hearts and Trees, Panther
Shapes in Database: Berry Set, Bowl, Butter Dish, Butter Dish Base, Centerpiece Bowl, Creamer, Fernery, Hatpin Holder, Pitcher, Rose Bowl, Spittoon, Spooner, Sugar, Sugar Base, Sugar Top, Table Set, Tumbler, Vase, Water Set
Colors in Database: Amber, Amethyst/Purple, Black Amethyst, Blue, Green, Lavender, Lime Green/Marigold Overlay, Marigold, Powder Blue/Marigold Overlay, Red, Red Slag, Vaseline/Marigold Overlay, White*
*Not all colors are available in every shape.
About Butterfly and Berry
This pattern consists of vertical, alternating panels topped with a prickley vine – one panel has a stylized butterfly with wide spread wings and horizontal stripes covering the body, the next panel has a hanging bunch of berries and leaves. It was introduced in the mid-Spring 1911 Butler Bros Catalog and was advertised thru 1924.
Fenton made Butterfly & Berry in both an amazing number of shapes and colors. Butterfly & Berry is the exterior pattern for the Fantail, Hearts & Trees and Panther bowls.There are also some interesting whimsies and variants in the Butterfly and Berry pattern.
NOTE:The pattern has been reissued by Fenton (some for LeVay) and faked large bowls (imported by A&A Imports).
The reported shapes include: