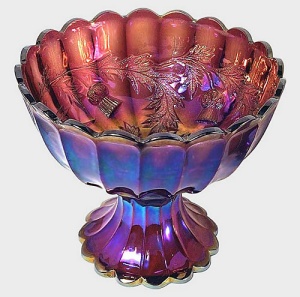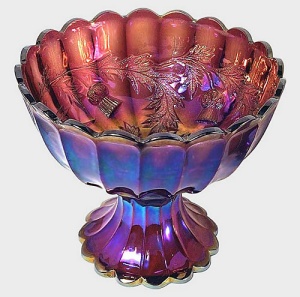 Manufacturer: Millersburg
Year(s) of Production: 1909-1911
Pattern Description: The exterior of the bowl and base is a wide panel with a scalloped edge on both. Interior of the bowl has a ring of thistle flowers and leaves circling.
Similar Patterns:
About Big Thistle
There are only two known examples of this punch bowl, both amethyst. The flared version (with a chip on the collar base), sold at auction in 1996 for $11,000 and then in 2007 for $24,000. The straight sided one one sold in 1977 for $5, 800, privately in 1998, and for $18,000 in 2010. There is a straight sided top only that has been repaired that sold in 2005 for $800.
HoC Pricing Database
Select a shape below (available colors will display)